After complained several times per week about how the lunatic are running the educational asylums, I want to take a moment and congratulate Fresno State President for doing the right thing.  One of Fresno State's professors had a series of very offensive and possibly illegal tweets. His first (now deleted) tweet read, "To save American democracy, Trump must hang. The sooner and the higher, the better. #TheResistance #DeathToFascism."  
As if he hadn't put a fine enough point on it, he tweeted this: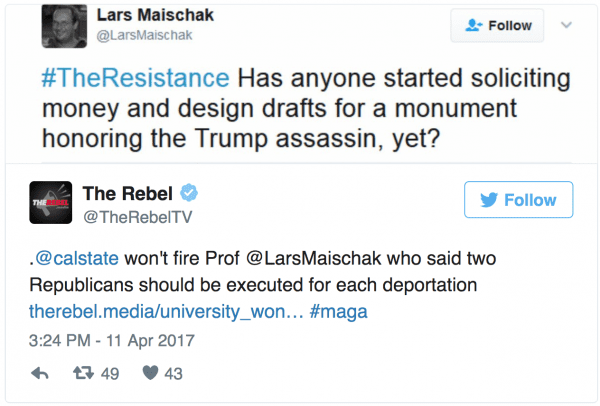 Of course, he said he didn't want Trump to actually killed unless the nation convicts him of war crimes.  Okaaay… I don't know, he doesn't sound sorry to me, but maybe he will be soon.  Campus Reform has more:
Now, however, Campus Reform has been informed that university President Joseph Castro promptly alerted multiple federal agencies to the tweets after becoming aware of them, and has been in "regular contact with federal authorities" over the past several days.

"President Castro said that the university alerted the FBI, Secret Service, and Homeland Security as soon as it became aware of the comments made by Dr. Maischak on Twitter," Director of Communications Kathleen Schock told Campus Reform. "He went on to say that the university been in regular contact with federal authorities. There are no other details we can disclose about those communications."
Well played, President Castro.  In an age where university students and radicals are getting away with threats (and worse) against conservatives, your actions are in stark contrast to the chaos.
Photo credit: Wikimedia