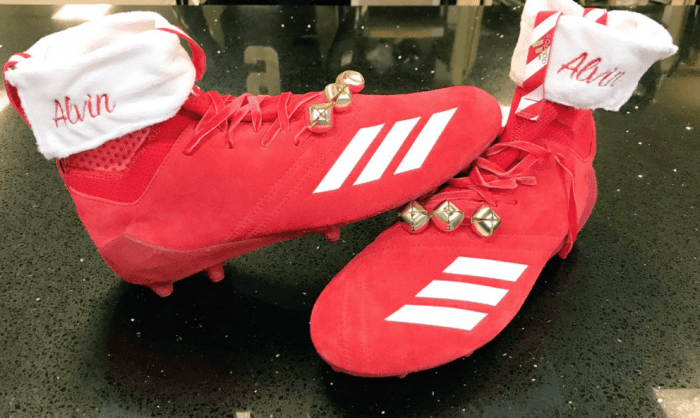 Love to see these Ruby Slippers head all the way HOME into the End Zone today! https://t.co/w6YkejzDpz

— Ruby Slipper Cafe (@rubyslippercafe) December 24, 2017
NFL running back Alvin Kamara is being fined for wearing a pair of Christmas cleats.
War on Christmas much, Roger Goodell?
The athlete ran for 32 yards on 12 carries shared an image of his fine letter with Twitter followers.
''Tis the season. I'll start the @gofundme later, stay tuned lol pic.twitter.com/ZtIapZoWmt

— Alvin Kamara (@A_kamara6) December 28, 2017
He wrote, "Tis the season. I'll start the @gofundme later, stay tuned lol."  The Washington Times reports that the player knew the fine would happen, but he thought it was worth it:
"We talkin bout Christmas??!! Lemme show y'all some different flavors. @adidasFballUS #teamadidas #NewSpeed," he wrote.

"I just feel like its Christmas, everybody's in the Christmas spirit, so why not?"

Teammate Mark Ingram, another running back, was just as perplexed at the league's inflexibility heading into the holiday.

"Don't be a Grinch," Ingram said, the Daily Caller reported Thursday. "It's the Christmas season. It's the Christmas spirit, man. How can you be mad at that? Do not be the Grinch."
He also said, "I'm going to make a GoFundMe — yeah, I'm getting fined — and whatever the fine is, I'm going to pay the fine and the rest I'm going to donate to a charity. Simple as that."
Sounds reasonable, but the NFL is really off base.  If their players disrespect the flag, the league loves it.  However, if the athletes respect Christmas, they get fined.  Make sense?
Not really.  Especially when you consider the fact that NBA players have a lot more freedom.  Here's a photo of a pair of shoes that an NBA player wore on Christmas Day:
Its OFFICIAL! My bro @KarlTowns will ball out in these bad boys tomorow!! Retweet if you want him to get Career high in these!#teamkickstradomis pic.twitter.com/EC93dd6sWC

— Kickstradomis (@Kickstradomis) December 25, 2017
And that's a Grinch-related shoe — not even Santa!
Honestly, I don't care about the NFL anymore.  Their ratings are down, and they seem hell-bent on wasting whatever cultural capital they once had.  Perhaps we should just sit back and see just how bad ratings get before they start respecting their audience.
Image Credit: Twitter
Hat Tip: Washington Times