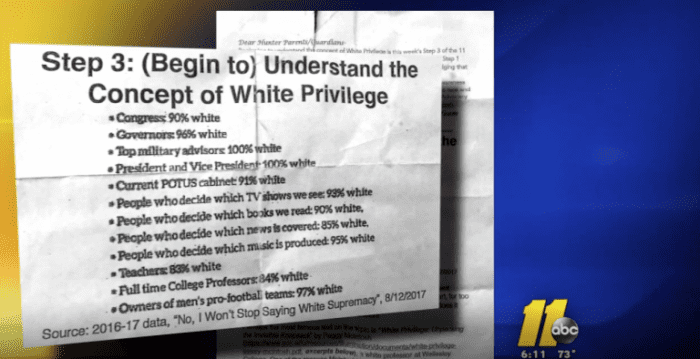 North Carolina parentAmber Pabon was going through her 8 year old son's folder from Hunter Magnet Elementary when she saw a piece of paper that was quite alarming. At the top of the sheet, this was written: "Step 3: (Begin to) Understand the Concept of White Privilege." Under the header, the sheet went on to list the high percentage of white people in government, media and the entertainment industry. At the bottom of the page, the statistics were sourced, an article called, "No, I Won't Stop Saying 'White Supremacy." This page was apparently part of a larger "11-Step Guide to Understanding Race, Racism, and White Privilege" program that a high school teacher had created.
"I think the message itself is inappropriate because, yes, there is racism out here, and they need to learn about it, but let the parents do that," Pabon said in an interview. "Because like I said, if she's teaching him the way she knows, it could be completely different from the way I know. And me being part of the black community, I know different from how the white community sees it."
A note that came with the handout explained that the school's PTA was trying to foster an "awareness and empathy to create a safe and equitable Hunter Community."
But nothing good will come from this, not at all. The racial strife they are fostering…all the way down to 2nd grade…is damaging the fabric of this country gravely. This incident is the perfect example of how identity politics does not help, and — in fact — only hurts the very people it purports to assist.
When Pabon's son was taught about so-called white privilege, he asked his mother, "Are white people better than me?" How sad that a well-meaning (probably predominantly white) PTA thrust this sort of issue onto a young boy.
Ridiculous.
Watch the video below:
Hat Tip: The Washington Times