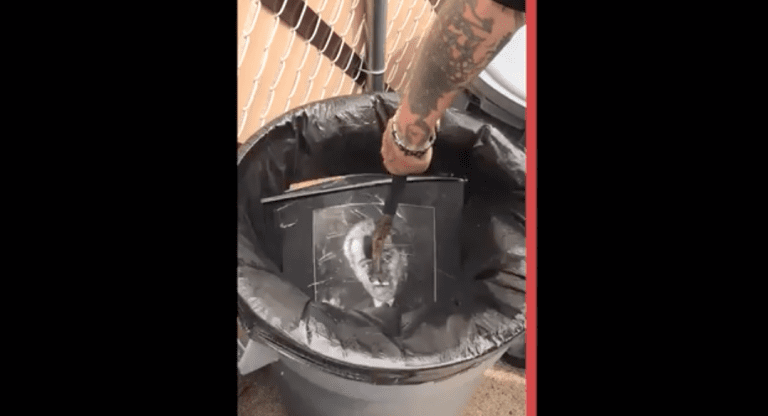 During the Tony Awards, Robert De Niro took the stage and said, to thunderous applause, "F-ck Trump."  The people in the audience stood to their feet in a standing ovation of vulgarity.  As I said yesterday, the Re-elect Donald Trump Committee has a banner night at the Tonys.  
In other words, we could tell by the broadcast that the coastal elites just LOVED the very boring, unoriginal, two word sentence. But how did normal Americans feel about this (formerly) beloved star?  The New York Post has the story of Joseph DeVito, a man from Staten Island, who loved De Niro so much he had a portrait of him on his wall.  The painting was taken from one of his most iconic roles — in Goodfellas — and had presumably hung on the man's wall for years.
No more.  The NYP describes what this man did to the painting.
Joseph DeVito pulled the De Niro picture off the wall in his hallway and dragged it out to the garbage pail before destroying it, frame and all, according to video obtained by SILive.

"This used to be my idol, I used to love this guy," DeVito said while pulling the picture off the wall.

"But after what he did last night at the Tonys — this is where Robert goes."
Then, he put the art into a garbage can and used a gigantic wrench to destroy it.
"You're a real piece of s-t," DeVito says after smashing the glass to pieces. "Another Trump hater down."
The President also responded to the televised insult, of course, via Twitter.  He tweeted, "Robert De Niro, a very Low IQ individual, has received to [sic] many shots to the head by real boxers in movies. I watched him last night and truly believe he may be 'punch-drunk.'"
"I guess he doesn't realize the economy is the best it's ever been with employment being at an all time high, and many companies pouring back into our country," he said in a follow up tweet. "Wake up Punchy!"
Dear Hollywood, you can't just appeal to the coastal elites.
Watch the video of the Staten Island man below, to see what can happen when you only see the world through your Anti-Trump hatred.
Image Credit: Screen Cap
Hat Tip: New York Post