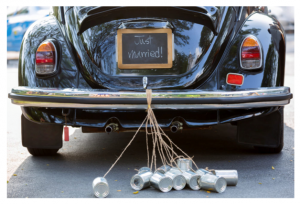 Marriage-it's a beautiful thing, but often it becomes an overemphasized reality to many particularly when it comes to exploring the purpose in which it is intended. We hear mini-series, webinars, and bullet-point presentations on the best ways to attract, prepare, and even pray concerning our future spouses; however, once the preparation has ended, I beg to ask the question, are you really ready to die?
Die? Woah! Things just took an extreme turn, but stay with me.
Yes, marriage is the sacred joining together of two individuals in which love, commitment, faithfulness, loyalty, submission, and fidelity are interwoven around the Lordship of Christ. All of these things fuel the union that is both symbolic of Christ's relationship with the church and His unrelenting devotion to keep this relationship upheld. But how relentless was Christ in showing his love? How do we know what love is?
This is how we know what love is: Jesus Christ laid down his life for us. And we ought to lay down our lives for our brothers and sisters. – 1 John 3:16
Jesus laid down his life on our behalf. He offered Himself up through the act of "laying down," i.e. dying on our behalf. One death and one resurrection laid the foundation for us to live a life of constant adoration and reverence to the Father. This death showed us what love is. This death showed us the intense passion and pursuit that drove the Father in His pursuit of having lifetime union with us. This death, the decision to give our livelihood for another, is the template by which marriage is built.
When you stand at the altar and repeat "I Do," you are not just simply agreeing to the terms of eternal bliss, constant devotion, and unconditional regard as a means to the end. The means to the end is dying enough to yourself, so that your partner gets to live. Christ didn't just die to stay dead, but He ended up living as a result of the decision and gave us the opportunity to live, too. So, it is the same for marriage.
When you decide to die to your selfish ways, your partner gets to live in kindness. When your spouse decides to die to pessimism, you reap the benefits of confidence and hopefulness. When you decide to die to your prideful ambitions, your partner gets to abide in humble outcomes. When your partner decides to die to unforgiveness and harboring resentment, you get the thrill of being tossed in the throes of mercy and immunity from your own short-comings and character insufficiencies.
All in all, when you both make the decision to die to the parts of you that don't resemble the nature of Christ, you get to encounter the process of transformation that ultimately draws you both closer to that very nature itself. Dying to self to look like Christ. Dying to self for your spouse to be like Christ. Dying to selves to glorify Christ. All of these are the genesis of what marriage was constructed to be.
You see, the beauty of marriage is the intention behind it—the sanctification that draws us to look more like Christ. It's so much bigger than being with someone that looks good, brings you joy, loves you completely, and draws you closer to Christ. While these things are evident, they are not the conclusion of the matter. Marriage in and of itself is being joined with the one used in the hands of Christ to cause the parts of you that don't resemble him—to die. What makes it beautiful is that you get to do the same with your spouse and the love of Christ that makes this all possible is put on display to ultimately bring glory to Him.
I know that you thought marriage was going to be a conglomerate of happiness, bliss, joy, hard times, disagreements, and endurance. But let's add the part that few like to discuss—the never-ending process of sanctification. Again, the joy of marriage is found in the intention for which it was built. So, whether you're married and things seem too difficult or you're single and the thought of marriage has become too sought after, ask yourself, "Is (or am I ready for) this holy suicide making me look like Him?" If the answer is yes—you're not only equipped, but you're well ready.
Article by Richelle Henry.
No matter where you are at in your singleness to Godly relationship journey, the worst thing you can do is allow relationship killers to destroy all potentials. Click here to find out what your #1 Relationship Killer is, to make sure you don't ruin the relationship with The One God has for you!