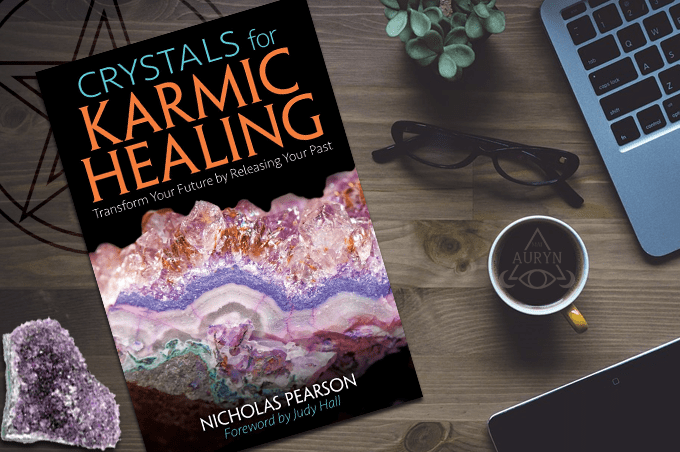 Nicholas Pearson's Crystals for Karmic Healing: Transform Your Future by Releasing Your Past was a very interesting read for me as a witch. The book is coming from a primarily Theosophical oriented New Age perspective, however there was still a lot that I got out of it. As witches we tend to take what works and leave behind the rest. This book is fantastic for anyone who does past-life work, ranging from awakening past life memories, to connecting to specific past lives, to healing issues from previous lives that may still be affecting an individual in their current one. Having read Nicholas' first book and loving it, I definitely wanted to get my hands on this one and read it.
Part One of the book is heavy on the side of the theosophical rays, chohans, akashic records, ascended masters and a more new-age perspective on the concept of karma. I personally didn't resonate with this paradigm, but I know that there's many that do. Luckily Part One only takes up a quarter of the book. Despite this, I fell in love with Part Two of the book. The first chapter of Part Two is a directory of over fifty crystals, stones and fossils that can be used to connect to your past life and for energetic healing. Nicholas highlights how one can casually use these stones everyday as jewelry or in one's pocket as well as how to use them in more complex ways, which leads us to the second chapter of Part Two. This section showcases how one can use crystals in various rituals, healing work and meditations to connect and heal past lives.
My first initial impression of the book is how beautiful the layout is. The book is full color and contains many great colored diagrams and photos throughout it. Nicholas Pearson has become my favorite author on the subject of stones, because he brings so many new things to the table that others haven't, and I believe he will rise to be the new authority on the subject of crystals. He writes like a good teacher speaks – clearly and simply – regardless of how complex a topic might be. This book is highly recommended for those who have a more "shamanic" oriented practice involving past life exploration, journey-meditations and healing difficult energetic and emotional issues.
---
Connect With Me


Website | Tarot Readings | Patreon | Mailing List