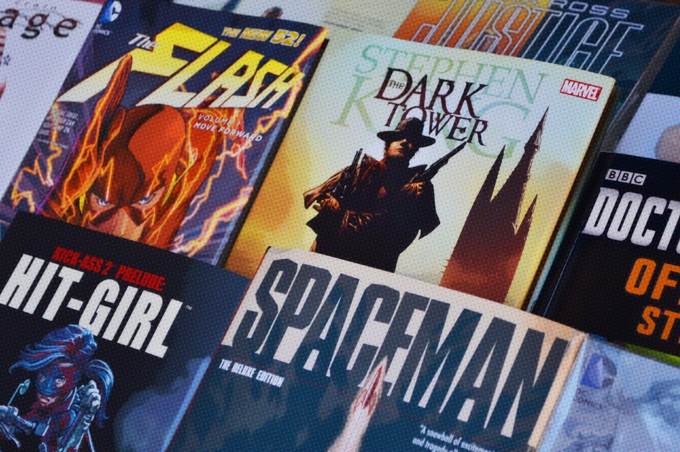 Over the years I've met many occultists and pagans who are immensely into graphic novels and comic books. I was never really huge into graphic novels until a friend kept urging me to read Promethea. This opened a gateway to other graphic novels, many of which are mentioned below by others. However, I wanted to see which other graphic novels and comic books would be suggested for the occultist. I asked six occultists and/or Pagans to give me their top five recommendations that they thought other occultists would enjoy.
Steve Kenson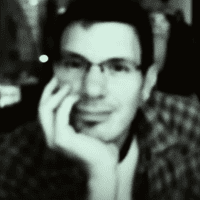 Steve is a founder and lead minister of the Temple of Witchcraft and is the manager of Copper Cauldron Publishing, an imprint for Neopagan and New Age books. A long-time comic book reader and collector, he is a designer and writer of tabletop roleplaying games, including the comic book superhero games Mutants & Masterminds and Icons Superpowered Roleplaying. He is also a staff designer for Green Ronin Publishing, a game publisher based in Seattle.
Steve Kenson's Picks
The Psychonaut Field Manual by Bluefluke

Promethea by Alan Moore

The Invisibles by Grant Morrison

Books of Magic by Neil Gaiman

Muktuk Wolfsbreath: Hard Boiled Shaman by Terry LaBan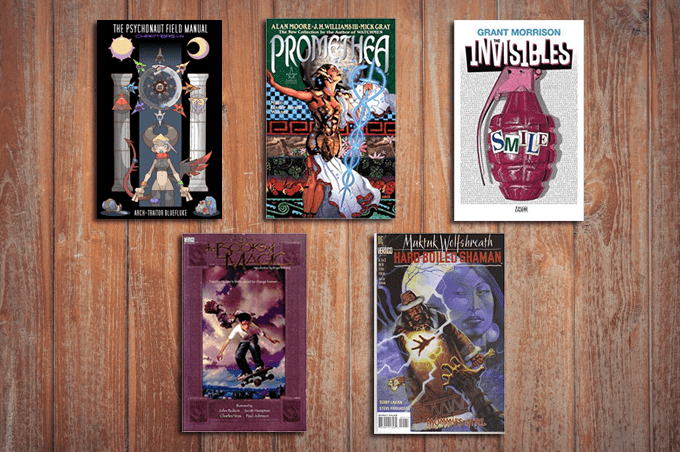 Steve Kenson's Comments
Graphic illustrated narrative has some serious history behind it; just look at ancient cave paintings and tomb carvings to see that it's one of humanity's oldest forms of storytelling, predating the written word. That makes it the "ancestor" of language, one of humanity's oldest forms of magick. It's difficult to narrow the field of graphic novels and comics with occult significance down to just five, but here goes:
The Psychonaut Field Manual by Bluefluke is the only practical, instructional comic on my list: A wonderfully comprehensive and compact introduction to the principles of chaos magick (heavily flavored, as it often is, by Western Occultism) in narrative graphic form. Bluefluke does a marvelous job of distilling the essence of post-modern magick into an illustrated "instruction manual" useful for novices and offering new perspective to experienced practitioners.
Promethea by Alan Moore is a masterwork of myth and storytelling that, along the way, provides considerable insight into occult topics like the Tarot, ceremonial magick, the Qabalah, the astral plane, and the Apocalypse, among other things. One of the central arcs of the series is a guided visual tour of the Tree of Life, which earned Promethea a place on our Temple's recommended reading list for students of Qabalah.
The Invisibles by Grant Morrison is the other work of post-modern magick on my list, a story of "reality terrorists" in a struggle against a totalitarian conspiracy from outside of spacetime. It weaves conspiracy theories, philosophy, end-times aesthetics, myth, and chaos magick into a dizzying narrative with a lot to say about what we fight for—and against.
Books of Magic by Neil Gaiman narrowly beats out Gaiman's classic Sandman series (also well worth your time) for its focus on the occult world specifically, as four figures from DC Comics' guide a young potential magician on a tour of all things magical, including many lessons and ideas applicable to real-world students of magick. Should you notice the similarity between main character Tim Hunter and another young bespectacled British wizard with an owl familiar and an important destiny, well … note that Tim and Books of Magic came first.
Muktuk Wolfsbreath: Hard Boiled Shaman by Terry LaBan  combines the Noir style of the hard-boiled detective novel with the work of a Siberian shaman (and his drunken weasel spirit guide) dealing with the challenges of the spirit world. There was a three-issue limited series from DC Comics' Vertigo imprint (out of print), and LeBan later did a web comic, collected into a single volume and available on Amazon and ComiXology.
Mickie Mueller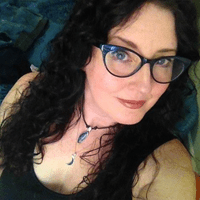 Mickie Mueller's art career began creating logos, cover art, and stage design for St. Louis area rock and metal bands and clubs, later working as a comic book color fill artist. Mickie is now an author and illustrator who explores magic and spirituality through art and the written word at her home studio. She's become a regular article and illustration contributor to Llewellyn's almanacs and annuals and many Llewellyn books since 2007. She is also the author/illustrator of The Voice of the Trees, the illustrator of The Mystical Cats Tarot and The Magical Dogs Tarot, author of The Witch's Mirror, and the upcoming Llewellyn's Little Book of Halloween. Her art has also been seen as set dressing on SyFy and Bravo. She runs several Etsy shops with her husband and fellow author Dan Mueller, including Mickie Muller Studio, Voices of the Trees, Mystical Cats Tarot, and Naked Man Press.
Mickie Mueller's Picks
John Constantine, Hellblazer Vol. 1: Original Sins written by Jamie Delano, Rick Veitch, Illustrated by John Ridgway, Alfred Alcala and Tom Mandrake

The Crow: written and illustrated by James O'Barr

Death, The High Cost of Living: written by Neil Gaiman, illustrated by Mark Buckingham, and Chris Bachalo, cover art by Dave McKean

Promethea, Book 1: written by Alan Moore, illustrated by J.H. Williams, Mick Gray, and Charles Vess

Madame Xanadu Vol. 1: Disenchanted: written by Matt Wagner illustrated by Amy Reeder Hadley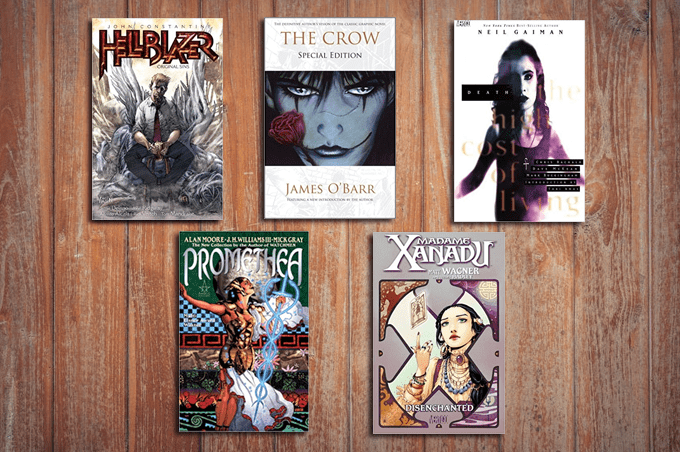 Mickie Mueller's Comments
I'm sure I'm not the only modern witch or occultist who spent hours nerding out as defiant children under the covers with a flashlight discovering the magical worlds within the pages of comic books. As we matured and grew, so did the comics and graphic novels that brought us inspiration on our magical paths. Having spent a few years as a comic book computer colorist before I came home to my esoteric practice, I wonder how those pages of fantastic stories filled with mystery and possibilities may have been one of the many cobblestones that carried me on my path to realization of my own personal magic.
When we read graphic novels, we study the words and illustrations in tandem participating in the story, layout, and text, creating mental pathways that boost our ability to connect words and symbols while letting our imaginations soar. Reading graphic novels also can awaken our inner child connecting us to our past when we viewed the world with the belief that anything was possible. And we don't need a flashlight to read them anymore.
Who doesn't love a good anti-hero and John Constantine, Hellblazer certainly delivers. John is an occultist who has a non-nonsense attitude whether dealing with the supernatural. This street sorcerer with his all too human faults and questionable morality looks like a rumpled chain smoking detective, but he's much more than that. John uses his occult knowledge including astral projection, summoning, warding, and so much more to deal with the spirit realm in his own devil may care way while breaking his own rules on multiple occasions. Sorry, I can't just pick one; I'm recommending the whole darned series. Rule breaking, John would approve.
The Crow written and illustrated by James O'Barr is probably my all time favorite having owned one copy of this graphic novel that I loaned out so many times that it finally vanished. I was later gifted an autographed copy by a dear friend. This haunting black and white work was drawn in different techniques to reflect the cold world of reality, simpler flashbacks, and soft dream sequences. Eric Draven is a revenant soul guided by his totem the Crow as he exacts revenge for the murder of his love. The original story was originally published by Caliber Comics and later compiled into as a graphic novel by Kitchen Sink Press. The story is so full of spirit and was literally a cathartic project of shadow work and healing for the creator. It is magic.
Before dreaming up American Gods, Neil Gaiman along with visionary artist Dave McKean reinvented DC's 1974-76 world of The Sandman. In The Sandman Chronicles Gaiman tells the stories of the anthropomorphic forms of forces like Dream, Death, Delirium, Desire. The stories marry the esoteric with irony and humor and the whole series is just brilliant. A wonderful spinoff of the Sandman is Death, The High Cost of Living in which Dream's sister Death takes a sabbatical to walk to earth in human form in order to connect with humanity. Death is not your typical grim reaper as the personification of death; she's frank yet compassionate, a beautiful take on the concept. Honestly, the whole Sandman Chronicles is excellent.
If you've appreciated the connection of Wonder Woman as a goddess in comics, delve a bit deeper with Promethea. This story follows Sophie who becomes one in a series of vessels for the goddess-like entity Promethea after becoming engrossed in researching her for a college research project. As someone who loves research and can easily get wrapped up in the creative process I can kind of relate! This series was born in 1999 by the author of The Watchmen, and I think he might have written it just for us. This whole series is steeped in the occult and mysticism including Hermetic Qabalah, tarot, alternate planes of existence, magical symbolism, even John Dee and Aleister Crowley make their appearances. I'm recommending Promethea Book 1 and suggesting you go from there, phenomenal art by J.H. Williams, you won't be disappointed.
As a tarot designer, I can appreciate a heroine who's a tarot reader, if you do too, you'll love Madame Xanadu Vol. 1: Disenchanted. She's a problem solver who uses tarot and magic to assist her clients overcome the supernatural challenges they face. Where do her powers come from? She's actually Nimue of Arthurian legend, immortal and running a fortune telling parlor in the Village where she houses mason jars full of captured troublesome entities. This one is the first in a four book series created and written by Matt Wagner and masterfully illustrated by Amy Reeder Hadley.
Jason Miller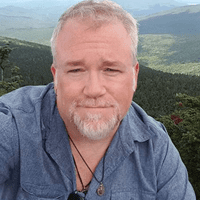 Jason Miller has devoted 30 years to studying practical magic in its many forms. He is the author of the now classic Protection and Reversal Magick as well as The Sorcerer's Secrets, Sex, Sorcery, and Spirit, Financial Sorcery, and The Elements Of Spellcrafting. He also runs the Strategic Sorcery Training Course, The Sorcery of Hekate Training, and several other programs designed to make the most of magic. He lives with his wife and children in the New Jersey Pine Barrens. Find out more at www.StrategicSorcery.net.
Jason Miller's Picks
Rogan Gosh by Peter Milligan

The Invisibles by Grant Morrison

The Magic Life of Milarepa by Eva Van Dam

DogWitch by Daniel Schaffer

Hellblazer by Garth Ennis

Jason Miller's Comments
I have written and spoken against treating superheroes as spirits and creating a magical practice around fiction. I am in fact spoken so much about this that some people think that I must hate comics and fantasy – which is not true. While I am against the sort of "Scroodge McDuck as Jupiter" approach, I certainly can see how magic and occultism have inspired fiction writers, comics especially. As such magicians and witches will of course be inspired by comics – hopefully to delve deeper into their art.
For me there is a big difference between someone inspired by Doctor Strange to travel to the east and learn magical methods of Tibetan and Nepalese practioners, and someone who inspired by Doctor Strange re-writes the LBRP (again) so that it calls upon Agomatto and the Vishanti instead of archangels.
The comics that have inspired me.
1. Rogan Gosh by Peter Milligan
This one is my favorite comic of all time. I love the concept of the Karmanaut and the comic deals with the intersection of dreamspace, spiritspace, and physical space beautifully. The way that Dean sis aware of his enlightened state giving way to a cloud of ignorance as he leaves the Ashram of the Absolute and walks to his girlfriends house is just so spot on to the re-assertion of "real life" after a mystical experience.
2. The Invisibles by Grant Morrison
You can keep Promethea, I will take the Invisibles every time. The idea of magic as freedom is beautifully represented here. The call to fight against the archons is old indeed and Morrison makes you want to pin on a blank badge and be an invisible. I love that the comic was saved from cancellation by asking readers to have orgasms while looking at a sigil given in the letters column. Because King Mob is clearly designed to be Morrison himself, and the story is connected to an event that happened to Morrison in Kathmandu, a lot has been written about this being a hypersigil, so the story can be thought of a spell itself. Of course people have been noticing that "life imitates art" since Oscar Wilde, so I am not sure that there is much beyond that.
3. The Magic Life of Milarepa by Evan Van Dam
Milarepa is like the St Cyprian of Tibet. His Mom paid for him to learn black magic so that he could kill his Aunt and Uncle that enslaved him and his mother and sister after his father died. Feeling remorse for killing them, and everyone else in the village, he sought the Dharma, eventually finding the celebrated Marpa, who had gone to India to bring back new translations of the dharma. Through many hardships he becomes the great Mahasiddha that held both wisdom and magical power.
4. Dogwitch by Daniel Schaffer
Occultism, Leather, Kink, Romance, SexMagic, Sigils everywhere – it's the kind of thing you will love if you love that kind of thing. Dogwitch lives deep in the haunted banewoods where she makes occult/fetish videos to fund her explorations of the edges of magic. Violet Grimm works magic a little closer to how magic actually functions than most comics. Somehow she manages to be an uncompromising strong female lead, while also clearly being a male sex fantasy. If she were real, she would be the one with the power though, so I think that's the important thing.
5. Hellblazer by Garth Ennis
John Contstantine existed before this, but when Garth Ennis has John Constantine solve his lung cancer problem by summoning three competing princes of hell and selling them all his soul – giving them no choice but to keep him alive, I knew I loved this guy. Constantine was not really a master of magic in the way that Doctor Strange or Doctor Fate was, he was not solving his problems by launching bigger and better magic. Constantine instead leveraged his relationships with gods and spirits and humans alike to find solutions that owed as much to cleverness as conjuring.
Lupa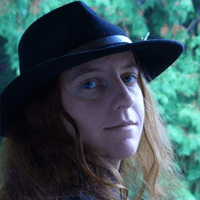 Lupa is a naturalist pagan author and artist in the Pacific Northwest. She is the author of several books on nature-basedpaganism, and is the creator of the Tarot of Bones. She creates ritual tools and other art from hides, bones and other animal remains and is working on a book on collecting these items, entitled "Vulture Culture 101". You can find out more about Lupa and her works at www.thegreenwolf.com
Lupa's Picks

Lupa's Comments 
When I read comics, I'm mostly looking for a good story and an entertaining read. I also don't want anything grimdark and uber-edgy, but I do like a nice mix of tones. They also don't have to be in-your-face pagan either, though I appreciate little in-jokes and references; the DC Vertigo line starting in the 90s has been full of that sort of thing, for example.
There are SO MANY comics I could have chosen, but I wanted to highlight some that aren't the usual suspects. I love introducing people to favorites of mine that they haven't encountered before. I hope readers enjoy these!
Castle Waiting – There's a very good reason this is at the top of my list. If I had to pick one graphic novel to take with me on a desert island, this would be it. Author/artist Linda Medley turns your standard fairy tale on its head, but not in the predictable urban fantasy manner. Instead, she creates a pseudo-medieval world full of magical creatures and strange but lovable people—and what happens to the sleeping beauty's castle once everyone is awake again. Her classic storytelling skills are spot-on and she draws on well-known European tales from Iron John to Jack and the Beanstalk and many more, but nods to modern, ironic humor and the occasional bit of good-humored snark. There's nothing overly distressing here; you could even read this to young children and have them enjoy it. But it's a well-woven story that I return to again and again, with characters I would love to spend time with in their cozy castle.
Mage: The Hero Discovered – I waffled on whether to include this one because it's pretty lean on female characters and I'm not happy about what happened to the only female major support. It's also pretty rough around the edges, from writing to artwork. However, I am including it because it's my favorite work by Matt Wagner, and it's a fun urban fantasy retelling of the Arthurian mythos while also being a very loose biography of the author. Main character Kevin Matchstick is the person thrust unwillingly into the role of hero; there's not a lot of backstory given, jumping instead directly into the current story. While there are predictable parts and it's not especially deep, I enjoy watching how Kevin himself develops over time, and I like the various bits of faerie lore that Wagner nudges into the storyline along the way.
Swamp Thing Vol. 1-6 –  When people ask about pagan/occult comics, Alan Moore's Promethea is usually one of the first suggestions. However, I am a big fan of his run of Swamp Thing from the 1980s. Originally your standard horror monster with a tragic backstory, under Moore's care Swamp Thing (Alec Holland) gets turned into an animistic avatar of his local ecosystem, particularly the plants. His murder is still a part of the storyline, but his adventures bring him into contact with a female werewolf struggling under a chauvinistic husband, a council of older, greater plant spirits in the Amazon jungle, and even Pogo Possum and friends in a single-issue story that is nowhere near as light-hearted as you might expect. While Swamp Thing certainly has its dark moments, they are not gratuitously gory or pessimistic; they are the deep dark velvet of moss in shadow rather than the hard, cold lines of a filthy city alleyway.
Moonshot, Vol. 1-2 – The Moonshot series features comics anthologies with indigenous North American authors and artists from a variety of cultures. Some of them have contributed to higher-profile projects for DC and Marvel, but others are lesser-known (but no less talented) indy creators. Both anthologies were funded via Kickstarter, and they're probably my favorite crowd-funded creations. Each contributor takes about eight to twelve pages to tell their story, and the tales range from traditional stories to futuristic sci-fi. While most are your typical panels, there are a few that are written stories on artistic backdrops, a little something for everyone. Having enjoyed traditional indigenous stories since I was young, I really enjoyed seeing how the artists illustrated various people, spirits, deities and other beings, adding to their images in my mind. [Unfortunately out of print and hard to find.]
Power & Magic: The Queer Witch Comics Anthology – If you're looking for more variety than your standard "white straight dude" comics, this anthology is a pretty solid alternative. The contributors are all queer people of color, and the characters they bring to life in their stories are all over the map of race, gender and sexuality—with plenty of magic all around. It's a beautiful array of styles as well, and I really appreciated how creative each story is. There are tales that made me laugh, and incredibly poignant ones that struck to the center of my heart.
Chas Bogan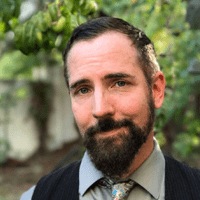 Chas is author of The Secret Keys to Conjure, Unlocking the Mysteries of American Folk Magic. He teaches online at The Mystic Dream Academy and in person at his shop in Walnut Creek, California, The Mystic Dream. He crafts spiritual supplies for his companies Carnivalia and Modern Conjure.
Chas' Picks

Chas' Comments
Narrowing my list to the following five illustrated stories took sacrifice (I tried to get you on this list Shmoo, I really wanted to). Often times a story can be spiritually meaningful even when its art or subject matter are not spiritually mindful. But although I see a bit of my soul in Sock Monkey, I decided to limit my list to interests aligned with the occult. Consider giving the following titles a try.
The Disrespectful Summons by Edward Gorey. The Devil jumps on Miss Squill, marking her breast, and encouraging her to do many wonderfully wicked things. When I'm in the mood to do evil but am short on time this quick read satiates the witch in me.
The Sandman: Season of Mist by Neil Gaiman. I'm loved most of the Sandman series, but this volume stands out for its portrayal of supernatural beings and the mutable realms in which they dwell.
Schwa by Bill Barker. Back when grey aliens and conspiracy theories lurked in every shadow, this slim comic presented a paranoid world done in slanted black and white. When I bought it back in '93 it came with an assortment of stickers and odd ephemera, often exhibiting alien heads or dire warnings about imminent invasion and apocalypse. It's cute though.
Griffin & Sabine by Nick Bantock. The story itself is supernatural at its core, exploring alternative states of existence and dimensions of self. It's original three volumes are composed of postcards and actual letters that one must remove from their envelopes and unfold to read. The hands-on nature of these books make the overall mystery more tangible, adding an element of ritual that speaks to the magician's mind.
Promethea by Alan Moore. Can't leave this one out. In it, Moore explores various aspects of the occult as direct subject matter, rather than mere supernatural dressing. The illustrations evoke the sort of visions experienced through trance and psychedelics, taking the viewer on a mystic journey. The magical paradigms explored within these pages are approachable to metaphysical newcomers, while also giving magical adepts thoughts to ponder more deeply.
Natalie Zaman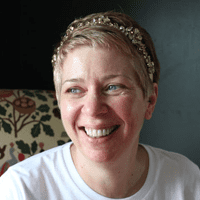 Natalie Zaman is a middle-aged housewife (witch) from New Jersey with good taste and lots of questions—which landed her here. She's also the author of Color and Conjure and Magical Destinations of the Northeast, and a regular contributor to various Llewellyn annual publications and Witches & Pagans magazine for which she writes the recurring feature "Wandering Witch." If she's not in, there's a good chance she's traveling or shopping. Or both.
Natalie's Picks
A.D. New Orleans After the Deluge by Josh Neufeld

Gandhi: My Life Is My Message by Jason Quinn, Illustrated by Sachin Nagar

Charles Darwin's On The Origin of Species A Graphic Adaptation by Michael Keller, Illustrated by Nicolle Rager Fuller

Introducing Quantum Theory: A Graphic Guide to Science's Most Puzzling Discovery by J.P. McEvoy and Roger Zarate

Witch Hunts: A Graphic History of the Burning Times by Rocky Wood, Lisa Morton and Greg Chapman (illustrator)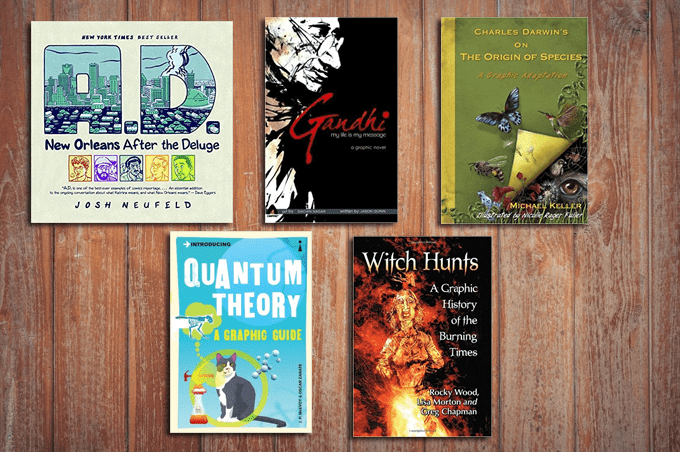 It's only fair to warn you that I'm terrible when it comes to following directions. Mat said to pick my top five graphic novels for magically minded folks, and, well, I think I snuck in an extra four titles at least. I'm also, admittedly, not a deep ocean. I'm like those puddles you find in parking lots; sometimes they're shallow, with shiny rainbow oil slicks on the surface, and others are ever so slightly deeper than you might have first guessed. I debated heavily as to whether I should have included The Complete Calvin and Hobbes in my picks (Oops! Guess I just did. While I'm at it, if you haven't read The Akward Yeti, do so, stat. You will recognize me in the character of "Heart.").
Anyway, I'm pretty sure my reading list reflects this, if not in the books themselves than the "why" behind my choices. Like most of my library, my graphic novel collection is overwhelmingly non-fiction. For me, being a magically minded person is being an informed person—and so I look for books that will enhance magical practice by teaching me something—anything—new, and/or giving me a new and different perspectives. Sometimes those books are not about magic specifically, but science, history and psychology. It's all woven together, dahlinks! Here are my favorites:
I love New Orleans, which is the initial reason why I was going to choose NAME and Anne Rice's Interview with the Vampire, Claudia's Story. Apart from The Mummy, I consider IWTV Anne Rice's perfect novel, and to see it through Claudia's eyes… It's one of the few fiction books I own, but for this list I felt like I needed something more, and that something is A.D. New Orleans After the Deluge by Josh Neufeld. New Orleans is one of the most magical cities—literally—in the country, and I will never ever know it pre-Katrina. After the Deluge gives you a snapshot of what was—and then drowns you drowns you in four, individual and entwined stories of four lives in the days following the storm.
I was really torn about this one. My first thought was to include Osamu Tazuka's Buddha—a tome at 8 volumes, but an entertaining and incredibly human look at the Enlightened One. However, Gandhi: My Life Is My Message by Jason Quinn, illustrated by Sachin Nagar kind of blows me away. What I was looking for here was a portrait of a model life. Gahndi seems more knowable to me, maybe because he's closer to our times, and he's one of those people who transcends culture and religion. Sure you can see the film, but in this book you can ponder each panel to meditate on how you can bring the Mahatma's mindfulness into your life—good for anyone on any path.
Most of the time, I don't get science. I mean, I get it, but most "scientific" explanations of things turn into the adult wha-wha-wah voice in the Peanuts cartoons. Despite that, I'm convinced that at some point science will provide concrete evidence by some numerical formula that God/dess exists and magic is real. If, like me, you're a bear of little brain (and even if you aren't), Introducing Quantum Theory: A Graphic Guide to Science's Most Puzzling Discovery by J.P. McEvoy and Roger Zarate (actually, this whole series, which features a few different authors) is a good place to get the basics. Why not get to know the elements we consider divine, understand how they work (or try to!) on the most intimate level? Sneaking in another science title, Charles Darwin's On The Origin of Species A Graphic Adaptation by Michael Keller, Illustrated by Nicolle Rager Fuller outlines the theory in story form: Darwin tells it himself as he relays his adventures abroad to a group of friends.
Witch Hunts: A Graphic History of the Burning Times by Rocky Wood, Lisa Morton and Greg Chapman (illustrator) is the witchiest of my choices. I saw Witch Hunts as an illustrated version of the big encyclopedia-type books I used to read in the library about witches when I was a kid in the 70s—the only "references" to which I had access. There needs to be more books like this one—perhaps more focused and concentrated on specific groups and time periods. Here's hoping its publication will be the start of a topic, rather than an influence or theme, that will be explored in depth.
Mat Auryn's Honorable Mentions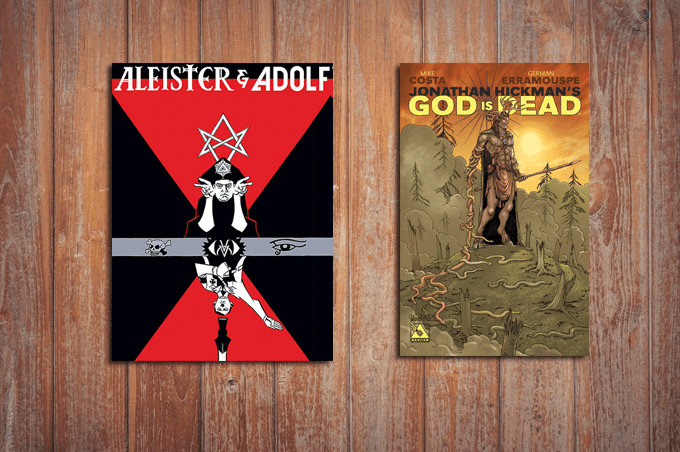 Mat Auryn's Honorable Mentions
Aleister & Adolf – This is an awesome graphic novel about the historical occult battle between Aleister Crowley who was employed by British Intelligence to fight the nazi forces of Adolf Hitler, who in turn also has an obsession with occultism and seeking out the Spear of Destiny. Of course poetic license is taken, but it's still a graphic novel that I think most occultists would enjoy.
God Is Dead – The premise is that one day every god and spirit from mythology throughout history is suddenly roaming the streets and all of them are battling for control. The graphic novels have some very interesting thoughts on the concept of deities, egregores, worship, and belief. Alan Moore also wrote a special issue of the graphic novel and he appears in it along with Glycon.
---