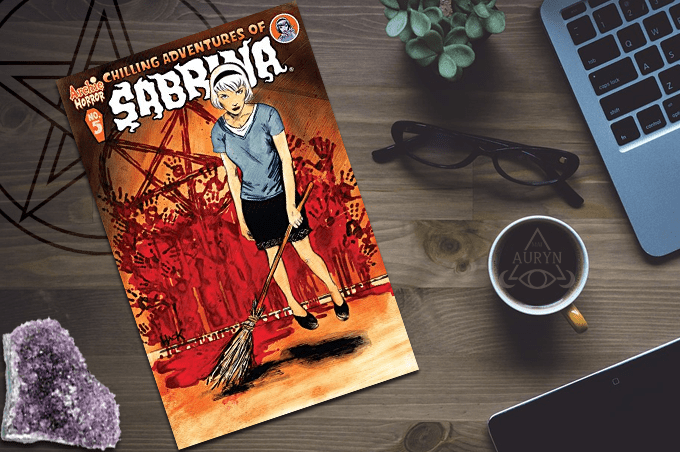 I don't normally review comic books – in fact, I think that this is my first, and anything with the word "Sabrina" makes me roll my eyes. That's because growing up there was that show Sabrina the Teenage Witch with outspoken Christian actress Melissa Joan Hart, was campy in perhaps all the worse ways. So, with reluctance, I checked out The Chilling Adventures of Sabrina comic series. I was shocked at how freaking good it was.
If Sabrina the Teenage Witch was about as fluffy bunny as you could make Witchcraft, The Chilling Adventures of Sabrina reclaims the story on the exact opposite side of that spectrum. Think less Sabrina as casting quirky innocent little spells to deal with high school problems, and think more along the lines of devil-worship, animal sacrifices, Goetia rituals (including appearances from the demons), necromancy, the witch's sabbath rituals in the forest, summoning succubi, and cannibalism – which are heavy themes in this comic series. There's even a part where Sabrina does a honey-jar spell and honestly, I couldn't find anything "inaccurate" about it from a conjure point of view. It's almost like it just literally gave the reader instructions on how to perform a honey-jar working.
The archetype of the "witch" can never be claimed and "trademarked" by any one group – and any fictional portrayal of witchcraft is going to be just that – fiction. That being said, there are some strong Traditional Witchcraft themes. The witches in The Chilling Adventures of Sabrina worship the Devil, who borders between the Christian Satan and the Wild Horned God of the forests, which in itself has a very Trad Craft feel to it. If you enjoyed the movie the VVitch, you'll most likely love this comic series, as there are tons of similar scenes including rituals out in the woods, signing the Devil's black book, etc.
Roberto Aguirre-Sacasa writes in the introduction that he pitched the idea to Archie Comics saying "If Afterlife was my love letter to Alan Moore's Swamp Thing, Sabrina would be my love letter to (Neil Gaiman's) Sandman." There's also a nod to Alan Moore and his work, as the snake familiars in the comic talk about how they're devotees of the god Glycon. Glycon was the "god" whom Alan Moore stated he was a devotee of when he came out as a practicing magician, while simultaneously acknowledging that Glycon was historical a hoax. Historically, Glycon was most likely a hand puppet in ancient Roman Times.
This isn't the only references throughout the series. There are references to Aleister Crowley, HP Lovecraft, a talking sabbatical goat named Baphomet which Sabrina rides, and many other occult nods and references sprinkled throughout. The storyline is set in the 1960's and the artwork has a really dark vintage feel to it which I really enjoyed and felt tapped into Roberto's vision, which has been compared to The Exorcist and Rosemary's Baby.
---
Connect With Me