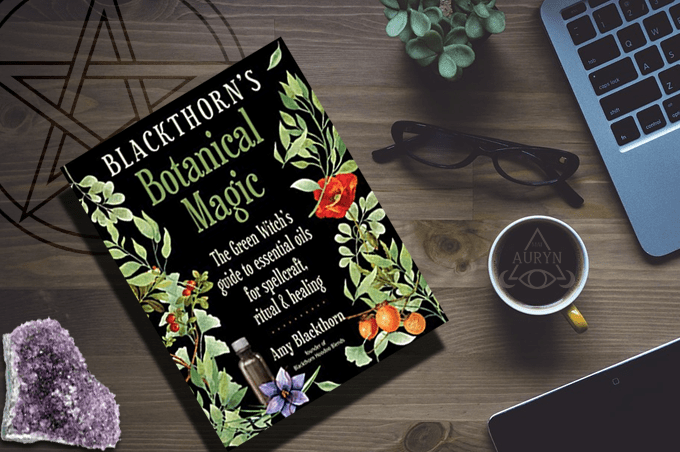 Amy Blackthorn has provided a fantastic guide that unites traditional aromatherapy and magickal practice when it comes to essential oils in her book Blackthorn's Botanical Magic: The Green Witch's Guide To Essential Oils For Spellcraft, Ritual & Healing. Books on essential oils usually only focus on one or the other but Blackthorn maintains a perfect balanced approach of both, along with providing the folklore and history of each essential oil that she addresses throughout the book.
Aside from giving a great overview of the most common essential oils individually, the book has over 100 different essential oil recipes for different magickal and spiritual intentions. Some of my favorite parts of Blackthorn's Botanical Magic were her botanical magic starter kit, which provides clear instructions on what to have to start a magickal practice with essential oils. I also really enjoyed that she addressed various myths about essential oils, some put out by manufacturers of essential oils themselves for the purposes of boosting sales – such as the shelf-life of essential oils as well as realistic dangers of using essential oils. The myth-busting section shows a level of responsibility in teaching her readers how to safely and properly work with essential oils.
Blackthorn is an amazing fount of knowledge and wisdom when it comes to the topic of working with plants and creating formulas and this exudes from the book without overwhelming the reader with too much information or advanced occult philosophy, making Blackthorn's Botanical Magic practical and approachable for any reader. Blackthorn has the most amazing tea blends that she sells through Blackthorn Hoodoo Blends, that I'm straight up addicted to, and I'm really hoping she will eventually write a book on magickal teas.
---

---
Click Below To Purchase My Book: