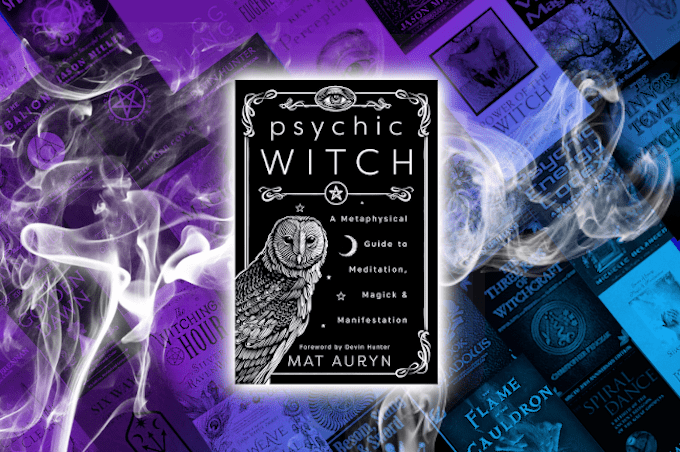 I have always done my best to be completely transparent when it comes to citing my resources and where I learned things regarding the occult. No book on occultism is born from a vacuum, at least not any worth reading. Any new book is born through the legacy of books and teachings that have come before it.  The metaphor of giving birth to a book is used by many authors I know, and it's very fitting. Writing a book is an act of creation. At times it's exciting and fun and others nerve-racking and exhausting. I even view my editors as my book mid-wives, helping to ensure that Psychic Witch was born in the healthiest and most perfect manner possible. (Special shout-out to Elysia!)
 

View this post on Instagram

 
Just like any birth, a book inherits from those who have come before them – its ancestors. It's almost impossible not to inherit from the works of the past, the main difference is whether someone is aware of or cites what has come before that the book has inherited. Different books will give different amounts of traits, while others are ignored or abandoned. Ensuring that you're offering something new, something that hasn't been offered in the certain way your book has before involves a lot of thread weaving between different book influences and adding your own interpretation, vision, practices, theories, exploration, and ideas that have worked for you to the rich legacy that has come before you to ensure that you're providing something new and helpful and not merely a rehashing of older works. This was at least my perspective when writing Psychic Witch. As such, it's my hope that this book will continue in the tradition of occult books that others will find of value.
 

View this post on Instagram

 
People have asked three questions of me a lot in the last year:
1 – Which books do I recommend on psychism?
2- Which books are my favorite in regards to magick and occultism?
3 – What are the contents of my book?
These three questions can be answered for the most part based on the books that were the strongest influences on Psychic Witch. So here is my bibliography with scientific and medical journals and books omitted from the list. While this doesn't fully answer the question number three, it might give you a better idea of what you might expect, though it doesn't include my training within traditions or my personal experience and experimentation.
 

View this post on Instagram

 
As you can see my influences are pretty wide: from Daniel Schulke to Silver Ravenwolf, from Laurie Cabot to Aleister Crowley, and so on. As I've written before, I try to find wisdom and insight in every spiritual, metaphysical, and occult book possible. While this list isn't definitive of my favorite books (question two), it will give a good idea of the books that I love that I felt were instrumental to my own Craft and which contributed to writing a book with the assumption that the reader knows nothing about these topics to diving deep into them. Without these books, Psychic Witch wouldn't be what it is, and I'm forever grateful for these works.
Anonymous. The Kybalion: Hermetic Philosophy by Three Initiates

Belanger, Michelle. The Psychic Energy Codex: A Manual for Developing Your Subtle Senses

Brennan, Barbara. Light Emerging: The Journey of Personal Healing

Cabot, Laurie with Penny Cabot and Christopher Penczak. Laurie Cabot's Book of Spells & Enchantments

———. Laurie Cabot's Book of Shadows

———. and Tom Cowan. Power of the Witch: The Earth, the Moon, and the Magical Path to Enlightenment

Coyle, T. Thorn. Evolutionary Witchcraft

Crowley, Aleister. The Book of the Law

———. The Book of Thoth

Dominguez, Jr., Ivo. Practical Astrology for Witches and Pagans: Using the Planets and the Stars for Effective Spellwork, Rituals, and Magickal Work

———. The Keys to Perception: A Practical Guide to Psychic Development

DuQuette, Lon Milo. The Magick of Aleister Crowley: A Handbook of the Rituals of Thelema

Faerywolf, Storm. Betwixt and Between: Exploring the Faery Tradition of Witchcraft

———. Forbidden Mysteries of Faery Witchcraft

Foxwood, Orion. The Candle and the Crossroads: A Book of Appalachian Conjure and Southern Root-Work

———. The Flame in the Cauldron: A Book of Old-Style Witchery

———. Tree of Enchantment: Ancient Wisdom and Magic Practices of the Faery Tradition

Fries, Jan. Visual Magick: A Manual of Freestyle Shamanism

Gardner, Gerald. The Meaning of Witchcraft

Grimassi, Raven. Communing with the Ancestors: Your Spirit Guides, Bloodline Allies, and the Cycle of Reincarnation

———. Encyclopedia of Wicca & Witchcraft

———. Grimoire of the Thorn-blooded Witch: Mastering the Five Arts of Old World Witchery

———. Old World Witchcraft: Ancient Ways for Modern Days

Hauck, Dennis William. The Complete Idiot's Guide to Alchemy

Hunter, Devin. The Witch's Book of Mysteries

———. The Witch's Book of Power

———. The Witch's Book of Spirits

Jung, Carl Gustav. The Collected Works of C.G. Jung: Volume 9, Part II, AION: Researches into the Phenomenology of the Self

———. The Collected Works of C.G. Jung, vol. 13: Alchemical Studies

Kaye Sawyer, Irma. The Brightstar Empowerments: Compilation Edition

Levi, Eliphas. Transcendental Magic

Locklove, James. Gaia, a New Look at Life on Earth

Miller, Jason. The Elements of Spellcrafting: 21 Keys to Successful Sorcery

———. Protection and Reversal Magick: A Witch's Defense Manual

———. The Sorcerer's Secrets: Strategies in Practical Magick

Nema. The Priesthood: Parameters and Responsibilities

Orapello, Christopher and Tara-Love Maguire. Besom, Stang & Sword: A Guide to Traditional Witchcraft, the Six-Fold Path & the Hidden Landscape

Oschman, James L. Energy Medicine: The Scientific Basis

Pascal, Eugene. Jung to Live by: A Guide to the Practical Application of Jungian Principles for Everyday Life

Penczak, Christopher. Instant Magick:Ancient Wisdom, Modern Spellcraft

———. The Inner Temple of Witchcraft: Magick, Meditation and Psychic Development

———. The Outer Temple of Witchcraft: Circles, Spells and Rituals

———. The Plant Spirit Familiar: Green Totems, Teachers & Healers On the Path of the Witch

———. The Shamanic Temple of Witchcraft: Shadows, Spirits, and the Healing Journey

———. The Temple of High Witchcraft: Ceremonies, Spheres and The Witches' Qabalah

———. The Three Rays: Power, Love and Wisdom in the Garden of the Gods

Rankine, David and Sorita d'Este. Practical Planetary Magick: Working the Magick of the Classical Planets in the Western Mystery Tradition

Ravenwolf, Silver. MindLight: Secrets of Energy, Magick & Manifestation

———. The Witching Hour: Spells, Powders, Formulas, and Witchy Techniques that Work

Regardie, Israel. The Golden Dawn: A Complete Course in Practical Ceremonial Magic

Salisbury, David. A Mystic Guide to Cleansing & Clearing

Schulke, Daniel. Lux Haeresis: The Light Heretical

Starhawk. The Spiral Dance: A Rebirth of the Ancient Religion of the Goddess: 20th Anniversary Edition

Wachter, Aidan. Six Ways: Approaches & Entries for Practical Magic

Zakroff, Laura Tempest. Weave the Liminal: Living Modern Traditional Witchcraft
---

---
Click Below To Purchase My Book: