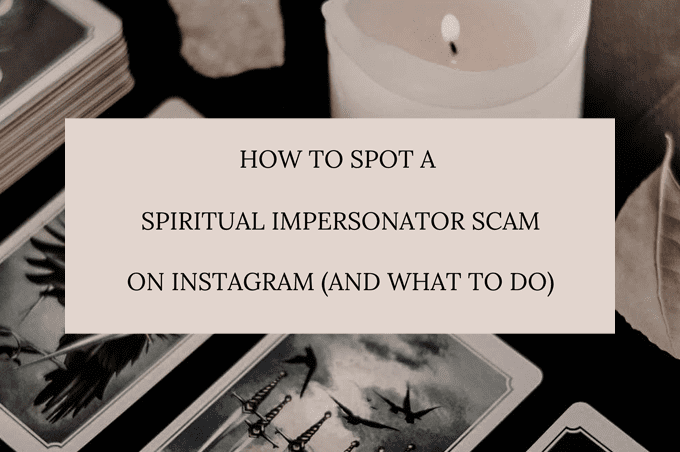 If you're part of the alternative spiritual community, I'm sure you've seen all the imposter account scams. Essentially, someone will clone an account of a high profile author, tarot reader, psychic, medium, witch, etc. They will mimic the bio and repost several of the same instagram photos. Once they've established their profile they will then proceed to go through their target's follower list and begin following and messaging those people trying to offer them psychic readings, tarot readings, or magickal workings. Sometimes they will ask for payment first. Sometimes they will give a very poor cold reading and stop asking for payment before proceeding. (Cold readings are when you say a few flattering vague statements that anyone can relate to, posed as a psychic reading.) Once you've paid, they will block you.
When I got my first imposters it began occurring about once a couple months, then increased to monthly, then finally almost weekly. The only person I'm aware of who has been targeted more than I am is author and podcaster Theresa Reed known as The Tarot Lady on instagram. Both of us have had this eternal headache on instagram and both of us have thought about just deleting our accounts in general. Both of us have tried to get our accounts verified, which quickly shows that Instagram's verification process is a scam. It claims to be there to help "figures well known in their communities" be verified as the real account and to help combat imposter accounts pretending to be them. Instagram has an obvious bias against authors in our spiritual genre regardless of how large our online following might be, how many books we write or sell, or how many public media mentions we receive (which is a criteria for verification.)
Without asking the legal questions of "why is Instagram allowing this to happen?" or if a class action lawsuit for identity theft and financial damages is possible, it's clear that instagram doesn't care about the safety of both the person being impersonated, and more importantly those being scammed. I've had several messages from folks telling me they have spent hundreds of dollars to accounts pretending to be me without receiving their readings. It's also frustrating since our community has this historical stigma (which still exists) about psychic readings as well as spiritual and magickal services being scams, and this only furthers it by using the names and images of people trying to engage in ethical and moral services. After continually taking every action possible, I realized I should write this quick guide to help keep us all a bit safer by talking about what to do about these accounts on instagram. Throughout I've posted several (but not nearly all) of the accounts that have pretended to be my real instagram account.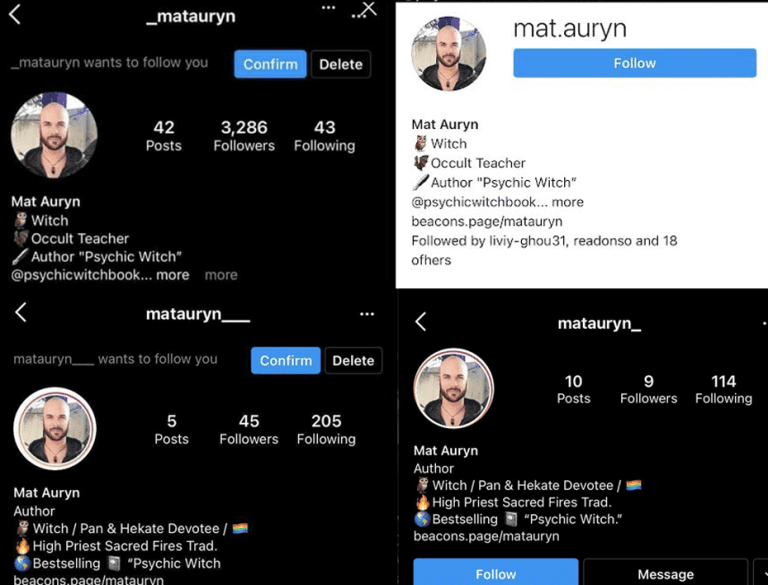 Tips to Discern Imposter Accounts
If you're uncertain about whether or not an account is really the person they're pretending to be, here's a list of things to consider:
Check their username. Is the person's name misspelled? Does it have extra letters? Are there random underscores, numbers, or periods in their username? This is the first red flag.
Search for the person's name on instagram. If you were to do a quick search on instagram, do you find an account (or several) for that person?
Compare follower count. Is there a huge discrepancy between the amount of followers the account messaging you has and another account with that name?
Compare dates of images posted. With cloned accounts, they almost always take the person's photos from the account they're pretending to be. Are all of their images posted on the same date? Does one account have images posted on various dates and the other has them all on the same date?
Compare the number of comments on photos posted. Same as above, but a real account will often have way more comments on the same photos than the imposter account.
Google the person & find their website. Almost everyone who offers services or is an author will have a website. That website will almost always have links to their real instagram accounts and other social media on there. A google search will often also pull up official social media accounts, and if it doesn't just google their name and include the social media. ie. "Mat Auryn Instagram."
Are they using weird language and spelling when messaging you? These imposter accounts often have poor spelling and grammar, but most of all use weird language. What I mean by that, is that they sound like someone's poor idea of a spiritual reader or psychic, using odd flowery language that doesn't even make sense such as "Grand Rising!" as a greeting. I still have no idea what that is even meant to be.
Are they going overboard in emojis in the private message? For some reason, these scammers overuse emojis in their messages. It's like they have an emoji every three words in their messages.
Is the person offering services the real person wouldn't offer? For example: palmistry readings when it's a tarot person not known for that. In my specific case, I haven't even offered readings to the public since my book's release in early 2020.
Are they claiming to be a private real account of the person yet trying to talk you into professional services? Think about it, it doesn't make sense at all. Why wouldn't they use their public / professional account for professional services?
Are they messaging you (often randomly) to talk you into a reading? Aside from all the above, it really boils down to this: are they messaging you trying to talk you into a reading? I have never met one single legit reader who has done this.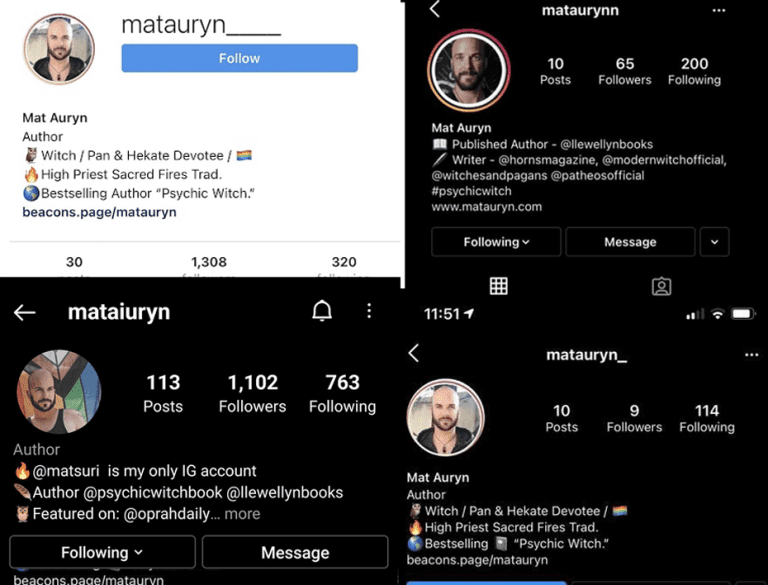 What To Do If An Imposter Account Contacts or Follows You
Report their account. Unfortunately, most of us that are receiving imposters aren't verified accounts on instagram. That means you will have to report the account as "Pretending to be someone I know" not "Pretending to be a public figure or celebrity."
Block their account. Blocking the account can help to at least limit your ability to be targeted a little bit, as it will block any future accounts they create. However, these seems to be multiple people, and they tend to seem to have a way around this in creating new accounts not associated with their last one.
Don't contact the person they're posing as. Folks will often reach out to the real account to tell them that an account is pretending to be them or to ask them if they are that person. All of these people have good intentions and I can totally see why they would do this. On one level I appreciate it. However, most of us being impersonated have a full inbox on a regular day. when an imposter account appears, I receive hundreds of messages a day on instagram from folks telling me about it or questioning me about it. Imagine having your inbox filled daily with hundreds of messages of folks telling you about the impersonator. It gets overwhelming fast. Don't feel bad if you've done this, like I said, hundreds are doing the same and we know that you aren't trying to do anything but be helpful and have no bad feelings towards you for notifying us.
If you sent them money, contact your bank and financial services and the police. If you have fallen for these scams, immediately contact your bank and whatever services was used (they tend to use paypal and venmo the most). Do not be afraid to contact the police and report the scam.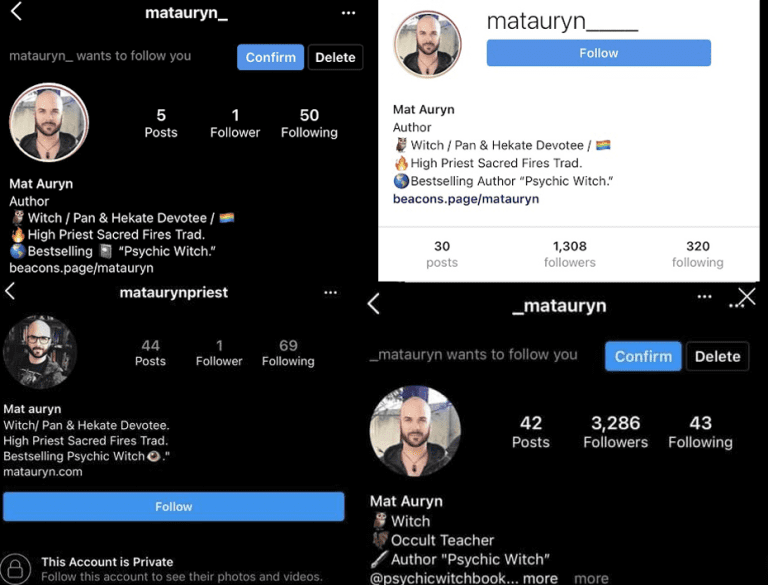 What To Do If An Account Is Pretending To Be You
Tell Your Followers. Make posts and stories informing folks that an account is pretending to be you and ask them to report it. Post on your other social media about it such as twitter, facebook, etc.
Report the Account As Impersonating You. Unfortunately this doesn't always work because these people will often block you after they've cloned your account.
File A Report With Instagram. File a report with instagram here if you have an instagram account and a report here if you do not have an instagram account.
Perform Curses And Bindings On The Person Behind The Account Impersonating You. Kidding. Well, maybe. Do as thou wilt!
---
Ways To Support My Work: