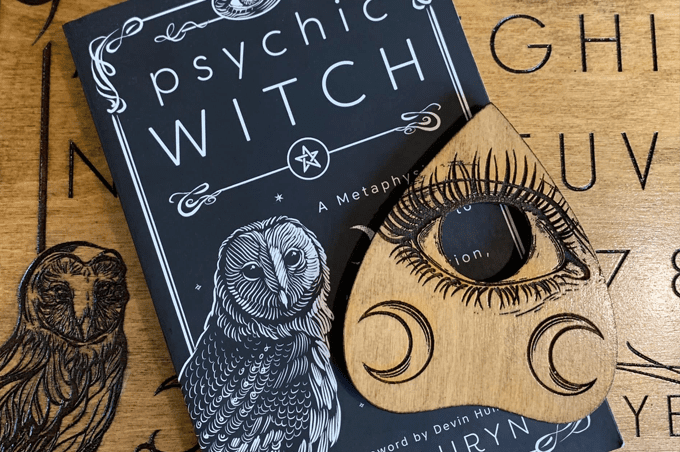 Last year I was asked by The Buckland Museum of Witchcraft and Magick to donate something, being told that it was their most sold book in their gift shop after (of course) Raymond Buckland's Big Blue Book. This was a huge honor but I wasn't sure what I should donate, so I sat on the invitation for a long time despite what an overwhelming honor it was. Here's a bit of background on the museum:
"Raymond Buckland founded The Buckland Museum of Witchcraft and Magick in 1966. After visiting the late Gerald Gardner and his collection on the Isle of Man, Raymond was inspired to start a collection of his own. While working for British Airways, he was able to acquire many of the artifacts in this collection from all around the world. He initially displayed his museum on a few shelves in the basement of his Long Island, N.Y. home. However, over time, Raymond's witchcraft collection rapidly grew to well over 500 artifacts, ranging from Ancient Egyptian ushabtis to documented artifacts from the Salem Witch trials. This was the first museum of its kind in the United States with an anthropological approach to the world of folklore and the supernatural.

The museum was in existence for ten years in this New York location (1966-1976). During that time, it was featured in numerous magazine and newspaper articles and was the subject of a television documentary. The New York Times, New York Post, Newsday, Look Magazine, Cosmopolitan, Esquire, Scholastic Voice, and many more, including foreign magazines, had featured articles about the museum. Raymond was also interviewed on a large number of radio stations and both national and international television. The Metropolitan Museum of Art requested and featured some of the pieces in one of its special exhibits.

In 1976, Raymond Buckland moved to New Hampshire where he opened the museum from 1977 to 1980. Unfortunately, because of a rigorous writing and lecture schedule, he then had to place the museum collection into storage, where it remained for a number of years.

The museum collection was briefly reestablished in New Orleans in 1999 where it passed through multiple hands before being salvaged by Rev. Velvet Reith.  A bit damaged and somewhat reduced collection, Velvet was instrumental in preventing the collection from degrading further and being lost.

The Buckland collection includes artifacts from Raymond Buckland, Gerald Gardner, Aiden Breac, Lady Rowan, Aleister Crowley, Sybil Leek, Anton LaVey, Israel Regardie, Christopher Penczak, Stewart Farrar, Janet Farrar, Scott Cunningham, and many other leaders of the pagan community.

In July of 2015, the museum collection was relocated to Ohio."
 

View this post on Instagram

 
I have been a longtime fan of Chas Bogan, his book The Secret Keys of Conjure, his line of magickal products, his courses, and his spirit boards. I had always wanted a spirit board that felt like it was truly mine. So after chatting with Chas, we decided to collaborate on making our own for limited release. I decided to donate one to the Buckland Museum along with a rare uncorrected early review proof copy of my book Psychic Witch, and a rare cover proof from the publisher. I figured #1 of the spirit boards was fitting, not just because it'd be the rarest (aside from my that is numbered zero), but because of numerical associations with The Magician card of the tarot.
 

View this post on Instagram

 
"Designed by Mat Auryn, this spirit board shares the name of his popular book, 'Psychic Witch'. Only 50 of these exclusive boards have been crafted from birch wood; birch being a tree of psychic protection, purification, inspiration, and wisdom. Birch was also used in European folk magick rituals to drive out evil spirits.

Each of these boards are numbered on the back beneath varnish, and comes with a numbered certificate of authenticity signed by Mat Auryn. The first board (numbered 1) has been donated to the Buckland Museum of Witchcraft for display in their exhibit. Each board was crafted at Carnivalia Studio by Chas Bogan and is sold exclusively through The Mystic Dream.

This spirit board measures 16.75″ by 11.5″ by .4″ thick. The planchette is .25″ thick, and has felt feet for ease of movement across the board's protective layers of varnish."
 

View this post on Instagram

 
The Buckland Museum then invited me to do an interview with them, which you can watch below:
For those who are interested in using spirit boards from a more Pagan or Witchcraft perspective, check out the patreon exclusive that Chas did for me a few years back from when I interviewed him:
 

View this post on Instagram

 
Patreon Exclusive Bonus

A Pagan Approach To Spirit Boards

Chas Bogan provides a guide to safely working with spirit boards including how to bless the board, open a line of communication, and end communication when desired. When used conscientiously, spirit boards are a safe means by which to check in with your ancestors or other benevolent spirits. He also shares his blessing powder formula he uses for working with spirit boards. This is available for Patreon supporters with the tier "In The Know Jackalope" and higher.
---
Ways To Support My Work: