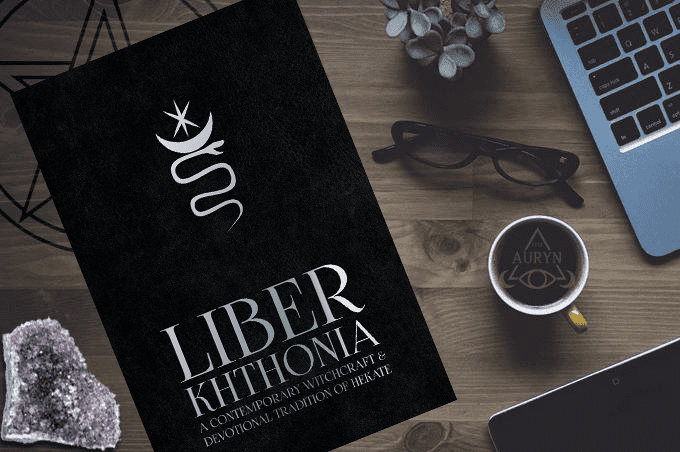 Jeff Cullen is one of those individuals who seems to have a Midas Touch, and I equate his name with the highest quality, regardless of what endeavor he's doing. His devotional art, statues, plaques, tarot decks (with his partner Allan Spiers), and magickal formulas and supplies have inspired and connected many people with the spirits. He is one of the most knowledgeable witches I know when it comes to the subject of Hekate. So when I learned of his Kickstarter project to self-publish Liber Kthonia: A Contemporary Witchcraft & Devotional Tradition of Hekate, I knew it was going to be top notch, both in its content and its presentation. I was not let down. Not only is the book aesthetically pleasing with its faux leather hardcover with silver stamped cover and spine, its silver gilded pages, and ribbon bookmark, and full of Jeff's beautiful hand-drawn artwork throughout every chapter, but the sorcery within it is astounding. 
 

View this post on Instagram

 
As I've mentioned, Jeff is extremely well educated about Hekate, as anyone genuinely serious about the deity they are devoted to is. Not only is this book immensely well researched, but also well cited with the footnotes and bibliography comprising the best resources out there in regards to the study of this Titaness and her worship throughout ancient times. I particularly love Liber Kthonia because it isn't just a book discussing Hekate in ancient times nor a reconstruction of Hellenic religion. It is a fascinating synthesis of ancient and modern magick. It draws from both Hellenic pagan rituals and practices that the everyday Ancient Greek citizen would have recognized along with the magic of the Greek Magical Papyri (PGM), which would have been known only to those few engaged in ancient sorcery. Yet all these ancient roots are blended with a modern current of Traditional Witchery; working with Her first and foremost as the Queen of the Witches. This culminates in a magickal practice that is equally ancient as it is contemporary. 
 

View this post on Instagram

 
Liber Kthonia is nothing short of a complete grimoire full of empowering an icon or statue of Her, creating a proper shrine as well as tons of spells, rituals, invocations, prayers, recipes, and formulas. At the same time, it provides a solid introduction to the history, lore, and explanation of Her most popular epithets in what is both a solid yet brief crash-course on this complex deity. As such, even someone completely new to Hekate can pick this book up and build a solid magickal relationship with Her that is rooted in historical accuracy. While the book's information is fantastic, it's the practices in this book that genuinely shine, being equally clever as they are potent.
 

View this post on Instagram

 
With a strong emphasis on Hekate as Queen of Witches, there's a strong focus on rituals and practices that many other books on Hekate (and modern witchcraft in general) shy away with, including necromancy and aggressive magick as well as defensive, purification, and general spell work for various needs. While some may think $65 is a bit steep for a book, I think it's insanely cheap for the quality and the content, and it was worth every penny. Most books of this quality go for way more and often are of lesser quality text wise, often using aesthetics and price tags to compensate for the actual material. Having funded the Kickstarter, I bought a second copy after its release to use regularly at my Hekate shrine and am keeping the Kickstarter in its slipcase in my bookshelf so that it stays pristine. This is a book that no Hekatean Witch is going to want to miss.
---
Ways To Support My Work: