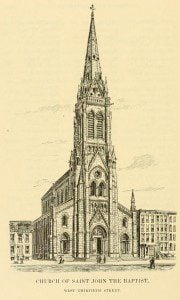 "The necessity of hearing the Word of God in their own tongue, and of having their children taught the Christian doctrine in the tones familiar to them from the cradle, led the German Catholics to exert themselves to have separate churches where they could enjoy these advantages." The first German Catholic church in New York City was founded in 1833 on the Lower East Side, St. Nicholas. But the German community was expanding further West, and they wanted a parish of their own. The area around West 31st Street near Seventh Avenue was described as being composed of "rude shanties" in a "rocky, swampy tract."
The people erected a small frame church, which they named in honor of St. John the Baptist.  The early years were tough, as the parish trustees butted heads with the first pastor, who founded a separate parish down the block, St. Francis of Assisi. In 1847, a fire burnt the church down. Bishop John Hughes dedicated the new church, and Father John Raffeiner, a German pastor in Brooklyn, delivered the main address in German. For the next twenty years the parish was served by German-speaking diocesan priests, until 1870. At that time, it seemed that the church, in great need of repair, might close down.
But Archbishop John McCloskey decided to reinvigorate the parish by sending a religious order to run it, German-speaking Capuchin Franciscans. McCloskey had already entrusted to their care the parish of Our Lady of Sorrows on Pitt Street. Father Bonaventure Frey, who helped bring the Capuchins to the United States in 1857, took charge of St. John the Baptist. A new Gothic-style church was erected on June 23, 1872, at a cost of $175,000. Representatives from German parishes across the city came to the ceremony. The sermon was again preached in German.
Father Bonaventure brought the Marianist Brothers from Ohio to run the boys' division of the parish school, while the Sisters of St. Dominic took charge of the school. There were nearly 360 students in the school by the mid-1870's. Father Bonaventure Frey was born in Switzerland on June 12, 1831. At first he studied for the diocesan priesthood and was ordained in May 1854. Interested in working with the German immigrants in America, he went to Milwaukee in 1856. More and more, Father Bonaventure was drawn toward the religious life, particularly the Capuchins. Together with another diocesan priest, Father Francis Haas, he began the order's first permanent foundation in Wisconsin in 1857. He worked in several Capuchin parishes in New York City, and died in 1912.
Abridged and edited for blogging purposes from John Gilmary Shea, The Catholic Churches of New York City (1878)