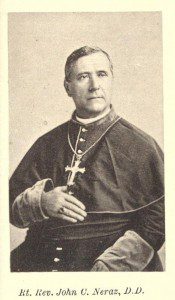 RIGHT REV.  J.C. NERAZ, Second Bishop of San Antonio
J.C. Neraz was born on the 12th of January, 1828, at Ause, in the Department of the Rhone, France, and after acquiring the rudiments, entered the diocesan seminary of St. Jodard; his philosophical course he followed at the Alix branch of the Great Seminary of Lyons, and completed his theology under the Sulpitians at Lyons. Resolving to devote himself to foreign missions, he came to the United States in 1852, and was ordained subdeacon by Bishop Odin on the 28th of September, receiving the holy order of priesthood on the 19th of February in the succeeding year. The young priest was assigned to the mission of Nacogdoches in eastern Texas, which embraced all the northeastern part of the State as far as Red River. After ten years labors in this arduous field, he was transferred in 1864 to Liberty County in southern Texas, where he remained two years. In 1866, he was made assistant at San Antonio, but in September 1868, was removed to Laredo. There he completed the convent, which had long previously been commenced, and erected the present church. In 1873, he was recalled to San Antonio to become pastor of the church of San Fernando. When the diocese of San Antonio was established, the zealous priest was appointed vicar general by Bishop Pellicer. On the death of that prelate, he became administrator of the diocese, and having been chosen to succeed him, was consecrated bishop on the 8th of May 1881. He attended the Third Plenary Council of Baltimore in 1884. During his administration as bishop, the Priests of the Holy Cross have opened St Edward's Academy in Travis County, and the Sisters of the Incarnate Word an academy at Hallettsville, in Lavaca County. The diocese contained at the commencement of the year 1885 forty seven priests and fifty churches.
John Gilmary Shea, The Catholic Hierarchy in the United States (New York: Office of Catholic Publications, 1886), 360-361.
NOTE: Bishop Jean Claude Neraz died on November 15, 1894. For further information on him click here.