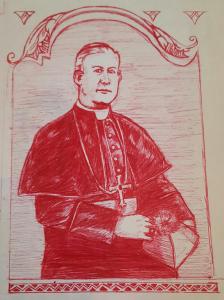 He has a college, a high school, and a retreat house named named for him: Molloy College in Rockville Centre, Archbishop Molloy High School in the Briarwood section of Queens, and Bishop Molloy Retreat House in nearby Jamaica Estates.
Founded in 1955, the college began as a Catholic women's institution under the Sisters of St.Dominic. Today, it is a coeducational school with graduate programs and residence halls. The high school, under the aegis of the Marist Brothers, was founded in 1957 as an outgrowth of St. Ann's Academy in Manhattan (hence students are known as "Stanners"). One of the city's finest schools, today it is coeducational. The retreat house, begun in 1949 by the Passionist Fathers, is the last standing Catholic retreat house in New York City.
But who was the man they were all named for?
Thomas Edmund Molloy was born in Nashua, New Hampshire, but his Irish-born parents had lived in Brooklyn for a while, and they kept up the connection. After attending St. Francis College in Brooklyn (where he played baseball), he decided to stay in Brooklyn and study for the priesthood. A brilliant student, he was sent to Rome's prestigious North American College. In 1908, at age 24, he was ordained a priest. A year later, he earned a doctorate in theology before returning to Brooklyn.
A capable administrator as well as a scholar, Father Molloy rose up the ranks in diocesan leadership. In 1916, he was named first President of St. Joseph's College in Brooklyn, the first Catholic women's college on Long Island. In 1920, at age 36, he was appointed an Auxiliary Bishop for Bishop Charles E. McDonnell. In 1922, after McDonnell's death, he became ordinary of the Brooklyn Diocese. He remained there until his death in 1956.
During Molloy's tenure, Brooklyn became the largest diocese qua diocese in the United States (only the Chicago Archdiocese had more Catholics). The Molloy years saw a tremendous expansion of the diocese in terms of schools, hospitals, and churches. Between 1922 and 1956, Molloy founded 102 parishes, the majority of them in Queens, much of which was still farmland until after World War II.
A shrewd businessman and a successful leader, Bishop Molloy was also a very private man. He lived by himself in one of Brooklyn's famed Pratt mansions on Clinton Avenue, which he had bought during the Depression. The story among older generations of Brooklyn clergy is that Molloy, when called there to make a sick call, was ushered in through the back door. One day, so it's said, he promised himself he'd go in through the front door.   
Around the time of the diocesan centennial in 1953, rumors abounded that Brooklyn would be named an archdiocese. It never happened, but in 1951 Bishop Molloy was named an honorary Archbishop. Throughout his episcopal career, many assumed that Molloy would be named to head an archdiocese. After Boston's Cardinal William H. O'Connell died in 1944, it was whispered that Molloy would succeed him. But Molloy told O'Connell's successor, Archbishop Richard Cushing, "When I die, I want to go directly from Brooklyn to heaven." (At his request, he was buried with a copy of The Tablet, Brooklyn's diocesan newspaper.)
(*The drawing of Bishop Molloy is by Pat McNamara.)