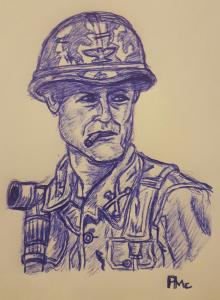 "All through my life, I've tried to keep in mind that our purpose is to try to qualify for life hereafter."—General Hal Moore
One of the best books ever written about the Vietnam War, in my reading experience, has been We Were Soldiers Once… And Young (1992). Co-authored by Lieutenant General Harold G. (Hal) Moore (1922-2017) and journalist Joseph Galloway, it's a first-hand account of the first full-scale battle between Vietnamese and American troops, a New York Times best-seller. Reviewer David Halberstam termed it  a "stunning achievement… I read it and thought of The Red Badge of Courage, the highest compliment I can think of."
It's an inspiring story of heroism and grace under pressure in the worst conditions a human being can face. For over twenty-five years, it's been on the Marine Corps Commandant's reading list, which offers the following description:
This book is about a group of men [who] persevered, sacrificed themselves for their comrades, and never gave up. In November 1965, some 450 men of the 1st Battalion, 7th Cavalry, fought against 2,000 North Vietnamese soldiers in the Ia Drang Valley – one of the most savage and significant battles of the Vietnam War.  
Lieutenant Colonel Moore commanded the First Battalion, later receiving the Distinguished Service Cross for his service in the week-long battle. A career Army Officer (West Point, Class of 1945), he had previously served in the Korean War. After Ia Drang, he went on to command a brigade and rose to the rank of Lieutenant General before retiring from the army in 1977. He and his wife Julia Compton Moore had five children, two of whom followed their father into the army.    
Harold Gregory Moore, Jr., grew up in Bardstown, Kentucky, an early center of American Catholic life. Every morning, his father attended St. Joseph's Proto-Cathedral, which his ancestors had helped build. Biographer Mike Guardia writes: "Life in the Moore household revolved around three tenets: hard work, loyalty to the family, and devotion to the Catholic faith." Hal attended Catholic schools in Bardstown under the Sisters of Charity and later the Xaverian Brothers.    
From an early age, Hal Moore wanted to be a soldier, and he fought hard to get into West Point. As a cadet, Moore derived his strength from daily Mass and his friendship with Monsignor George Murdock, rector of the Catholic chapel. Murdock "was so beloved." writes Father Michael Morris, that General and Mrs. Dwight Eisenhower referred to the venerable prelate as 'Our Monsignor.'" (Hal and his wife would name their youngest son David Murdock Moore.)
In March 2002, Paramount released the film We Were Soldiers, starring Mel Gibson as Moore (who appears briefly in the film). In one scene during the battle, Gibson as Colonel Moore prays over his wounded and dying. While Moore admitted he was too busy during the fight to formally pray, the scene nonetheless reflected the deep faith that sustained him throughout his military career. Later Moore would address this aspect of his life more directly in A General's Spiritual Journey.   
On February 10, 2017, General Moore passed away. His funeral Mass was held at St. Michael's Church in Auburn, Alabama, where he had lived his last years. I'd read that the General was a lifelong devout Catholic, and I wanted to find out more about that. Recently I had the chance to talk with the General's daughter-in-law, Mrs. Teresa Molinari Moore. I asked what part his Catholicism played in his life. She replied, without hesitation: "It was huge."
General Moore, she notes, received much of his strength throughout his life from daily Mass. (His favorite hymn, which was played at his funeral, was "How Great Thou Art.")  This was especially true after his wife of 55 years passed away from cancer in 2004. Toward the end of his life, she recalls, although his memory began to fail, he never forgot the prayers he learned from the Sisters of Charity. "I just want to make the cut," he often said.
"He was our prayer warrior,"  Mrs. Moore commented.
(*The above drawing of  Colonel Moore in 1966 is by Pat McNamara.)