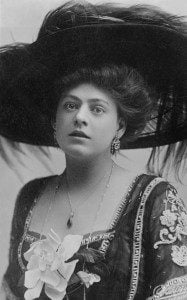 Hubert Savile, "Convent-Bred Thespians," Theatre Magazine, Volume 30 (July 1919): 34.
SHAKESPEARE, the patron saint of actors and actresses, caused Hamlet to say to Ophelia, "Get thee to a nunnery." It is a curious fact that many of the successful stage players were educated in religious institutions. A careful investigation reveals some interesting details. Sarah Bernhardt, undoubtedly the greatest actress of this generation, was educated at the Convent de Grandchamps, at Versailles, and is said to have astonished the good nuns by her dramatic ability, even as a young child.
Mary Anderson, whose beauty and charm attracted great attention a generation ago, was educated at the Ursuline Convent and Presentation Academy in Louisville, Kentucky, and all through her life has remained sincerely devoted to the church.
Eleanor Robson was educated at the Sisters of St. Peter's Academy, near Fort Wadsworth, Staten Island, and even before her marriage to August Belmont, and her retirement from the stage, was deeply interested in Roman Catholic institutions and charities.
Maxine Elliott, one of the great beauties of the American stage, attended the Notre Dame Academy at Roxbury, Massachusetts. Julie Opp, another great beauty, was born in New York, and attended a local convent. Marie Nordstrom went to Georgetown Convent, District of Columbia.
Ethel Barrymore went to the Convent of Notre Dame in Philadelphia. Ethel and her brothers Lionel and John were brought up in the faith of their mother, Georgie Drew Barrymore, who became a convert to Roman Catholicism. Ethel Barrymore was instrumental in the conversion of her cousin Louise, daughter of John Drew.
Lillian Russell was educated at the Convent of the Sacred Heart in Chicago, and in after years, sent her daughter, Dorothy Solomon, to a convent. Dorothy Donnelly attended the Convent of the Sacred Heart, New York City. Minnie Maddern Fiske went to convents in Cincinnati and St Louis.
Margaret Mayo went to the Convent of the Sacred Heart in Salem, Oregon. Marguerite Clark attended the Brown County Convent in Ohio, and has always held to a high ideal in work on the stage and before the camera. Adele Ritchie went to the Villa Marie Convent, West Chester, Pennsylvania.
Rose Stahl was educated at the Convent of Mont St. Marie in Montreal. Miriam Nesbitt attended St. Mary's Convent, Notre Dame, Indiana. Adelaide Keim went to St Joseph's in New York City.
Pauline Chase, who achieved fame and fortune as "Peter Pan" in England, was educated at the Convent of the Sisters of the Holy Cross in Washington, District of Columbia. Cecilia Loftus, who long specialized in imitations of stage celebrities, went to the Convent of the Holy Child in Blackpool, England. Marie Tempest, who triumphed first in comic opera, and then in plays without music, attended the Convent des Ursulines at Thildonck, Belgium.
Minnie Palmer, for many years an international favorite, especially in a piece called "My Sweetheart," was educated at the Convent of the Sacred Heart in Manhattanville New York. Sadie Martinot, who created the part of Hebe in the American production of "HMS Pinafore," and only recently retired from the stage, was educated at the Ursuline Convent in Westchester County, New York.
Among the well-known actors who were educated at Roman Catholic institutions are Arnold Daly, who attended the Sacred Heart Academy in Brooklyn, and William Courtenay, who went to the Holy Cross College in Worcester, Massachusetts.
Wilton Lackaye attended Georgetown University in the District of Columbia, as did also Willard Mack, who has been highly successful as an actor and a playwright. Emmett Corrigan attended St Joseph's College in Baltimore, and James J. Corbett, formerly a fighter but now an actor, went to the Sacred Heart College in San Francisco.
After Maude Adams' appearances as the pathetic little Duc de Reichstadt in "L'Aiglon," in 1901, her health gave way, and she suddenly left the stage to seek rest in Europe. It was not until some months later that the public learned that their favorite actress had taken refuge from a noisy world in a convent at Tours, France. There, for months, Miss Adams lived the life of the nuns, and on her return to New York, she arranged in her house, half a block from fashionable Fifth Avenue, an exact replica of the cell she occupied in the convent; the bare white walls, the iron bedstead, pathetic in its simplicity.
Fritz Williams, at the age of fourteen, attracted attention as Sir Joseph Porter, in a juvenile "Pinafore" company, after which he became known as a concert soloist singing "Gilmore's American Anthem," at a concert at Madison Square Garden, on St Patrick's Day, 1880. During this time, he was studying at St. John's College, Fordham, New York, from which institution he graduated at the age of twenty.
The early training received by these actors and actresses must surely have molded their characters, and taught things that have never been forgotten, even through the trials and tribulations of a stage career.