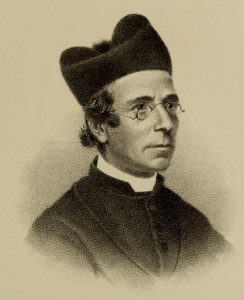 VICE-PRESIDENTS OF THE UNIVERSITY OF NOTRE DAME: VERY REV. A. GRANGER
Very Rev. Alexis Granger, the first who occupied the position of Vice-President in the University of Notre Dame, was born at Daon, France, on the 19th of June, 1817. He received his primary education at home, and even had made some progress in the study of Latin before his fifteenth year, the age at which eh entered the College of Chateau Gontier. Here he remained for five years, during which time, by diligence and the aid of superior talent, he completed his collegiate course.
Father Granger entered the Theological Seminary at Mans, France, in his twentieth year, that is to say, immediately after the completion of his studies at the College. After four years of earnest application to the study of theology, he was admitted to Holy Orders on the 19th of December, 1840.
For two years after his ordination, Father Granger was pastor of a congregation in the diocese of Mans, and, if we may judge by the zeal which he has always manifested for the spiritual welfare of others, since he has been at Notre Dame, his congregation lost a treasure when, in October 1843, two years after his ordination, he entered the Congregation of the Holy Cross at Mans, where the Mother House of the Congregation was then located. After a short experience in the religious life, during which time he had proved himself worthy the confidence of his Superiors, Father Granger was sent to Notre Dame, in 1844, while the institution was yet in its infancy. Prompted by his natural friendship for Father Sorin, his former fellow-student and the companion of his youth, but still more by that spirit of devotedness which forms so remarkable a feature in his character, he went vigorously to work, immediately on his arrival, to study the English language, and in a remarkably short period of time he was able to speak it with considerable fluency.
Shortly after his arrival at Notre Dame, he was appointed Assistant Superior, and Vice-President of the College. The latter office he occupied until 1851. The former he retained till Father Sorin became Provincial, when he was also promoted to the office of Vice-Provincial. From 1851 to 1867, Father Granger had been, with one or two brief interruptions, Director of the Novitate for the ecclesiastical portion of the Congregation and Pastor of the Church of Notre Dame. In 1867 he was removed from the Novitiate, and appointed Prefect of Religion in the College, still retaining the pastorship of the Church.
In August, 1868, after the election of Father Sorin to the office of Superior General, Father Granger was elected Provincial of the Congregation in America, which office he still holds.
Father Granger is of a very retiring disposition, never coming forward into notice unless when duty strictly obliges him to do so; and hence his merit and real worth are not known except to those whose occupation or spiritual wants bring them in contact with him. We would be glad here to speak of his excellent qualities, especially as a priest, but we refrain from doing so, through respect for his wishes to remain unknown, except in the field of his duty. When he has gone to his reward, his virtues will be appreciated and praised by men.
Joseph A. Lyons, Silver Jubilee of the University of Notre Dame, June 23rd, 1869 (Chicago: E.B. Myers & Company, 1869), 80-82.