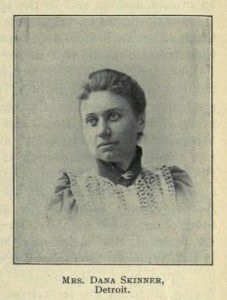 "Authentic Sketches of Living Catholic Authors: Mrs. Henry Wimple Skinner," The Catholic World 65 (May 1897): 283-284.
MRS. HENRY WIMPLE SKINNER (Henrietta Channing Dana) is the youngest daughter of the late Richard H. Dana, Jr., of Boston, Mass., author of Two Years Before the Mast. Her grandfather was Richard Henry Dana, the poet, author of The Buccaneer, And Other Poems, and founder of the North American Review. His father, Judge Francis Dana, was for many years chief-justice of Massachusetts, and was the first United States to Russia, 1781-1783. He married a daughter of William Ellery, of Rhode Island, signer of the Declaration of Independence, and granddaughter of Judge Jonathan Remington. Justice Richard Dana, father of Judge Francis, was a sturdy patriot of colonial days, a prominent opponent of the "Stamp Act," and figures in Hawthorne's Grandfather's Chair. His wife was a sister of Judge Edmund Trowbridge, chief-justice of Massachusetts in 17-.
Mrs. Skinner's early childhood was spent in Cambridge, Mass., where the Danas were near neighbors of the poet Longfellow, and Henrietta, from her seventh to her eleventh year, received daily instruction with the younger Longfellow children from their English governess. "Craigie House" became her second home, and the friendship of the families was further increased when in 1778 her brother, Richard Dana, married the poet's second daughter, Edith Longfellow.
In her twelfth year Henrietta attended a select school in Boston, and then went to Europe, where she studied the piano for two years under Professor Pruckner, at the Artists' School of the Stuttgart Conservatory, living in a German family, and attending courses of study both in public and private schools. She then went to Paris, where she studied music under the famous composer Cesar Franck, and was at the boarding-school of the Ladies of the Assumption. While there she wrote a series of letters, descriptive of convent life and of the young future Queen of Spain, who was her fellow-pupil at the school. These letters were published in Scribner's Magazine of April 1878, under the title of "A Queen at School," and attracted much attention. They were translated into French and reprinted in the Revue Britannique and the Paris Figaro, and a Spanish translation appeared in the Epoca of Madrid. Although Miss Dana received offers to become a regular contributor to the magazines and flattering letters from Dr. Holland, James Russell Lowell, and Oliver Wendell Holmes, the latter compared her letters to Walpole's an saying "Your pen belongs to the public," yet many years passed before she wrote again for publication; her life, meanwhile, being devoted to the care of an invalid mother and to the study of music and languages.
Miss Dana was brought up and confirmed in the Episcopal Church, but in March, 1878, she was baptized into the Catholic Church while on a visit to her sister in Chicago, by the Rev. Father Verdin, S.J. She received confirmation and first Communion from the late Bishop Thomas Foley, of that city. She soon after returned to Europe to live. In 1888, after many years of travel, Mrs. Dana and her daughters settled in Cambridge, and Henrietta took two years' courses in political economy, history, and composition at the Harvard Annex, now Radcliffe College. In 1891 she began to take up her pen again, writing an article on school-girl life in Paris, at the request of the Ladies' Home Journal. An article on "What French Girls Study" appeared in the Atlantic Monthly of February, 1892. In June of the same year Miss Dana was married to Mr. Henry Whipple Skinner, of Detroit, Mich., in which city she has since lived. Mr. Skinner is also a Catholic, his mother having inherited the faith from her French ancestors, who were among the first settlers in Detroit, in 1701. His father, and officer in the Union Army, became a convert six years before his death. Mrs. Skinner has contributed to THE CATHOLIC WORLD a poem, and articles titled "Love Songs of the Tuscan Peasantry" and "Italian Harvest Scenes." She has written a number of articles for the Sacred Heart Review, and a series of papers on the medieval schools. She has also sent occasional articles to the Nation, the Ave Maria, and is at present engaged on a novel and some short stories. She takes a leading part in many of the musical, literary, patriotic and charitable societies of Detroit. Mrs. Skinner has one son, Richard Dana Skinner, born in 1893.