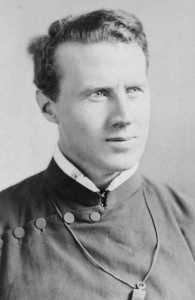 TO SPREAD THE CATHOLIC FAITH. A Mission to Explain Dogma to Protestants is to be Established by the Paulist Fathers. (The New York Times, January 13, 1896)
Within a short time a band of Catholic missionaries will be at work in this city, whose endeavors will be confined solely to preaching Catholic doctrine to Protestants and others who are not members of the Catholic Church. The Paulist Fathers, whose church is at Sixtieth Street and Columbus Avenue, will be in charge of this missionary enterprise. Archbishop Corrigan has warmly commended the project, and he has asked for volunteers among the priesthood to carry on the work.
In the West, the Rev. Walter Elliott and other members of the Paulist Order have been successful in mission work among non-Catholics. To ascertain if there is a field in this city for Catholic preaching to Protestants, a mission to non-Catholics was held in the Paulist Church. This was so successful that it is certain an organized crusade to win converts to the Catholic Church will be begun here almost immediately.
Fathers Elliott and Younan conducted the mission last week, and every evening they addressed an assemblage of from 1,200 to 1,500 persons, a very large percentage of whom were Protestants who had come to the exercises with Catholic friends. A rule of the mission was that a Catholic unaccompanied by a Protestant was not admitted.
All the other missions for non-Catholics will be conducted as this one was. An open hymn is sung by the congregation standing. Then are recited the "our Father," "Hail, Mary," and the Apostles' Creed. After that an appropriate passage of Scripture is read. Then one of the priests answers whatever questions have been put in the question box. This question box is an institution peculiar to these missions to non-Catholics. It is placed at the door of the church, and those in search of information on any point of religious doctrine are invited to drop their questions into it. As the questions are answered publicly, the whole congregation has the benefit of the explanation. When the questions have been disposed of, a sermon is preached in which a certain teaching of the Catholic Church is discussed. A hymn and benediction close the service, which usually lasts an hour and a half.
As a result of last week's mission, an "inquirers" class has been formed. It is made up of non-Catholics who desire to study Catholic doctrine further. It is the experience of the Paulist Fathers that a large majority of those who join the "inquirers" class become Catholics finally. During the course of the mission last week, 10,000 tracts were distributed among the congregation.
Father Elliott, the originator of the missions for non-Catholics, thus describes their scope:
"'Everything religious; nothing controversial,' is the motto of this mission to non-Catholics. The devotional exercises are such as can be joined in by all who believe in God and Christ, and everything will be calculated to satisfy reasonable religious cravings and set at rest the doubts of sensible inquirers. While done under Catholic auspices and every whit Catholic in form and substance, the sensibilities of our non-Catholic brethren are scrupulously respected. 

"We do not attack Protestantism. We do not assail its champions. Some explanations of peculiar Catholic doctrines are offered. Of course the Paulists are in the field to make converts. Everybody knows that. In that respect, we are the same as all sincere Protestants. But we have other purposes in view besides increasing our membership. We have a great and splendid Church, we are Americans, and we love the entire people. So, whether we make converts or not, we shall bring religious non-Catholics to a better understanding of our position, abate prejudice, and especially show them new ways and old for attaining fuller enlightenment of conscience and better fidelity to its dictates."