An Irish Dominican, Thomas Nicholas Burke, O.P. (1830-1882), was one of the premier Catholic preachers of the 1800'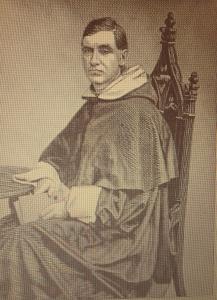 s. He joined the Dominican Order in 1847, studied in Italy and England, and was ordained a priest in 1853. His first sermon to attract attention, delivered in 1859, was on "Church Music." A strong Irish nationalist, in 1867 he delivered a speech on Daniel O'Connell in Dublin to an audience of fifty thousand.
In 1871, Father Burke was sent to the United States to inspect the Dominican communities there. While he was in America, he was much in demand as a preacher. All classes of society, but especially recent Irish immigrants, flocked to hear him lecture on all things Irish and Catholic. In eighteen months he delivered some four hundred lectures (not including sermons), but by the time he returned to Ireland his health was broken. Father Burke died in Ireland on July 2, 1882. A statue of him stands in his birthplace of Galway.
Rev. Father Burke, O.P.

Voice of my country, son of ancient Erin,

Son of her soul, descendant of her heart,

Priest of the Lord in thy bright youth anointed,

And called and sent to preach "the better part."
O Father Burke! How hath thy word awakened

The loving Irish past that long has slept,

And brought me home to Erin, to my country,

And stirred my heart with joy, although I wept.

Joy, to hear once again the name of Erin,

Spoken in love and praise– and yet hot tears–

Tears for her many sorrows, for the traces

Of '48, that memory's bosom wears.

Blessed be God who sent us in our exile

Thy voice of power to speak of faith and truth,

Of God, and holy Church, of prayer and penance,

And all that Erin loves in age and youth!

Blessed be God, again her sacred ruins,

Her holy abbeys, and her Round Towers hoar

Are named exultingly, and their dear story

Told like a Gospel to the world once more.

Her seven churches,– Clonmacnoise, Clondalkin,

Cong and Armagh, and all her ruined fanes,–

Named to her children's hearts with such a power

As makes them dearer for time's hoary stains.

Yes, blessed be God, again we've heard it spoken

Proudly and lovingly, O'Connell's name,

Our own O'Connell, Ireland's Liberator,

And heard it 'mid a people's koud acclaim.

O Father Burke! There is no way to thank thee,

No words to tell of what our deep hearts feel;

Only an exile, hunted out of Erin,

Can thus rejoice to hear thy proud appeal.

To history and the past, and wring her glory

Out of what men call shame, and make her known,

Fearless in faith and love and perseverance,

Virgin and martyr, peerless and alone.

Son of St. Dominic, heir of his white mantle,

Oft shall thy name be mingled with our prayers;

Sisters of Mercy, servants of the suffering,

We know the people's woes, and joys, and cares.
And bless the Lord who sent thee thus to cheer them,

To elevate their hearts, and make them stand

Steady besides the Cross, sons of the martyrs,

Steadfast in faith and love of fatherland;

Steadfast in love of Jesus and Mary,

True to the Holy Father as of yore;

Bound to the Church, One, Holy, Apostolic,

Roman and Catholic forevermore.
Poems for Catholics & Convents and Plays for Catholic Schools, by the Sisters of Mercy, St. Catharine's Convent, New York City (West Chester, N.Y.: The New York Catholic Protectory, 1873), 184-186.
(Please note: The engraving of Father is from Internet Archive.org, a website of copyright-free books and images).