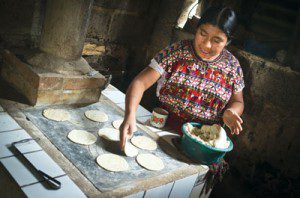 The short term mission trip industrial complex is now a multi-billion dollar industry. Unfortunately, many short term mission trips are designed to cater to the participant more than the people being served. According to the book Toxic Charity, one church in Mexico was repainted seven times in a single summer by a series of mission teams. That is why NOLA Wesley is so pleased to be partnered with the Highland Support Project to build stoves for our spring 2015 mission trip. They are an organization that truly follows the solidarity model of organizing in which the people being served are calling the shots. The community organizing of the Highland Support Project has impacted the lives of thousands of indigenous people in the highlands of Guatemala and Peru.
One of the most fundamental problems faced by indigenous women in the Guatemalan highlands is the time and energy it takes to cook food for their families. Cooking over an open fire in their households means that most of the day is taken up by the food preparation process. Additionally, the open fire generates so much smoke that the women are breathing in the equivalent of multiple cigarette packs of smoke every day. Over the past 20 years, the Highland Support Project has worked with these women to fine-tune a clean oven model which eliminates the smoke inhalation problem and reduces their cooking time by about 6 hours a day! Over 20,000 stoves have been built so far.
With the free time that the highland women gain from using these stoves, they have established an organization of women's circles called the Association of Highland Women (Asociacion de Mujeres del Altiplano). In these circles, they are able to discuss and develop solutions to problems in their local communities in addition to receiving training and support for establishing their own private enterprises. Highland Support Project also provides an international market called AlterNatives through which hundreds of women can support their families by selling fair trade crafts and other products.
So when you support the 2015 NOLA Wesley mission project of building stoves with the Highland Support Project, you aren't just supporting a feel-good college mission experience. You're supporting community organizing that empowers poor communities to take their destiny into their hands. You're supporting a grassroots movement for sustainable fair trade. With every dollar you give, you are enabling Guatemalan women to gain political and economic power and create a better future for their families.