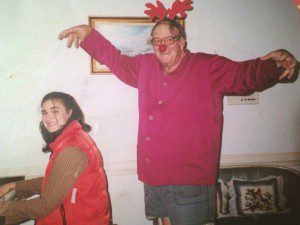 This photo pretty well captures the personality of my crazy, wonderful grandpa, Ralph Storm, whose funeral my family celebrated this past week. When I was born, he was only 49 years old and he said he didn't feel old enough to be a grandpa so he taught me to call him just Ralph. Ralph was the type of person who was on a first-name basis with everybody, from VIP business executives to the landscapers he would stop and joke around with on the sidewalk in Spanish. He may have been a conservative Republican Texas Baptist oilman banker, but he was the opposite of a stuffy old man. He was also the most humble and generous person I have ever known and one of the most important role models I've ever had. It's because of Ralph that I became a pastor. So I wanted to share three things that he modeled for me that I carry into every pastoral relationship.
First, Ralph had a way of making whoever he was with feel like they were the most important person in the universe. I always thought I was his favorite grandchild since I was the eldest. What I later figured out is that Ralph made my sister and my three cousins feel like they were his favorites too. He had inside jokes with each of us. He knew our favorite places to get special treats. When I was little, he would take me with him wherever he went whether it was the hardware store or even some of his visits with professional colleagues. Though I was a pretty ordinary little boy, Ralph always acted like he was tremendously proud of me and wanted to show me off to everybody he knew. C.S. Lewis once said that if you met a humble person, you wouldn't think they were humble, just incredibly joyful and interested in everything about you. That's exactly the way Ralph was and the way I want to be with everyone I talk to as a pastor.
A second thing Ralph did was to use irreverence in order to win trust in relationships. When I was a teenager, he would often use language and tell jokes that weren't befitting of a Southern Baptist deacon in order to make me laugh and tear down walls in our relationship. When we were driving together on south Texas country roads, no topic of conversation was off limits. He could handle anything. Because of my grandpa's irreverence, I felt like I could him the truth about everything I had going on in my life. I knew that he was disappointed when I told him that I had smoked marijuana, but I also knew that it was safe to tell him anything. As a pastor, I instinctively emulate Ralph's irreverence in the relationships where it seems helpful. I don't want anybody to think that because I'm a pastor, they have to put on a mask of piety around me.
The third thing Ralph taught me was to approach every spiritual conversation with other people as though they were experts who had something to teach me. Though Ralph had been a Sunday school teacher and deacon for decades, he treated every conversation about God like he was a complete novice and a lifelong pilgrim. Even when I was ten years old, he acted like I had brilliant insights to offer him. Ralph loved talking about God and he was very passionate about his quest for the truth. He had strong opinions on certain doctrine that he wasn't afraid to articulate, but he never once acted like he had everything figured out. He always used to tell me that if you reach a point where you're not changing your mind about anything, then you've stopped being a disciple. I've tried to emulate Ralph's humble posture in my conversations with students. Because of what my grandpa modeled for me, I really do believe that God can teach us through anybody.
In my eulogy at his funeral, I said that my grandpa was a rebel. Despite his prestige in the south Texas business community and in Texas Baptist politics as a Baylor University regent, Ralph refused to be what he called "highfaluting." One of my distant cousins whom I'd never met before came up to me after the funeral to offer his perspective on my grandpa's rebelliousness. He said he may have been a rebel, but he was never disobedient to God. He was just "obedient in a different way." I aspire to the same kind of obedience. I hope that over time, my own rebellious tendencies will be less and less about my ego and more and more about figuring out ways to build trust and share God's love with people. All that Ralph wanted was to find a way to share the joy that God gave him with other people. I'm going to miss my grandpa a lot. I will try my best to be the pastor he taught me to be.