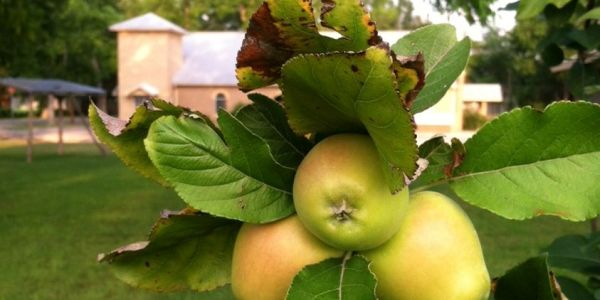 I must confess I've had some stereotypes in my head when it comes to small town churches. I've been terrified that they would run me out of the ministry if I ever got assigned to one. So one of the surprising blessings of my trip to Texas this Fourth of July weekend was attending worship at First United Methodist Church in Smithville this morning. They shared the gospel with me through some simple gestures of radical hospitality that I witnessed.
It's a decent sized congregation for a small town. There were a few kids in the room, but mostly older people. About halfway through the sermon this morning, a young man, maybe in his late teens or early twenties, walked in the door dressed very informally in blue jeans and a t-shirt. To my utter shock, he walked straight up to the front of the sanctuary and crossed in front of the pulpit to a table where there were several prayer candles that were lit.
He stood at the prayer candle table for a few minutes, trying to get the lighter to work. He was looking around for somebody to help him. I was worried that he was going to interrupt the sermon, but the preacher just kept on going without missing a beat.
An older gentleman who was the usher came forward. I thought surely he was going to have some stern words for the young man who was disrupting the service. But instead the usher quietly took the lighter and helped the young man find a candle to light. Then he put his arm around him and showed him a place he could sit down.
When the sermon was over and it was time for communion, the pastor called forward the communion helpers and the same young man came rushing forward with them. It was pretty obvious that he wasn't part of the communion team. But even though the choir was supposed to go first, the pastor very graciously took care of the young man before anybody else.
There's no way this was the first time the young man had been at that church. Somehow he felt safe doing what he did and that church loved him just the way he was even if some of his actions were distracting and violated the normal protocol. Somehow he had learned something about God's grace that made it significant to him to light a prayer candle the first thing he did upon walking in the room and to jump up and be the first in line for communion.
The eagerness of that young man to feast on God's grace and the willingness of that small town church to guide him patiently in his journey filled my heart with hope for local churches amidst a world that thinks that all Christians like to do is argue. I'm sure that there are many more small town United Methodist churches out there just like the one in Smithville, Texas. I'm grateful to see them living out the gospel.