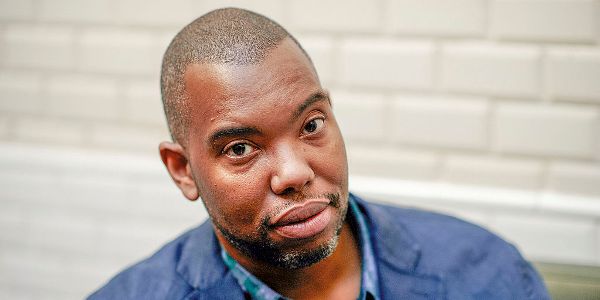 Over the course of this fall, I have been working through Ta-nehisi Coates' book Between the World and Me. One of the topics that has generated some controversy is Coates' purported lack of hope in talking about race relations in the US. Neo-Calvinist pastor Thabiti Anyabwile published a critique of Coates' "hopelessness" in the Atlantic this fall. But I actually think that what many white Christians call "hope" is not really the kind of hope that our Advent season is about, and we need to be called out by Coates in order to gain the perspective of true Christian hope.
The "hope" that isn't really hope comes out in Coates' description of a TV news program where he was being interviewed about a year ago:
At the end of the segment, the host flashed a widely shared picture of an eleven-year-old black boy tearfully hugging a white police officer. Then she asked me about "hope." And I knew then that I had failed… When the journalist asked me about my body, it was like she was asking me to awaken her from the most gorgeous dream. I have seen that dream all my life. It is perfect houses with nice lawns. It is Memorial Day cookouts, block associations, and driveways. The Dream is treehouses and the Cub Scouts. The Dream smells like peppermint but tastes like strawberry shortcake. And for so long I have wanted to escape into the Dream, to fold my country over my head like a blanket. But this has never been an option because the Dream rests on our backs, the bedding made from our bodies. [10-11]
I remember sharing that picture of the black kid and the white cop on facebook. I wanted to believe it was that simple. That people could just look at that image and somehow be melted by it. People who look like me have the luxury of thinking that photos can change the world because we do not risk our lives simply by driving our car on the same roads that police are patrolling. For us, racism doesn't break our bones so much as it hurts our hearts. We want to feel like everything is going to be okay. That's why we get to call photos "hopeful."
The photo says, "See, this isn't so hard. Just share this a million times and racism will be over tomorrow." It's a good way to wrap up a tough segment on race relations on a positive note so that all the white people can get back to their regularly scheduled programming. That kind of "hope" doesn't offer any guarantee of actual systemic change. It's psychological reassurance for those who want to stick with the treehouses and Cub Scouts of their American Dream. The "hope" of a heartwarming image is really the most toxic thing you can feed to privileged people who are looking for an excuse to say that everything is perfectly fine.
It's interesting the way that Coates talks about the American Dream throughout his book. It's not a dream in the sense of a utopian vision for humanity, but rather a form of sluggish sleepwalking. It's a sense that everything has always been the way it is and everything will turn out fine and there's no reason to get bent out of shape trying to change anything. Coates writes: "The Dream thrives on generalization, on limiting the number of possible questions, on privileging immediate answers. The Dream is the enemy of all art, courageous thinking, and honest writing" (50).
Just do your job; raise your kids right; sign them up for all the stuff that will get them into college; take them to church on Sunday unless you've got travel soccer or something more important to do. If you want extra-credit, then put your family on one of those fancy diets like paleo or gluten-free. Whatever you do, make sure you read the labels before you buy anything. Then you've discharged your duty to humanity in full.
The duty that Coates gives to his son is quite different:
The struggle is really all I have for you because it is the only portion of this world under your control. I am sorry that I cannot save you– but not that sorry. Part of me thinks that your very vulnerability brings you closer to the meaning of life, just as for others, the quest to believe oneself white divides them from it. The fact is that despite their dreams, their lives are also not inviolable. [107]
If you aren't engaged in the struggle that Ta-nehisi Coates shares with his son, then when you say the word "hope," what you mean is something less than real hope. At least what I've come to understand as hope in the Advent sense. The hope that John the Baptist describes in Luke 3:5-6 is not heartwarming but cataclysmic: "
Every valley shall be filled,
and every mountain and hill shall be made low,
and the crooked shall be made straight,
and the rough ways made smooth;
and all flesh shall see the salvation of God."
It's so easy to gloss over what John the Baptist is describing here. It sounds so pleasant and smooth and easy like the way that bulldozers level out countryside hills to create the pleasant, smooth world of suburbia. But what if God's bulldozers aren't paving the way for our American Dream? What if it wasn't God who wiped the forests clean of all the native American tribes in order to make room for our golf courses? What if our American Dream is what God is planning to bulldoze in order to pave the way of the kingdom of God? What if we are the mountains that will be ripped down in order to make the rough ways smooth for other people?
The main thing that privileged people like me need to understand about the hope of Advent is that it isn't our hope. The hope of Advent is the hope that Mary describes in Luke 1:52-53: "He has brought down the powerful from their thrones,and lifted up the lowly;he has filled the hungry with good things,and sent the rich away empty." The hope represented by the dirt-poor baby born in Bethlehem is the hope that people like me will be overthrown so that all of humanity can be set free from the social order of Caesar.
The hope of Advent is not the blithe reassurance of people who have always been winning. The hope of Advent is the desperate longing of people who have never won and have no reason to expect that they ever will. Ta-nehisi Coates is an atheist who rejects this hope, but I do not have the standing to correct him for doing so. He writes to his son:
You must resist the common urge toward the comforting narrative of divine law, toward fairy tales that imply some irrepressible justice. The enslaved were not bricks in your road, and their lives were not chapters in your redemptive history. They were people turned to fuel for the American machine. Enslavement was not destined to end, and it is wrong to claim our present circumstance — no matter how improved — as the redemption for the lives of people who never asked for the posthumous, untouchable glory of dying for their children. [70]
If "divine law" means narrating history as a triumphal narrative of progress, then I don't believe in "divine law" either. If providence means that I have a quick and easy way to narrate every tragedy into God's will for the sake of my personal theological comfort, then I don't believe in providence. Coates has worthy objections to my belief in God. I cannot sneer at him like a confident Calvinist. Instead, the ink from his pages are part of what stains my hands when I shake my fist at God and say why the hell have you allowed this to happen, you whom I so desperately want to believe in.
Of course, who am I to shake my fist at God? I've had a pretty easy life. All of my sufferings are abstract, ideological, and metaphysical. I want meaning and purpose when other people simply want to survive. But still I hope. I hope for authenticity and freedom, truth and love. I hope for the impossible worlds that Isaiah describes in his prophecies where swords are bent into ploughshares, mountains are flattened, and lions lie down with lambs. I hope for an American Dream-wrecking kingdom that might surprise Ta-nehisi Coates and make him smile. Hope is only hope if you hope for the impossible and struggle against what most people consider reasonable or at least inevitable. We need to be confronted by people like Ta-nehisi Coates who refuse to hope if our hope is to have any authenticity.