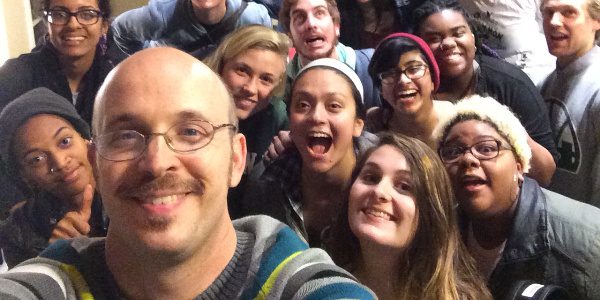 God has been moving at the NOLA Wesley United Methodist campus ministry. In February 2014, several months before I stepped into the picture, the NOLA Wesley board decided to take the step of joining the United Methodist Reconciling Ministries Network and officially advocating for full inclusion and affirmation of all people regardless of their sexuality or gender identity. When I was looking for campus ministry jobs, NOLA Wesley's affirming stance caught my eye. Now, a year and a half later, we have a thriving LGBTQ small group called Prism, which I feel pretty safe calling the first entity of its kind in Christian campus ministry in the entire state of Louisiana. We need your support for our journey to continue.
In United Methodist conferences around the country, funding for campus ministry is slowly being phased out because of the fiscal crunch that we face in our denomination. The wisdom of making budget cuts in the one place that most determines the future of our church is something worth questioning in a separate blog post. In any case, the Louisiana annual conference has cut NOLA Wesley's 2016 grant by 10% in order to encourage us to pursue financial self-sufficiency. They want us to be able to stand on our own two feet if larger cuts happen down the road, which could very easily happen.
I hate asking people for money, because I am often a miser when people ask me for money. So this is very hard to do. I have set up an account with the fundraising site Patreon. Several of my blogger friends use Patreon to solicit support for their blog work, so I figured I would use Patreon to ask my blog supporters to support our campus ministry. Patreon makes it easy to gather a large group of people who pledge small amounts like $5, $10, or $20 a month. You could even pledge $1 a month if you wanted to. You can cancel your pledge at any time. Since NOLA Wesley is a church ministry and thus a tax-exempt organization, we will make sure you receive a year-end letter to file with your taxes.
College is a decisive time for students to figure out who they are independent from their parents for the first time. Without campus ministry, the church has no future. Our NOLA Wesley ministry is not only a safe space where students are accepted as they are; we also challenge students to enter into a rewarding life of Christian discipleship. Our four core values are: open table, safe space, changed lives, and transformed world. We offer a variety of small groups and worship opportunities in order to reach students in a variety of places in their spiritual journey. They also enjoy doing service work in our community with the homeless and Habitat for Humanity. I encourage you to like our
NOLA Wesley facebook page
to follow what we have going on each week (though obviously things are going to be a little bit quiet for the next month of winter break).
If you would like to support NOLA Wesley but you're not ready to commit to a monthly pledge, you can give a one-time donation to our PayPal account by visiting our website here. Please consider being our patron. Please keep our ministry in your prayers. Thank you so much for your consideration.