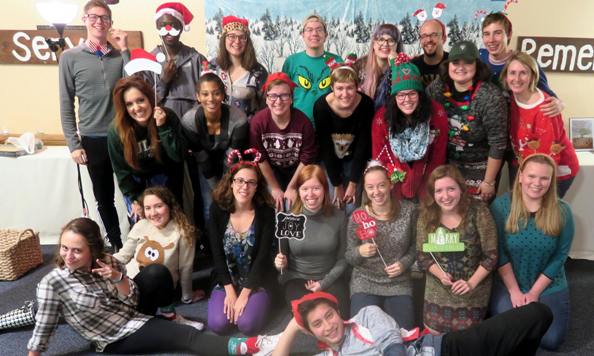 There are two days left in 2016. That means you have two days left to find worthy causes to support with tax-deductible donations that will decrease the amount that you are required by the IRS to give to Donald Trump. It means this is my last opportunity to share my heart with you and hope that you will make it possible for me to continue doing a job that I love. Without an influx of financial support, I will need to pursue a different ministry appointment.
The reason I moved down to New Orleans to be a campus minister is because I saw a crisis happening around me in the white suburban church. I saw exhausted families who were being crushed by the weight of the suffocating meritocracy created by our society. The people I know who have stopped coming to church are not playing hooky and living it up in debauchery. They're worn out from climbing the career ladder and shuttling their kids between dozens of extracurricular activities. They're drowning in duty and guilt.
I went into campus ministry because I wanted to intervene in peoples' lives before they got sucked into career paths and competitive parenting. I wanted to teach them how to pray, especially how to listen for God's voice. I wanted to help them discover the secret joy of the kingdom of God that is far sweeter than the professional accomplishments which we've been taught to define our lives around. I wanted them to learn how to take up their crosses and stand in solidarity with people who are being marginalized. What I could not have imagined is how much my students would have to teach me over the past two and a half years.
In the Christmas photo above, 15 of the 20 students pictured are new to our ministry this year. After two very difficult transitional years, we are finally starting to hit our stride. This fall, we won a grant from the United Methodist Foundation of Louisiana to offer paid internships to a core leadership team of our students. This will make a huge difference and tremendously expand what we're able to do. But this grant is earmarked very specifically as all grants are. We have a lot of bills that it will not cover.
This semester is really the first time that we've had a consistent presence on Loyola's campus in addition to Tulane. Tulane and Loyola are literally right next door to each other. For years, our Wesley foundation has included a handful of Loyola students, but we have never had an on-campus missional presence at Loyola. We are able to do so now because of a decision my wife Cheryl and I made last year. Instead of finding another job, she has joined me as a co-director of our ministry, trusting that we will find a way to compensate her for her work. I cannot imagine doing this ministry without her. We complement each other so perfectly.
I know of many other husband and wife teams who work together in campus ministry in places where they have stronger financial support. It's a setting that uniquely benefits from a co-pastoring model. Beyond the obvious gender implications of being a pastoral couple, our very different personalities resonate with very different sets of students. If money were not a factor, we would stay in this ministry a very long time, because we're seeing incredible fruit. It seems very obvious this is where God wants us to be. We just don't know how God is going to provide for it.
NOLA Wesley has a unique niche among the Christian ministries at Tulane and Loyola. We've built some incredible relationships with students who would not otherwise be in church. Since our denominational support is being reduced every year, we need private financial supporters to partner with us. If you would like to help us achieve greater stability, please consider becoming a monthly patron of our ministry. Or you can make a one-time, tax-deductible donation today or tomorrow. Donald Trump really doesn't need your money.