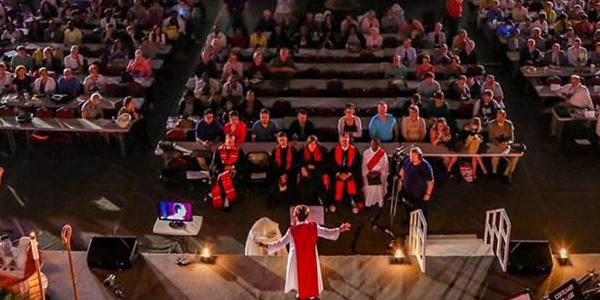 The book of Numbers was the source text of the message this year at Louisiana's United Methodist annual conference. It's a story of conquest. The Israelites send spies into the land of Canaan to figure out how to slaughter its people and take their land. Which is exactly what the Europeans did to the native Americans to form our country. All in Jesus' name. So I was not thrilled to have genocidal colonial conquest as the operative metaphor for a conversation about how to evangelize with "bold imagination." But then when Bishop Cynthia Harvey preached her final sermon, she completely flipped the script to offer a very different and more beautiful vision for evangelism.
Alongside the story of the Israelites fleeing Egypt and entering Canaan, Harvey told a parallel story of the Lewis and Clark expedition to explore the great northwest in the early days of the United States. They had taken canoes on their journey, presuming that they could navigate rivers westward and portage their canoes in between rivers until they reached the west coast. They had been following an old map which left out a critical detail: the Rocky Mountains. When they got to the Rockies, they were literally up a creek.
This was the metaphor for the situation we face as a church. What too many churches are doing today works about as well as trying to carry a canoe up the side of a mountain. We're operating with tools and strategies from the 1990's that don't work today. And just like the Israelites in the wilderness, people in our churches want to go back to an Egypt we really can't return to.
But in her final sermon, Bishop Harvey told us how Lewis and Clark made it through the Rockies. They traded their canoes for horses with the natives who were already living there. And those natives guided them through the mountains and on to the west coast. Then she said something very important: "What if the ones we fear are the ones who need to show us the way?" In other words, she flipped the metaphor of conquest on its head (though in real life, the descendants of the natives who guided Lewis and Clark were eventually repaid for their kindness with genocidal conquest in due time).
What does it mean for Christians to admit that we need the people of the land we are entering to show us the way in a conversation about evangelism? As any familiar reader of my blog knows, I am quite comfortable with this subversive understanding of evangelism in which I am evangelized by the people I evangelize. Bishop Harvey brought up the time when John's disciples visit Jesus to find out whether he's the real messiah and he tells them to report to John that "the blind receive their sight, the lame walk, the lepers are cleansed, the deaf hear, the dead are raised, and the poor have good news brought to them" (Matthew 11:5). Harvey explained that it is the healing and liberation of the marginalized which bears witness to the presence of Christ.
In other words, there are aspects of the Christian gospel that cannot be understood without the inclusion of marginalized perspectives. For example, black slaves in the 19th century took it as self-evident that Jesus' death on the cross meant that he was suffering in solidarity with them. This was an aspect of Christian atonement that never could have been discovered by privileged European theologians on their own, no matter how "biblically orthodox" they were. Their gospel was incomplete as evidenced by its inability to restrain European Christians from centuries of monstrous genocidal behavior. And indeed white Christians who uncritically appropriate the colonial gospel of our ancestors continue to operate with an incomplete gospel. Only when we understand that Jesus is standing up for the marginalized through his crucifixion will we recognize that we are crucifying Jesus every time we exploit and abuse the marginalized.
I can only learn these things by hearing what the gospel means to people whose vantage point is very different than mine. If Bishop Harvey's metaphor is indeed Spirit-led, then what we need to be doing as a church is building solidarity with marginalized people and listening carefully to what they can teach us about Jesus. We need to listen to God through the people we invite to discover the gospel with us.
And this is precisely what we've been trying to do at NOLA Wesley. Three years ago, the first place I went on Tulane's campus was a space called the "O" which is a small, cramped suite in the basement of the student center that houses the Office of Multicultural Affairs and the Office of Gender and Sexual Diversity. And I planted myself in that community and built agenda-less relationships with the students I met. I showed up for their events. I made them food. I supported their causes. Because that's what missional evangelical leaders like Alan Hirsch, David Fitch, Mandy Smith, and Jo Saxton had taught me to do.
The handful of students who were part of NOLA Wesley at the time did not think this was a good evangelism strategy at all. One student in particular was quite vocal, which prompted a meeting of our board in March 2015 to reassess whether or not I was a good fit for the ministry. It's true that none of the "O" students became active members of NOLA Wesley that first year, but they became my guides and my teachers. As time has gone on, the credibility of our ministry on campus has continued to grow among marginalized communities at Tulane. Last year, I got about five long private Facebook messages from students who had been watching what we were doing and wanted to get coffee with me to find out more about the God we worship.
Over the past three years, our ministry has quadrupled in size. Two atheists who came through our doors have begun to pray and talk about having a relationship with God. Six ex-churched LGBTQ students have rededicated their lives to Christ after having been pushed out by previous churches due to their identity. Several other students have shared that they used to be Easter and Christmas Christians in high school, but now they understand that walking with Jesus is a daily practice. How many "professions of faith" does that count for? I don't know. Maybe the way our system does metrics is part of the Egypt that needs to be left behind.
In addition to our discipleship achievements, NOLA Wesley is a laboratory where new theology is being produced. The evangelical afterlife insurance gospel of the Four Spiritual Laws is an example of a worthless canoe that needs to be left at the foot of the mountains of God's kingdom. Maybe it served a purpose in the mid-twentieth century, but there is a much more beautiful way to talk about how Jesus saves us from our self-alienation and imprisoning sin so that we can live with freedom and inspiration in his kingdom. I am only beginning to discover this gospel that is so much richer than I had ever imagined.
Since I remain evangelical, any inclusive Christianity I promote will involve cultivating a thirst for the living water that can only be found in Jesus Christ. I am not going to let any church I serve dilute itself into generic social justicey mindfulness. I know that my recovery journey is going to be part of the theology that God teaches me, along with the contemplative spirituality of Merton, Nouwen, and Rohr, and the liberation theology of Sobrino, Gutierrez, Tamez, and Cone. I'm not sure yet what to do with Marcella Althaus-Reid and Judith Butler, but they're also swirling around in my brain as one day I hope will be the womanists and mujeristas I have not yet discovered from whom I need instruction. But more important than any of the official theologians are the lessons I learn every day from listening to my students.
Everything that appears on this blog is inspired by my pastoral context. If you've been blessed by this content as a regular reader, then you have my students to thank for everything. Any theological insights that I receive are given to me by my students whether through direct conversation or reflection on how I need to tell the story in a way that they will be able to hear the good news. I would like to spend the rest of my life empowering marginalized students to speak the truth of the gospel God is showing them.
I spent the past week watching one of my students grow tremendously in her spiritual confidence and vocational identity as a result of her participation in Louisiana's annual conference. I am ecstatic at the thought that our little laboratory will soon be releasing Christian disciples into the world who know the terrain of the 21st century and are equipped with a way of translating Jesus' gospel that will reach the newest generations.
But then something happened at conference that completely contradicted Bishop Harvey's message and took the wind out of my sails. The conference campus ministry funding was cut by $60,000 in the 2018 budget. We had been assured that funding was going to plateau in 2018 after a deep 15% cut in 2017. Sadly, the Louisiana conference seems to lack the bold imagination with which our bishop preached when it comes to dollars and cents.
The college years are the most vulnerable time in a life of Christian discipleship; they are also the season in which most future pastors discover and cultivate their call. To divest from college ministry in order to balance a conference budget is like cutting the propeller off your airplane in order to reduce weight. Every hour that a campus minister has to focus on fundraising is time taken away from discipleship. This is not to say that we shouldn't have to fundraise at all, but our students' discipleship will suffer if fundraising is the primary focus of our campus ministers and the lens through which we start to view everything else (which is what happened to me last semester).
NOLA Wesley has now lost more than a third of its funding in less than three years. Have you ever heard of any organization that quadruples its size and gets rewarded by losing a third of its funding? We've been fighting furiously to make up for this deficit with our own fundraising. I did not receive a paycheck this past December because we ran out of money. Over the last six months, we have raised more than $18,000 of revenue beyond our previously established income.
I understand and agree that campus ministry needs to be an actively and intentionally supported ministry rather than just a passive line-item in a statewide budget. The question is whether individual Louisiana United Methodists and other people who support the inclusive Christian theology that's being forged in NOLA Wesley are going to step in and fill the gap. We will not be able to close a $40,000 deficit by doing bake sales and gimmicky fundraisers. What we need are committed monthly patrons who are willing to forego a few fancy lunches and $5 coffees each month. Unless you never go to Starbucks or eat lunch out, you have money to spare.
In any case, we've set an absurd goal for ourselves only because we have no other choice. Right now NOLA Wesley has 24 monthly patrons contributing a total of $403 per month. What we need by the end of the summer is 100 monthly patrons contributing a total of $2000 a month. If we achieve this goal, then the other $16,000 we need to raise will be a daunting but not impossible sum which will allow us to put our students' discipleship first as well as allow Cheryl and me to be parents, stay married, and engage in some modest level of self-care which might include eating some healthy meals and going to the gym.
If you want to see "bold imagination" take shape in the church, then you need to support the campus ministries that are on the front lines of its mission and are also the most financially vulnerable since none of our members are tithing from six-figure salaries.
Please become one of the 76 new monthly patrons NOLA Wesley needs to be the theological laboratory and missional outpost God has called us to be.