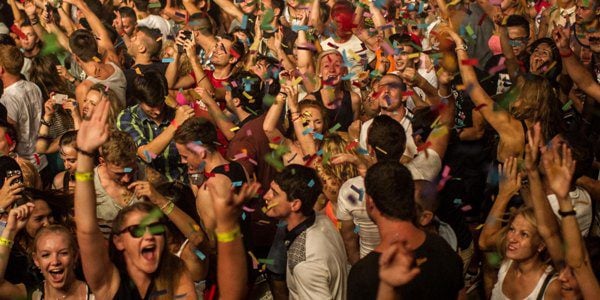 It's official. The Princeton Review has declared Tulane University the #1 party school in the country. Our ministry building is located next door to a bar on a thoroughfare where many drunk students walk by on their way to and from the frat houses. Every Monday morning during the school year, I spend about half an hour cleaning up the cups and broken bottles in our front yard. Needless to say, it's a unique context in which to do campus ministry. For the past three years, I've been asking God to show me how to speak the gospel into this particular reality.
"Party school" may be a misleading label for the campus environment at Tulane. It's not an entirely lighthearted and care-free space. There's something underneath the party face the Tulane student body is wearing. It's true that some students have more money than they know what to do with and their families are positioned well enough that they will never have to worry about their careers. But for most of the students I know, the Tulane ethos is captured by a sign the business school put up in the breezeway where our ministry hands out free donut holes and yerba mate tea every Wednesday morning: In today's competitive market, how will you stand out?
That is the question that reverberates in the air on our campus. And I can't help but wonder to what degree that question is what propels so many of our students into self-destructive escapist behavior. How will you stand out? How will you get straight A's in all your classes and fill up your resume with extra-curricular activities and apply for all the ultra-competitive internships and hold down a part-time job to give you some spending money and go to the gym every day to make sure that your body is competitive? It makes sense that our students want to pound shots of bourbon by the time they hit the weekend. It makes sense that navigating romantic relationships beyond quick Tinder booty calls seems like way too much to handle.
For my first three years of ministry, the message I felt God had given me to preach was God's unconditional welcome. It was a message particularly for the students who don't fit into the conventional party scene, especially those with marginalized identities. Over the past three years, NOLA Wesley has become a welcoming family. We have quadrupled in size, primarily due to our LGBTQ outreach group Prism through which we have gained many of our student leaders.
Though we continue to retain the radical welcome of our open table as our first core value, God has been challenging me to deepen our message. This semester we are going to be talking about the kingdom of God, which I would define as the core mystical reality of the universe that is saturated with God's glory. Jesus talked about the kingdom of God more than anything else. His most basic sermon is summarized in Mark 1:15: "The time is fulfilled, and the kingdom of God is at hand; repent, and believe in the good news." Notice that the reason to repent is not so that you can go to a happy afterlife when you die; it's so that you can become part of the kingdom of God that is at hand.
The kingdom of God is not just a figure of speech. It's not just a word for the happy afterlife destination. The kingdom is the overwhelming presence of God's love that is always around us and almost never noticed by us. It is the euphoria and perfect serenity that every alcoholic and addict tries in miserable futility to manufacture through artificial means. The kingdom is the space of belonging captured in the phrase "completely at home." It is the place where we dance like nobody is watching, where the invisible mirrors and critics are scrubbed out of our consciousness so that we can stop performing. It is living in the complete absence of self-preoccupation like the lilies of the field and the birds of the air. It is losing ourselves entirely in God so that we become truly alive for the first time.
One of Jesus' parables says that the kingdom of God is like treasure hidden in a field that a man discovers which causes him to immediately sell all of his belongings so he can purchase that field. I've stumbled across that treasure before. It's hard to put into words what happens when I do. The most recent time was sitting under a waterfall in the Smoky Mountains a week ago. It's also happened on a bench at dusk in New York City, at a fountain in New Orleans, in the Catholic basilica in DC during the 12:10 mass. In those moments, the world is transfigured by the glory of God and every aspect of creation says I love you. Or something like that. The real world in its astounding beauty is made visible in a way that reveals I've been sleepwalking most of my life. It's like when I was a kid at the eye doctor in 4th grade and I looked through the lenses that gave me clear vision for the first time.
When I have my feet firmly planted in God's kingdom, I am set free from the anxiety-inducing questions of our cutthroat world of capitalism. Will I get enough new students this year to be able to argue to my denominational higher-ups that our ministry keeps growing exponentially and they should stop slashing our funding every year? Will my students have solid, scripture-citing testimony that I can use for videos that will sufficiently pull heartstrings to raise money? Will I sound on fire for Jesus enough when I speak to potential supporters whom I really want to inspire into giving us money? My heart is a battlefield right now between the secularizing anxious voices of capitalism and the voice that says, "Seek my kingdom first and all these things shall be added unto you."
So the challenge with the gospel I want to share is that I'm a work in progress. I am not yet fully plunged into the kingdom I've visited enough to want it to be my only reality. But I still want to tell my students that they can experience a reality that gives them an entirely different foundation for existence. I want them to see the world in its true, transfigured form, even though I've only begun to see glimpses. I wrote this past spring that right now God has given me two scriptures to guide my thinking: John 3:8 (that talks about the freedom of those who are born of the spirit) and 2 Corinthians 3:18 (that talks about the glory revealed in authentic Christian community). Three words describe the gospel I've been given to preach: freedom, inspiration, and solidarity.
I don't think my gospel is very sexy or revolutionary. It's simply to repent and believe the good news of God's kingdom. I need your prayers and support this year. As I've said before, more than 2/3 of the private monthly support for our ministry comes from people who have no relation to Tulane or Louisiana United Methodists apart from reading my blog like you. Last spring, for the first time, I had to spend more time on fundraising than I did on ministry each week and it impacted my relationships with my students. The more support that we are able to raise through committed monthly patronage, the more we can focus on sharing a gospel that the Tulane campus needs to hear.
If this post gets the number of views my non-click-bait posts usually get, then I would only need each reader who's made it this far to pledge $3 a month and we would be able to spend all of our time proclaiming the kingdom of God to the students. We are also grateful for your prayers and any advice you might have.
Check out my book How Jesus Saves the World From Us!