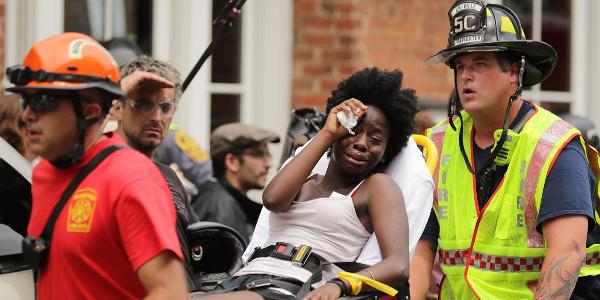 [I asked my dear friend Deborah Porras to share her eyewitness account of what happened in Charlottesville because of the outside perception that "many sides" were violent except for the one guy who got mad and killed the woman with his car. Deborah watched a mob of neo-Nazis beat a black woman without any consequences and only a much delayed intervention by the police. This content may be triggering. Here is her story.]
I am an elder in the United Methodist Church, serving in Alexandria, Va, and I am passionate about social justice, civil rights, speaking up for the voiceless, striving to literally follow in the footsteps of Jesus in building the Kingdom of God. So, when an email came out from my fellow clergy and our Bishop about the upcoming "rally" planned in Charlottesville, asking us for assistance in providing a peaceful and safe space for that day, I marked the date.
As the day approached we prepared through prayer and gathering those from our congregation who would be driving down for the day. I remember thinking it would be just another peaceful protest, standing in solidarity, spending time in worship and prayer as we simply drown out the hateful rhetoric with songs and words of peace and love.
As we drove into the city, I remember it seemed like it was just waking up. We knew about the violence and threats of the night before when White Supremacists surrounded the church with torches and hateful chants. We passed busses of State Police moving in to set up barricades and line the main street around the rallying area, the First UMC, and the park where we would gather for prayer and song and peace. I thought to myself, 'Wow, they are really covering all the bases here and this will be a safe and contained event'. I couldn't have been more wrong.
We gathered and prayed and sang, then began our walk of peace, singing and holding signs with words of love, anti-racism, anti-hate. We made our way through the still quiet town to the park where we listened to songs, prayers, and speakers on hope, love and anti-racism. I began to see some anti-fascist groups prepping and gathering as well, and there were first aid tents and food/water tents prepping for the day as well.
Some of us had clergy collars, others robes, others Black Lives Matter shirts, others Love in Action, or various religious statements of love, others Black Student organizations from UVA, others anti-fascist. We were individual gathered together in solidarity, to stand our ground for this place, our brothers and sister, to witness to our nation and community that peace and love stand in the face of evil and not on prevail but speak more loudly.
After a while, we made our way over to the church where clergy and those with them were able to go inside for a day of payer, worship, and community in safety. There was screening and no one associated with violence and hate was allowed into the church for safety reasons. Around the streets the police had barricades and were lined up between the parks and church, streets leading up to the main stretch were closed with a police car and one police person at each end, there were sniper stations set up on buildings, helicopters circling above, and riot gear and emergency vehicles prepped if needed.
A group of about 5 anti-fascists tried to persuade some of us clergy to join them in taking on the White Supremacists by fighting with them, not simply standing our ground in peace. We explained our role and belief in non-violence and ensured they also stayed off premises if they intended to participate in violence. They explained their desire to fight on behalf of all those who cannot, to draw the fight and violence to themselves and take on the White Supremacists and Nazis head on if they had to.
These individuals and groups were far outnumbered and brave in their own way; while I do not advocate violence, and condemn it in all ways, I must acknowledge that these individuals were willing to put themselves in harm's way, not in protest or for their own interests, but on behalf of all threatened by those yelling their desire to harm or kill Jews, Blacks, Muslims, GBLTQ, liberals, police, anyone in their way, anyone trying to change the order of the world as it is.
Then, began the chaos. Groups began to walk by as they searched for ways to get through the police barricades rather than going on the assigned path to the rally park. They were armed and adorned with hate-filled patches, Nazi and racist tattoos, camouflage, khakis, Trump shirts and hats, make America great again hats, and polo shirts.
Things happened quickly from the time they showed up. Large vans and trucks began to pull up and out jumped piles of young men with bats, shields, helmets and other weaponry. Their leaders yelled at them as if they were military units, lining them up, keeping home in tight formation. As a group came down our street, they lined up as if they were prepping for battle and yelled they were taking this city, and random hateful phrases and words.
A small group of anti-racist resisters, clergy, and anti-fascists stood in opposition to them and chanted back about ending hate and stopping their violent agenda. Others of us aligned the perimeter of the church parking lot to keep those inside safe. As the chanting back and forth became yelling, and it was evident the white supremacists were not going to break the police barrier and move in that direction, this group of young, preppy looking white supremacists began pushing their way down the street, backing the resistance line into the end and they broke into cells of about 5, ordered to stay tight and keep pushing down.
Then violence broke out and in and in an instant 15-20 of these men were beating and stomping on a young black woman. Others were pushed away and knocked down and a clergy man tried to pull some off but they just piled up, rolling into the church parking lot over bushes as they pummeled the young woman. We yelled for the police several times and they came and the situation then de-escalated. The group of white supremacists left and people tended to the woman and others injured.
I found myself shaking as I stood there, unable to help her or stop them, fighting off my inner desire to jump in, and my realization that I could be under the same pile of angry violent men and still not save her. I realized in that moment as a pastor, I stand not only spiritually for my flock, my sheep, but physically between them and the wolves that come to harm, the evil that seeks to take over. I was sure she was dead, having seen her at the bottom of such a violent pile, but she was alive and taken away for more treatment. No one was arrested.
The church was locked down during this encounter, not by police, but by the clergy of the church, other faith leaders, and volunteers, while others of us stayed outside to maintain the perimeter. I was surprised that none of the groups that came by seemed to be wearing or laying claim to Christianity. They yelled things like " You are the Synagogue of Satan," " We are taking this city," "You will not replace us," "You are going to die today."
This was all prior to the rally even beginning. They all made their way to the rally in the park called "Unite the Right" and we heard drumming, saw them marching in circles, heard ranting and yelling, saw militia armed with assault rifles, and left paths of violence in their wake.  Finally we got word that the rally had been declared unlawful and they were going in to arrest the leaders and if necessary tear gas was coming out.
We were told to stay away from the street where the state police were lined up or we would be arrested with others. We could eventually smell the tear gas making its way down to us and saw the large amount of police and finally national guard in riot gear ushering the white supremacists out of the park and trying to disperse them.
Those that left went off in their groups and came by yelling more threats and hateful things at us as they passed. They all seemed to have a special kind of hate in their glazed eyes and faces, some cackled as if they were having the time of their lives, some had women in their group, none walked in fear, nor did they cover their faces or try to hide their identity, they held their heads high in frightening confidence that they had free rein. We stood right in front of them as they passed the church, looking in their eyes with a certainty that we would not be letting them invade our church, take over our safe space, our sacred interfaith gathering of peace and love.
As everything seemed to officially wind down, we knew some were over in other parts of the city who were committing various acts of violence, and in the park and church people were welcomed in and given water, medical attention, washed off from the tear gas, comforted by love and people who came to be and to listen.
I have never been in a situation before where clergy were targets of violence. Whether in prison or even in other situations of mass protest, anger, or violence, there is a certain off-limits respect for faith leaders. I could not believe that more people were not injured, I could not believe that people were not killed, and I was appalled to find  out how few people were arrested.
We stayed in groups when we left to go back to our cars and police were stationed in various places. We left and heard about the act of terrorism that one member of the white supremacy group committed by ramming a car into a crowd of people, like us, like our gathering. We heard about the helicopter that crashed. 3 people killed. Countless injured.
Without the law enforcement there to de-escalate and maintain a strong perimeter,  the numbers would be much higher;  without the faith leaders organizing and dispersing throughout the various parts of the gatherings to stand between their people and these groups, the numbers would have been higher, without the safe space setup at the church and their park, where would people have found safe space?
The faith leaders and student leaders in Charlottesville really organized and covered every base in preparing for this day, providing an alternative to a day defined by hate groups taking over a city. The people at First United Methodist Church are the definition of hospitality and worked tirelessly to create the space for community. I am grateful to all who put their lives in harm's way on this day to stand against hate, not perfectly, but with amazing love.
Check out my book How Jesus Saves the World From Us!
Please help us create gracious, truthful, justice-seeking Christian community at our campus ministry NOLA Wesley! Over the course of the summer, we grew from $398 in monthly pledges to $875! Help us reach our goal of $1000 by the time the school year starts.