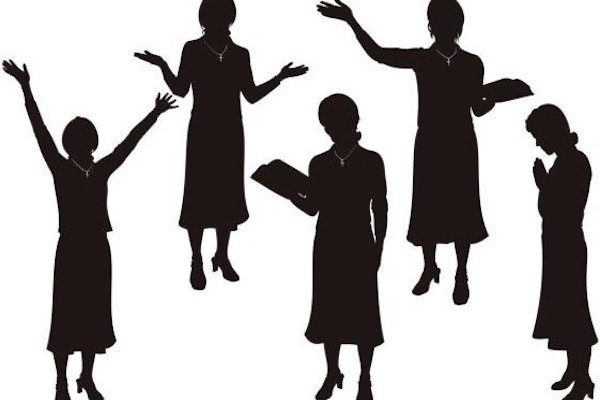 It's taken me some time to respond to the latest attack on women in the ministry from John Piper. As a husband of the best pastor I know, it's hard not to fantasize about enacting some form of physical violence on anyone who attacks her call. But that kind of chivalric bravado is part of the patriarchy that needs to be put to death on Jesus' cross. I haven't known exactly how to frame what I want to say. I was going to try to write a listicle about why women make better pastors than men, but that felt uncomfortably gender essentialist and paternalistic of me. So I figured the best I could do is share my testimony of how not just female pastors in general but queer female pastors in particular have definitively shaped my theology and pastoral intuitions.
In early 2002, I was in a rough place. I had a high-stress union job in which I was failing miserably. My girlfriend was in a downward spiral of suicidal addiction. I hadn't been to church in a while. So I decided to try out the closest church in the artsy, bohemian neighborhood where I was living. It was called Central Avenue United Methodist Church. It no longer exists. But when I walked in the door of Central Avenue, I found myself in a crowd that was about 2/3 middle aged lesbians. The first thought I had was "I'm safe here because they can't be fundamentalist."
That was the beginning of a journey of being mentored by queer women. I discovered the Christian gospel that I preach today in a book study with about eight middle aged lesbians and two middle aged gay guys. We read Henri Nouwen's Life of the Beloved together. I learned that the central task of the spiritual life is to "become the beloved of God." I learned that while saying God loves me is easy and unremarkable, embracing God's love for me is actually a lifelong process. Honestly, I don't think I could have been converted from my self-hatred without the gentle mentorship of my lesbian adoptive mothers at Central Avenue. The self-acceptance they modeled for me seemed the uniquely possible result of having to discover a divine grace that contradicted the church's hatred. The voice of God is never more lovely and poignant than when it contradicts the patriarchal scoffing of the institutional church.
Growing up moderate evangelical, I was very confused about the Christian gospel because it seemed like everyone around me reluctantly went along with hellfire and brimstone that they were deeply ambivalent about. Whether or not anyone actually taught me this, I thought that the only way to be right with God was to hate myself sufficiently for my sins. So I spent most of my prayer life trying to muster up enough guilt to reassure myself that I was still born again. Loving myself seemed like a dangerous, new-agey concept until my depression brought me to a place where not loving myself became more dangerous in a life and death sense.
I'm not going to call out the individual queer women in my life story because many of my mentors have been at least partly discreet about their identities. You know who you are if you're reading this. Some have been ordained clergy; some have been theological scholars; some have been my direct supervisors; some have been my colleagues and comrades in struggle; some have been incredibly wise and spiritually mature laypeople; all have shepherded me with grace and truth.
There are two things I can think of to say generally about my queer female pastors (if it's okay to make generalizations). First, they have always seemed to operate with an acute, proactive awareness of the needs of everyone in the room that I have often lacked. Second, they have addressed conflict openly, firmly, directly, and graciously. Both of these qualities I continue to pursue for my own character, but they are absolutely not first nature to me.
I don't know to what degree character qualities correlate to identity categories. I do know that the queer women who have led and taught me have been indispensable to my Christian discipleship and my vocation as a pastor. Without them, I would be aloof, passive-aggressive, and fearfully clinging to a toxic gospel. Because of them, I know that God not only loves me but wants me desperately to love myself. I know that holiness is hospitality for the other. I know that truth sometimes requires speaking in ways that other people call "bitchy."
It's not my place to say what Jesus has called queer women to do in the church as unique individuals and as people who share an identity. All I can say is that they have played a tremendous role in my salvation.
Check out Queer Grace, an online encyclopedia for queer Christian life!
Follow the Mystic Soul Project, which is POC-centered space with many queer voices!
Download OurBible, which is a queer-inclusive Bible devotion app!