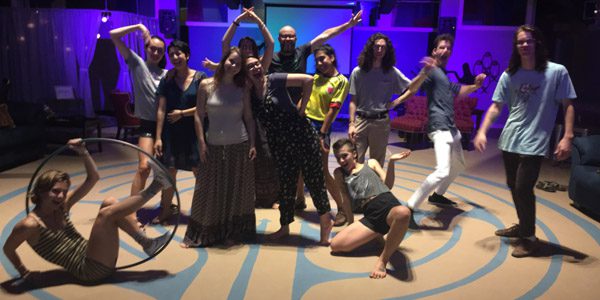 We live in a world that is sexually unsafe. Especially in college. Especially on the dance floor at alcohol-saturated parties and clubs. Last spring, Tulane released a survey in which its undergraduate females reported a 40% rate of sexual assault. The rate was even higher in the LGBTQ community. What would it look like to have a place where people can dance without being judged or hit on?
That's the idea behind Release, a judgment-free dance party that we've started holding every Wednesday night at 9 pm at The Labyrinth, NOLA Wesley's new donation-based cafe. It's the culmination of a dream that I've had for 15 years.
As someone who is neurologically unique, moving my body has always been a challenge for me. When I was in middle school, the other kids said I walked like a penguin so they used to make a line in the hallway behind me mocking the way I walked. These and many other similar incidents filled me with a lot of body shame.
When I was in my early twenties, I went to New York City for an anti-war protest at the beginning of the Iraq War. After the protest, there was a giant rave on a ship in the New York harbor. I was completely sober but somehow when I was in the drum and bass room, there was enough fog and the drums were fierce enough that I lost all my inhibitions. In that moment, I heard a voice tell me: "This is worship."
A seed was planted as I experienced the freedom and joy of being taken outside of the scrutiny of my internal critics who never stop judging my body. It developed into a dream to create a worship experience that would be a dance party where others could enjoy this liberation from self-consciousness. A major reason I decided to become a college pastor was because I thought that I might have the opportunity to live out this dream better than I would as a pastor in the suburgatory outside of Washington, D.C.
When I first arrived at NOLA Wesley, I told the students who were involved about my dream and they told me that nobody at Tulane dances unless they're drunk and everyone would think that a dance party at a church was ridiculous and lame. What they said made sense to me so I put the dream back in a box.
Then my second year, I met a guy named Harmonii who is Baha'i. He was trying to figure out a way to create interfaith spiritual space. So we decided to collaborate together on something we called Release. We would play drum and bass music while we read interfaith spiritual writings aloud into a microphone that seemed to flow with the music. We tried this about four or five times. One time four people came. But soon it was just me and Harmonii so we decided to pull the plug. And the dream went back into the box again.
In the meantime, I had been sponsoring an annual mini-rave each summer at the Wild Goose Festival in the mountains of North Carolina. But it seemed like outside of the environment of hippie wildness that Wild Goose is, nothing was going to come of this dream. Last summer, my rave was unceremoniously erased from the schedule for Wild Goose because everyone wanted to listen to top 40 pop music at the Silent Disco instead. So the dream was buried even deeper.
But this fall, when our cafe launched, we were able to hire 26 really cool, open-minded work study students. The first week, I had a conversation with one of our work study students and her friend. I don't know how it came about, but I told them about my dream of a dance party. And they said it sounded like something they'd come across called ecstatic dancing and that they thought it would be awesome and their friends would come.
So I got my hopes up. We decided to call it Release: A Judgment-Free Dance Party. Our work study student made a flyer. We decided to hold it on Wednesdays at 9 pm. Last Wednesday, I was terrified that nobody would come. I prepared myself for the disappointment I had experienced so many times before.
Maybe two people showed up on time. I tried to make peace with it. But then people kept coming in and before I knew it, there were 12 of us! Not a huge crowd, but enough. We had the most unsophisticated dance party ever, basically playing songs off of youtube, then running back and picking new ones after each song ended. People moved their bodies in ways that were silly, goofy, and beautiful. There was lots of laughter. It was the opposite of polished, completely defying the impossibly high expectations I'm used to Tulane students having about everything.
And when it was over, they all said they would come back the next week and bring even more people. The next day, I met a couple of other students whom I told about the dance party. One of them said, "So you're basically doing this to get people to come to your church, right?" And that question made me squirm. Because it's partly true.
There's part of me that wants people to come to my church for the official Sunday evening worship service so I can get credit for them being there in the eyes of the United Methodist Church. There's part of me that always has to rationalize what I'm doing in theologically proper terms for the heresy hunters who are watching me.
But there's also part of me that believes if Jesus were at Tulane University, he would be throwing judgment-free, rape-culture-free dance parties and trying to unleash as much joy and love and freedom as he possibly could. And so the way I answered the student was to say, "Actually I believe my vocation as a pastor is to create spaces that unleash joy." And that's really what I think I'm supposed to be doing.
I have a particular narrative for understanding my spirituality that involves a mystical connection with someone I call Jesus. Some of my students share that spiritual narrative; others don't; and I love all of them. My understanding of what Jesus came to create is a gracious, vulnerable, authentic community. To me, a judgment-free dance party fits that definition.
So I'm going to keep doing it and see what kind of love, freedom, and joy happen as a result. And if you'd like to come dance in a place where you won't get judged or hit on, then come join us at The Labyrinth Wednesday nights at 9 pm.