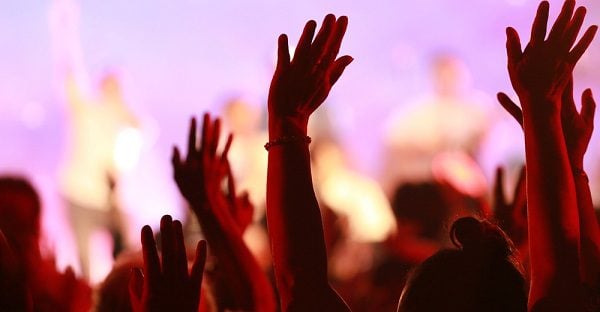 Fred Hartley's Dare to Be Different was one of the books that defined my evangelical teenager years. It indoctrinated me with the idea that that the most important thing about being a Christian is to be different from non-believers. And to be fired up about that difference. The gist of the book and others I read like it by people like Michael W. Smith was that there were three basic ways I was supposed to be different: no drugs or alcohol, no sex, and no cussing. That was how people would know I was a Christian.
This book has come to mind as I've counseled evangelical students who have had existential crises on the incredibly secular campus of Tulane. They were haunted by the thought that they weren't doing enough to distinguish themselves from the students around them and what this meant about their faith life.
I was ambivalent as I spoke with them because on the one hand, I wanted to encourage their zeal for connecting to God, but something about their restlessness troubled me. Should a zeal for being different be the core ethos of our Christian life? Jesus did say to take up our crosses and follow him, but what exactly should that translate into? Is personal moral purity the distinctive cross that Jesus had in mind?
The best and worst aspect of evangelical culture is its zeal for zeal itself. It's the reason that evangelicalism is the most powerful wing of American Christianity. When you have a church full of people who are excited about being Christians, that church is going to grow a lot more than a church full of people who are ambivalent about being Christians. Whether or not evangelical church growth is a product of their preaching the Real Gospel as they claim, they are more excited about the gospel they're preaching than any other type of Christian.
When you grow up evangelical, the thing you're supposed to crave more than anything else is to be On Fire For Jesus. It's not enough to be patient, kind, generous, and gracious to people, because heathens can do that. There's a level of hype that you need to exude. There's a certain bubbly smileyness that you're supposed to have on your face. You need to be a Contagious Christian (which is incidentally the title of a book I tried to use to get my last church hyped about evangelism; it failed because they weren't evangelicals).
Being On Fire For Jesus involves an intricate vocabulary and choreography. How many times do you say Jesus' name in your everyday speech? How often do you shake your head and chuckle about what a sinner you are and how unworthy you are of all the ways God has blessed you? How long and how theologically sound are your prayers?
Do you refer to your faith as a "spiritual journey" or a "walk with Jesus" (because if it's not a "walk with Jesus" you might as well be a Unitarian)? When you worship, do you close your eyes and put your hands in the air? How many times do you go up to the altar and throw yourself down because you're overwhelmed by the Holy Spirit?
I don't know what Jesus thinks about the idea of being On Fire For Jesus. I do know that he had a lot more to say about exhibitionist religiosity (Matthew 6) than he had to say about not cussing, drinking, or having premarital sex. There's no way to distinguish fairly between people who are genuinely fired up about Jesus and people who are performatively On Fire For Jesus, but a culture that promotes zeal as a value in and of itself creates a lot of pressure to put your piety on display for others.
Here's a good example of what I'm talking about in a tweet from an evangelical Methodist pastor:

When somebody is having a hard time and they're telling you about it, do you cut them off by saying "But are you wildly in love with Jesus?" That's such a textbook evangelical thing to do, and it's a textbook evangelical thing not to see any kind of empathy deficit with doing that, but instead a spiritual zeal to be commended. A Wildly In Love With Jesus church is going to cultivate a level of hype that will bolster Exponential Church Growth, but is it a place where it's actually safe to bring your whole self? It works as long as you're straight, comfortably married, financially stable, and extroverted. And if you're not, then you're just a Negative Nelly.
There are many sincere people who are genuinely excited about Jesus. I love having people like that in my ministry. The Holy Spirit uses them to synergize and inspire communities. Because I'm introverted, cerebral, and melancholy, I've never been able to perform the On Fire For Jesus dance very long. I get very uncomfortable in spaces where being bubbly and giddy about Jesus all the time is a cultural expectation. I prefer deep and intense to bubbly and giddy. Sometimes you can be On Fire For Jesus when you're deep and intense, but often being deep and intense leads you into places that are out of bounds.
I've never been evangelized by the bubbly, giddy On Fire For Jesus evangelicals. I can put on  a good show when I'm talking to them because I know the boxes I need to check in my sentences. But I always have to be "on" with them. I'm always performing. And furthermore, I'm able to predict with reasonable accuracy what they're going to say before they say it. So my conversations with them don't really have much of an impact on me. It's always like a fencing match even when I'm trying my hardest not to appear adversarial in any way, because I always know that if I'm not Wildly Enough In Love With Jesus for a minute, I will be judged and dismissed.
The Christians who actually evangelize me and draw me deeper into God's kingdom are the ones who make me feel safe, the ones whom I know aren't going to judge me if I don't say the right thing, the ones who will drop the F bomb if it seems like I'm being too guarded in my conversation with them, the ones who don't seem to have a script they're following. This all started with my grandpa who was a Southern Baptist deacon who cussed like a sailor and swapped dirty jokes with me when nobody else was around and taught me to get on my knees on the side of the bed each night when I prayed and talked about Jesus whenever he wasn't cussing or telling dirty jokes or watching college football. Right or wrong, his irreverence gave him the credibility to say things to me about Jesus that I took seriously.
And throughout my spiritual journey, I've consistently found irreverent, rough-edged spiritual mentors who kept me from giving up on being a Christian. Because that's what I know, that's the kind of pastor I've become. Unsurprisingly, I don't attract On Fire Christians. I attract ambivalent, conflicted ones. That's why I'm never going to have an explosively growing ministry. And why I will probably never stop second-guessing myself. But maybe along the way I will have a few dozen completely authentic conversations that are life-changing.
——————————————-
We're in the midst of a fundraising campaign for our campus ministry NOLA Wesley. If you benefit from what I write, then investing in my ministry is how you grant me the space to continue writing as freely as I do. If you would like there to be a space for deep, intense, ambivalent Christianity instead of just the giddy, bubbly Christianity that brings in the most cash, then please consider supporting us.