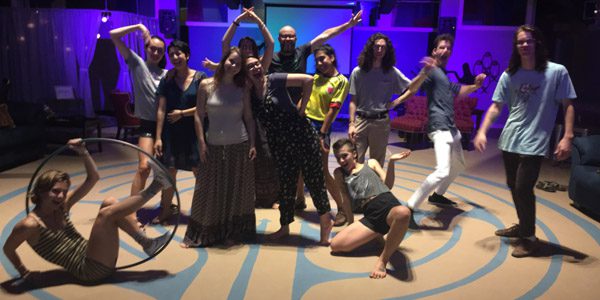 We took a risk when NOLA Wesley started the Labyrinth cafe. Meaning we did something that involved a high likelihood of failure. That's what a risk is. And that's what all the higher-ups in the church encouraged us to do. Risk-taking mission is one of the five practices of fruitful congregations according to Bishop Robert Schnase. Dr. Elaine Heath told our Louisiana Conference to "fail our way forward."
The greatest risk is that our funding will dry up before we get the chance to make it. As our end-of-year fundraiser goes down to the wire with less than 20% of the necessary money raised, I'm realizing that this is the most likely outcome. As much as I pray for a miracle to happen, I need to prepare myself for the reality that they don't necessarily happen every time.
We've had really wonderful things happen this past semester. We've had interactions with hundreds of Tulane and Loyola students who would not have entered our building otherwise. But we are far from breaking even. And we're going to have to convince enough supporters who believe in what we're trying to do to subsidize our budget until we get enough traction to make it on our own, which will probably be a 2-3 year process if we're allowed to take that long.
What happens when a church is a cafe, dance party, and music venue? It means that we have a space whose boundaries aren't defined solely by people who are completely comfortable gathering to sing songs about Jesus and eat his body and drink his blood. I can't tell you how many dozens of students have said to me this semester, "Churches usually make me anxious and I try to avoid going anywhere near them, but this place is different."
In a place where explicit Christian worship isn't the prerequisite for community, Jesus can hang out with people who don't already know him or maybe call him something different. And the Holy Spirit can speak to people in ways that connect to the grace they have already received. I believe the good news that we're supposed to share is not that there's an angry perfectionist God who wants to torture people forever for breaking his rules, but that there's a kingdom of love which is more powerful than the unforgiving toxic meritocracy of our society that is causing so much brokenness and pain. And so as an evangelist who is not primarily focused on proving myself to other Christians, I'm trying to find every possible pathway for people to gain access to that kingdom of love.
On a college campus like Tulane, the fundamental religion is achievement. Every student knows that they are competing with each other. The business school has a sign under the breezeway that says, "In today's competitive job market, how will you stand out?" So the students work themselves to death during the week, drink themselves silly on the weekends, and wake up in bed with people whose names they can't remember. And in that toxic environment, 41% of undergraduate females are sexually assaulted.
That's why it matters that every Wednesday night, we have a judgment-free dance party called Release. It's such a simple thing for students to move their bodies out of joy in an environment that is completely substance-free and completely void of any hint of sexual conquest. But most of them say that it's the most liberating thing they do each week. No, I don't preach an explicitly Christian gospel as part of this experience, but I believe the space that happens is a taste of the kingdom of God.
Likewise, on the weekends, our cafe gets packed out for shows by aspiring musicians and rappers usually from Loyola but sometimes from Tulane. It's free. The students don't have to be (or pretend to be) 21. There are lots of F bombs in the raps, so I realize a lot of Christians would consider that desecrating to the church. But on the contrary, I think that letting students bring their whole selves into our space is a critical first step to building relationships. And I'll never forget that the day after the biggest show this fall, the organizer of the show and two of his friends skateboarded to our church service.
One of my favorite things we did with our cafe this year happened during final exam week. Each night, we had a vegan and non-vegan entree dish available to students for whatever donation they could provide. When all the students who came to the cafe had been served, I took the leftovers to the libraries at Tulane and Loyola just down the street. During exam season, students don't eat well. The joy with which they received these home-cooked meals was one of the greatest gifts I received as a pastor this year.
We aren't just doing a cafe. We still have a more traditional Christian ministry with worship and small groups. Our small group ministry has never been stronger. Our freshman class is the largest it's been. And most of the new people we've brought into our ministry has happened as a direct result of events we've held at the Labyrinth.
So whether you're a regular blog reader or not, I'm going to invite you again to invest in this laboratory of the Holy Spirit that we believe God has called us to create. I really think God can use the Labyrinth to share his kingdom of love with a population of students who will absolutely not receive it through the more conventional campus ministries operating on our campuses.
It will absolutely be a miracle if we raise the final $12,000 in two days. But God did something like that last year. And if it's God's will for this to be a one-year experiment, please pray that I will learn from it whatever I'm supposed to learn and that there would be no bitterness. If you'd like to support us, click here.