Breasts are sexual. Before you had a baby, your breasts served a sexual function. After you wean your baby, they will revert back to enticing and comforting your husband full-time (whether you personally find them alluring anymore is totally irrelevant). To say that the true function of breasts is only for feeding infants is condemning women who cannot or have not breastfed by implying they aren't fulfilling their "true purpose." It's like saying barren women are functionally men. Where in the Bible does it say our woman-ness is based on our abilities? The statement that breasts primary purpose is for feeding a baby is a feminist lie. At the heart of feminism is a raging hatred of women. Feminists disdain femininity. They don't want to recognize the differences between men and women because they wish they could be men.  They see femininity as a weakness. A fault. They are all turned around, fighting their war from the wrong side. They hate the way God made women and it manifests in extremely ugly ways (abortion and pornography not being the least of them). Christian women have no business flirting with what feminism stands for.  A Christian husband should be alarmed,  ashamed  of himself and embarrassed for his wife when she no longer sees her sexual femininity as a gift from God.  Usually, that means that somewhere along the lines, he has failed to adequately communicate just how much he appreciates and cherishes her whole being (mind, body and soul).  She isn't basing her self worth in God anymore. She is insecure about being a woman. She is (usually unintentionally) drawing attention to her personal discomfort with her own body. A good man wants his wife to be modest, he wants her to be discreet with her sexuality, not because he is a macho, chest thumping woman-hater, but because above all people, he recognizes that her body is fearfully and wonderfully made. We protect what which is most highly valued.
I was a breastfeeding mom several times over. I am well aware that babies get hungry and you can't always plan ahead and feed them discreetly in a private place (although with some effort and a lot of practice, you  can most of the time, especially after the newborn phase is complete). We must not allow ourselves to be women of double standards. Most Christian women can agree that lots of women dress immodesty, revealing more with unreasonable necklines then is befitting someone made in God's own image. Just because there happens to be a baby attached to it does not make it any different. Immodesty is immodesty. That man shopping for shoes is not a medical doctor or your husband. He has no business having his attention drawn to your breasts. Immodesty is not only accomplished by showing too much skin, but also by drawing attention to parts of your body that aren't supposed to be public. That means those nipple baby hats, sitting in the middle of a busy mall (even covered), or having a baby continually pull on or mess with your covering (shirt or otherwise) is also immodest. One of my babies was a slurper, I know just how difficult it can be to breastfeed in a discreet and modest fashion. Good thing we have God's strength and wisdom to draw on or this could get really overwhelming really fast. Love your neighbor. Protect yourself. Feed your kid. It can all be done at once! They make all kinds of handy, pretty covers now, which helps,  but to have a baby that doesn't mess with it takes a lot of practice and even then,  sometimes it will still be too ostentatious given where you are at. If you have a question, please, throw it at me! I'd be happy to help!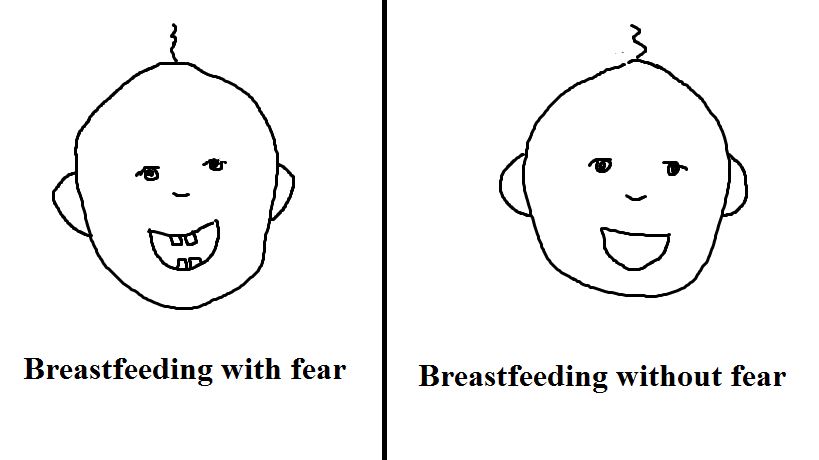 We aren't God. He makes the rules and made our breasts sexual.
The only fear or lack thereof surrounding breastfeeding should be regarding any teeth in your baby's mouth!