We topped out around 40 degrees, but the sun was shining and most of the snow had melted. After months of being cooped up, we all needed to get out. Here's a list of fun, free or nearly free, things you can do with your kids to get outside when it is still chilly.
Bundle up!
1) Bubbles can be bought from the dollar store year round, and usually in 3 packs.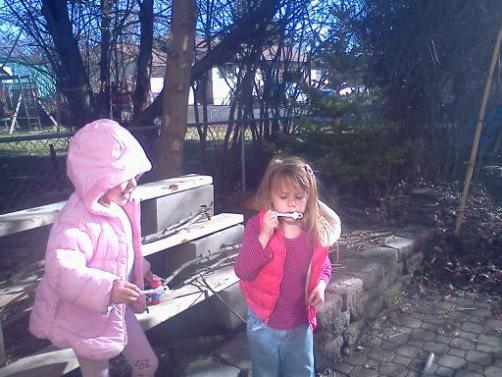 2) Raking leftover leaves. It's amazing how entertaining kids find work when they are allowed to join Mommy or Daddy and do the grown up stuff. It makes for a great workout for me, too!
3) If your side walks are dry, it's time to break out the chalk!
4) Give them a spot of your lawn or garden, or some pots with soil and rocks and leftover seeds and let them plant their own "garden". Fake flowers make it more fun and can be found at most thrift stores really cheaply!
5) Allow them to paint the sidewalk with washable paint as detailed HERE.
6) Go for a walk.
7) Invite some friends to meet you at the park.
8) Have a hot cocoa "picnic" in your front yard.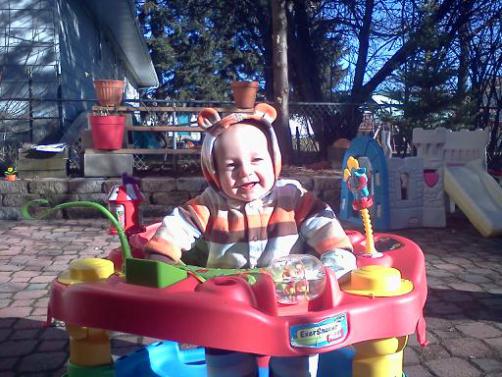 9) If you have a set up for little fires/firepit/charcoal grill, roast some marshmallows.
10) Teach them how to jump rope, hula hoop or play hop scotch. If they are too little for that, rolling a ball back and forth rarely gets old for them!
11) Tag! You're it!! My daughters created a game called Tree Switch. It's like tag, but all the trees are base. Mommy is the umpire.
12) Grab a bag or two of plastic or paper cups and see who can make the tallest tower on  the pavement.
13) Take a load of recyclables to the recycling center and go through the carwash on your way home. Stopping for curly fries always makes any outing way more enjoyable!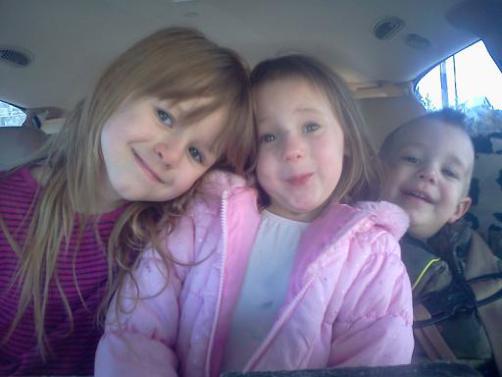 14) Find treasures in your own yard. Unique bugs, leaves, sticks and rocks all count!
15) Make a toilet paper roll kazoo they can play outside.
16) Give them some rubber gloves, a spade or old spoons and some plastic buckets (all found at the dollar store!). Let them make mud soup. It'll wash out!
17) Simon Says. Mommy is Simon and gets to sip tea from her lawn chair for this one!
18) Take them on a Sound Safari.
19) Use sharpies (dollar store!) to draw on smooth stones they find.
20) If you have daughters, allow them to practice painting (nail polish at the dollar store!) their own fingernails outside so spills don't matter as much.
21) Fill some water balloons with play dough.
22) String up a pretend clothes line. Give them some play clothes, clothes pins (dollar store!) and let them hand up some laundry.
23) Make parking spaces and some lanes to drive around on with their bike, scooter or skate board with tape (dollar store!), chalk (dollar store in season) or sticks.
24) Have a throwing contest. See who can throw sticks, baseballs, frisbees, hats or paper airplanes the farthest.
25) Make a fort. You can go with something as simple as tarp (dollar store!) tacked to the tree or draped over the patio table. If you have time for something a little fancier, try cardboard boxes and duct tape, or pallets and a tarp.