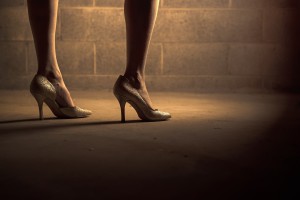 Lust: a cornerstone in the modesty debate. One the one hand, we have the conservative group who emphasize the responsibility of women not to tempt men. I disagree with this emphasis because this type of thinking often leads to harsh legalism. However, their concern is not unfounded; the truth is that most men are most easily stimulated visually. On the other hand, we have the group who says that we need not consider our brothers at all; this is simply foolish and unkind thinking. There is no doubt in my mind that a man is solely responsible for his own sins (Romans 14:12). We need not worry ourselves over that which we know to be clean in God's eyes (Romans 14:14 & 22). However, part of charitable Christian living is keeping our weaker brethren in mind when we are choosing our clothing (Romans 14:13). I am proposing that a healthy view of modesty does consider the probability of lust, but not to the extent of allowing that criteria to determine fully what is right (or wrong) to wear.
"To put off your old self, which belongs to your former manner of life and is corrupt through deceitful desires, and to be renewed in the spirit of your minds, and to put on the new self, created after the likeness of God in true righteousness and holiness."
–Ephesians 4:22-24
One of the primary responsibilities of Christian men and women is to pursue godliness. (Recommended reading on this subject is Tozer's book, The Dangers of a Shallow Faith and Jonathan Edward's sermon, The Importance and Advantage of a Thorough Knowledge of Divine Truth ). So I think it would be helpful to dig into Scripture and see what Jesus thought of women.
"You are the light of the world. A city set on a hill cannot be hidden. Nor do people light a lamp and put it under a basket, but on a stand, and it gives light to all in the house."
–Matthew 5:14-15
Eve, the first woman. Naked and unashamed. The Hebrew word for woman is ishshah, which is related to eshshah, which means fire. God created women to be like fire; mesmerizing sources of warmth and beauty. But then sin entered the world.
"Brothers, if anyone is caught in any transgression, you who are spiritual should restore him in a spirit of gentleness…"
–Galatians 6:1
In John 4, Jesus meets up with a Samaritan woman. In those days, it was inappropriate for Him to even speak with her. She was not only a woman, but a Gentile and a notorious adulteress. But Jesus asks her for a drink, he strikes up a conversation, and He shows her that He cares. You'll notice that Jesus does not jump into accusations right off the bat. Instead, He offers her a way out of her condemnation, "If you knew the gift of God, and who it is that is saying to you, 'Give me a drink,' you would have asked him, and he would have given you living water." (v. 10) I think it is important to note that this woman was clearly living in sin. Jesus is not confronting her over something as trivial as inappropriate apparel. Even so, Jesus is charitable in his invitation to salvation.
"Whoever covers an offense seeks love…"
–Proverbs 17:9
Later, in John 8, the Pharisees brought a woman caught in the midst of adultery to the temple. Again, this is a case of clear sin, not assumed folly. They are trying to test Jesus, so they pit Moses' Law against Jesus compassion, "Now in the Law Moses commanded us to stone such women. So what do you say?" (v. 5). Jesus is not impressed with their public show of false holiness. Instead, "Jesus bent down and wrote with his finger on the ground." (v.6) When pressed, Jesus confronts the adulteress' accusers, "Let him who is without sin among you be the first to throw a stone at her." (v. 7) The crowd, humbled and convicted, departs. Only then, in private, does Jesus address the woman. Again, we see Him offer grace and mercy, not harsh condemnation for her trespasses, "go, and from now on sin no more." (v. 11)
"A disciple is not above his teacher, but everyone when he is fully trained will be like his teacher."
–Luke 6:40
It is clear that Jesus always sees a woman's worth apart from her clothing and sins. I suggest that if our brothers are working towards becoming more Christ-like, they, too, will begin to see women as Jesus did. That is, not as temptresses, but as sisters; people with minds, bodies and souls, created in the image of God. It is only then that our brothers will begin to cultivate a servant's heart towards women and in so doing, diminish their carnal inclination to lust after them.
As women, if we similarly work at becoming more Christ-like, we too will be thinking less of ourselves and, therefore, worry less about what we are wearing. We will become more considerate of those around us, but without developing the legalistic hearts so common with Pharisees who value appearances and their own interpretation and application of the law more than true holiness.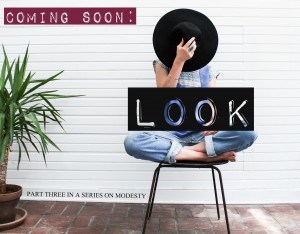 You can read Part One of this series by clicking here.
(Please feel free to share your thoughts below in the comment section. However, please be advised that rude and hostile submissions will not be published. )