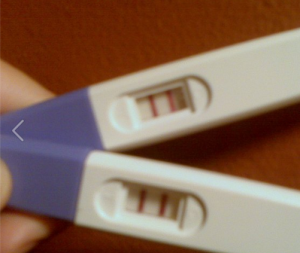 When my third baby was 8 months old, I got pregnant. I love my children, I love my husband, but I was devastated. Hyperemesis Gravidarum stole my excitement over that set of tiny red lines. I hadn't even had a period yet and I was still grossly underweight from my last pregnancy. Ben and I hadn't even decided if we wanted more kids, we had been counseling with our pastor and had spoken with him about it. I had been so sick for the duration of our previous pregnancies and it had taken its toll. We were both tired from the years of constant vigilance and we missed each other. Being on bedrest while your husband works overtime being daddy and mommy, not being able to smell your husband's skin without throwing up, not being able to connect with him physically without risking an emergency room visit — we were still repairing the mess HG had left in its wake. I called Ben at work and told him I was pregnant. We were both quiet. "It is going to be ok," he said, "I love you." That day I drove to a crisis pregnancy center in Moscow, Idaho. I had to obtain an official positive pregnancy test for my insurance so that they could cover the cost of Zofran I would need before my first OB appointment. I had to bring my other kids with me to the center. My youngest, Jude, was still in a baby bucket. The looks I got from the other girls in the waiting room were priceless.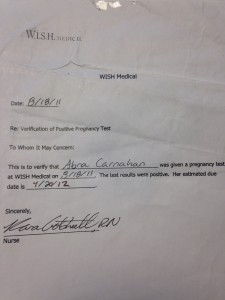 We did the test. It came back positive and I began to cry. The gal working there couldn't understand why I was crying. I wanted the baby, I really did. I had a hard working husband and a good life. But the baby wasn't the problem, I just didn't think I could endure another hyperemetic pregnancy. The nurse stepped in and took over counseling and comforting me. The nurse understood because she had Hyperemesis Gravidarum too. She got it. She assured me that God would be with me, that He gave me this baby and that it would be a blessing. She didn't pretend that the pregnancy would be easy but assured me that it would be worth it. She prayed with me and congratulated me. She was graceful and gentle and not a hint of judgment was on her lips. The other lady read books to my kids, showed them pictures of babies in the womb and explained that a new brother or sister was already in my belly. She comforted my confused 5-year-old and my 3-year-old daughters that I would be ok and that the baby was a good development in our lives. I left the center restored, positive pregnancy test in hand. I had been ministered to in my time of need, they had spoken the truth to me and they didn't charge a dime for any of it.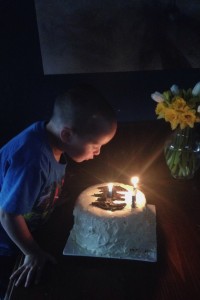 My surprise baby turned 4 years old last Sunday. He is an energetic and affectionate little man, named after his father's grandfathers. He keeps me on my toes and my hug-o-meter at full. He is a blessing. He is a joy. He was and continues to be worth it.
My dear friend, Cathlin, is also an HG mama. She is running her first 10K on April 23rd to raise money for WISH Medical Center (aka Palouse Care Network), the very establishment that brought me hope almost 5 years ago and I am so very thankful. I'm thankful for WISH, thankful for friends who are willing to sacrifice themselves for a worthy cause, and for the people who support them. I love it when friends run marathons that I can support (because, let's be honest, if you see me running there is probably a bear chasing me.) Cat has already met her goal, but this fundraiser is near and dear to my heart and I am trying to rally the troops that we might continue to exceed her modest goal. Won't you join me in supporting her and WISH? Donations of all sizes can be contributed by visiting her fundraising site, You Save Babies. Alternately, you can find your local crisis pregnancy center by looking here and donate to them directly. You could also volunteer your time, run a 10K in their honor or adopt a baby. All of these are ways to further God's kingdom, to proclaim the gospel while blessing your neighbor and become truly pro-woman, pro-man, pro-life.