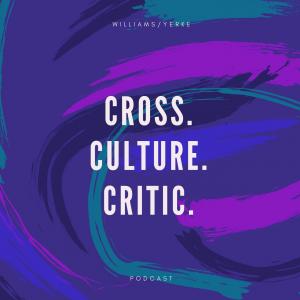 "Flint Town," an eight-part documentary series that recently debuted on Netflix, is a show that made my ears perk up as soon as I heard the title. I live in Detroit, only an hour away from Flint, and I've been long familiar with that city's trials. It's a crime-ridden, poverty-stricken town, whose woes became a national concern when its residents' water supply was poisoned several years back.
Initially, I wasn't interested in watching "Flint Town." I worried that the show, which profiles members of the city's beleaguered police department, would be nothing more than "COPS: Flint," a collection of misery porn that laughed at its residents' plight and exploited the city's problems. Instead, it's a thoughtful, tense and sometimes affecting look at the work of police officers in a city that is falling apart around them. It's absolutely worth a look.
It was also a perfect topic to discuss on the latest episode of CROSS.CULTURE.CRITIC. Although my co-host Joe is most known for his work fronting the ska band The Insyderz, for the past few years he's actually been more focused on his career in law enforcement. Talking about "Flint Town" was a great opportunity to talk about our nation's current tensions with the issue, particularly dealing with race. It also provided some great insight on the day-to-day stresses of being a cop.
But it's not all serious business. We also talk about my recent tax woes. We discuss Joe's favorite cop movies and TV shows, and my favorite films about writers. We also flashback to my reporter days to talk about a very awkward interview and the proper definition of "sob stories." This episode was a lot of fun to record. I hope you enjoy it.
Five for Friday
This is a new feature I'm doing to go along with the podcast each week. It's five pop culture, entertainment or leisure-related items for you to enjoy over your weekend. I hope you like it but, more importantly, I hope you'll share your picks in the comments below!
Crazy Ex-Girlfriend:

I've talked this show up elsewhere a lot, but now that all three seasons of the CW comedy are on Netflix, it seems a good time to do it again. Rachel Bloom is giving one of the best performances on TV in this musical comedy, and the show is one of the rare programs to delve into issues of mental illness without pandering or losing its edge. This is crass, funny and occasionally moving entertainment and it needs a bigger audience than it's currently getting.
Defunctland:

I mentioned this on an episode of the other podcast I co-host, It's My Favorite. Kevin Perjurer's

YouTube series

, website and podcast about old amusement parks and rides is my current addiction. I'm a longtime theme park nerd, and I love Perjurer's skillfully edited, informative and funny video essays about long-lost attractions from Walt Disney World, Universal Studios, Kings Island and Cedar Point. If you have ever loved the "Back to the Future" or "Jaws" rides, or reminisce about your days on roller coasters like Son of Beast or Disaster Transport, this show is a goldmine.
"Slash of the Titans: The Road to Freddy vs. Jason" by Dustin McNeill:

Like any self-respecting kid of the '80s, I grew up obsessed with Freddy Kreuger and Jason Voorhees, the baddies of horror series "Nightmare on Elm Street" and "Friday the 13th," respectively. Although I aged out of the series shortly after hitting adulthood, it didn't stop me from checking out their head-to-head battle royale when it was finally released in 2003. Admittedly, I haven't thought about it much since then, despite enjoying it. But when I saw McNeill's book on sale for Kindle, it brought back old memories. Fans of the franchises — or really just fans of movies that were never made — would do well to check this out, as McNeill meticulously retraces the decade-long (!!) attempt to make this film. He details the ten (!!!) different scripts written for the movies and their varied takes on the material, which ranged from over-the-top cult horror to a stab at respectability with a courtroom drama (!!!!). Along with interviews with screenwriters, executives and the film's stars, "Slash of the Titans" is another in a long line of behind-the-scenes accounts that are better than the franchises ever were (I also recommend the documentaries "His Name Was Jason" and "Never Sleep Again," a four-hour (!!!!!) documentary on the Freddy Kreuger saga).
Crashing:

I wrote about Pete Holmes' HBO comedy previously on my previous

Patheos blog

last year, as its second season was winding down. I'm not completely caught up on the show's second season, but so far what I've seen has more than lived up to the high bar set by its inaugural run. The Judd Apatow-produced show follows Holmes as he attempts to make it in stand up following the disintegration of his marriage. More crucially, Pete, who grew up entrenched in Evangelicalism, is sorting through a shipwrecked faith and wondering what's left. While the first season was a look at challenged faith, season two is more of a study of deconstruction, as Pete realizes his beliefs are changing. It's sometimes heady stuff, but it's also clever and often very funny, as anything bearing the Apatow imprint tends to be. Cameos by Penn Jillette, Bill Burr and Artie Lang keep the laughs coming even (especially?) as Pete wrestles with the wreckage of his life. You can catch up on HBO Go and HBO Now, and don't worry about rushings: the show was recently renewed for a third season.

Last Man on Earth:

If "Crashing" is a sometimes serious look at comedy, "Last Man on Earth" is a silly look at the end of the world. The Will Forte-led FOX comedy, now in its fourth season, continues to be one of the weirdest shows on television. Forte stars as Phil Miller, who thought he was the last man on Earth after a plague swept the planet, until he met a small group of survivors including January Jones, Mel Rodriguez and Mary Steenburgen. The show veers wildly from wacky comedy to dark drama, sometimes following up a shocking death (seriously, it's the only sitcom with a body count) with an out-of-nowhere cameo or Forte stalking around in an inflatable dinosaur costume. It's wacky and funny, especially when it mixes darkness with outlandish humor. A recent arc involving guest star Fred Armisen as a cannibalistic serial killer is one of the most laugh-out-loud turns the show has taken, up to its explosive finale. "Last Man on Earth" needs some ratings love, because I'd love to keep riding out the end of the world with this cast.