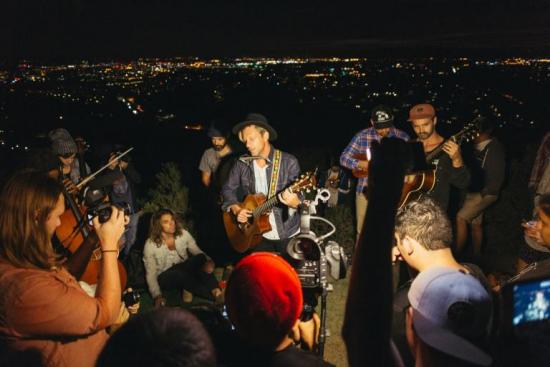 For over 20 years, Jon Foreman has been one of the hardest-working musicians in the business. The switchfoot lead singer and songwriter has crafted an eclectic career, singing about faith, relationships, beauty and life with a mixture of wonder and artistry that continues to evolve. He's also an accomplished solo artist, with several EPs — including the collection that became "Limbs and Branches" and the four-album "Wonderlands" project — to his name.
Last October, to promote "Wonderlands," Foreman undertook an ambitious project: playing 25 concerts throughout his hometown of San Diego in the space of 24 hours. That long day is highlighted in "25 in 24," a new documentary Foreman is debuting on tour starting this month, and available on iTunes and other digital outlets beginning March 6. The hour-long film follows Foreman and an ever-changing ensemble as they dart across the city playing a diverse selection of shows, including a pipe organ duet with his mother at the city's famed Spreckels Organ Pavillion, an intimate show at a children's hospital, a sunrise concert in the mountains and a gathering at a gas station. Through the rushing and complications that arise — including a rickety van — Foreman remains calm and perspective, "embracing awkwardness," as he puts it and looking for beauty.
Foreman recently talked with Mere Chris-ianity about the project.
Mere Chris-ianity (MC): Thank you for taking the time to talk with me. I watched the movie this weekend and really enjoyed it.
Jon Foreman (JF): Oh cool, thank you for taking the time to talk about the movie.
MC: My wife is really jealous. At our wedding, the wedding party walked down the aisle to "Your Love is Strong," so she's a bit jealous that I'm doing this today.
JF: Well, congratulations, and tell her that I said hello.
MC: I guess my first question is: Why did you decide to do this? Twenty-five concerts in 24 hours. That's a big toll, and I'm sure you knew that at the start. What made you decide to take this on?
JF: You know, I feel that very often, myself and the rest of us do things because they're practical and they provide money or warmth, efficiency, and we rarely do things because they're beautiful or because they are wonderful, or because we're driven by joy. I felt like this was one of those endeavors which would awaken other dreams and potentially bring a community together. I think that was at the root of why I did it.
MC: Was there a significance in 25 shows?
JF: I felt like I'm the type of person who wants to kind of push myself. So, more than just 24 shows sounded right.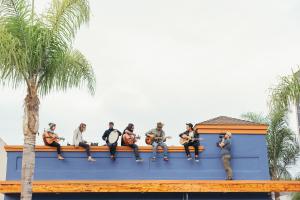 MC: You did this in San Diego, your hometown. What made you choose each of the stops?
JF: The ultimate purpose of every single one of these stops was that they all had significance in my life. So, at the hospital that saved my daughter's life, we played for the kids. We played my old high school. Every single one of these spots had some significance to me. Two of the beaches were where I grew up surfing. You probably don't have it in Detroit, but we have surf P.E. out here in San Diego, so that's where I'd go surfing every morning. The glider port right down the beach from where I asked my wife to marry me. Every single one of these locations had a deep significance in my life.
MC: How much work went into setting this up? Was any of it impromptu?
JF: We set it up as best we could. For example, the gas station, we had arranged with the Mexican restaurant next door that we'd play there, but we couldn't fit, so we just ended up invading the gas station. I think it was like three in the morning, and we just took over.
MC: At that point, what are you feeling? Are you tired? Are you energized from everyone following you around? What's going through your head at that point?
JF: The adrenaline of playing music, the joy of playing music, kind of kept us going the whole way through. Every 45 minutes or half hour, you were playing music, so there was never a point where you felt exhausted. I think music is its own energy. It's way better than caffeine.
MC: Each stop still seems very loose and original. Did you have a set list planned for each stop? How much planning went into planning each show?
JF: It was meticulously planned. Each show was planned by trying to figure out what would be appropriate not only for the ensemble that would be playing for me, but for what would be best at that time of night. So, 3 a.m. at a gas station is going to be very different than 7 p.m. with a mariachi band. And so every song was planned out. And we didn't repeat ourselves; every song was unique to that location. I think we played more than 80 songs over the course of day. We did one cover song; the rest were all ones that I had written.
MC: What was the cover?
JF: My friend wrote "Peaceful Easy Feeling" for the Eagles, and he joined us at the gas station. So that was a pretty special memory, playing "Peaceful Easy Feeling" at a gas station with a lot of fans — it's hard to call them strangers at that point because we'd been through a lot.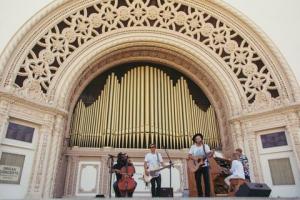 MC: When you look back at that day, what's the first thing that comes to mind where you're like, "Yeah, that was special"?
JF: Every spot had its own moment. Playing for the kids at the children's hospital that were wrestling with cancer and all sorts of things — literally some of them fighting for their lives — that had a gravity to it that the rest of the day simply couldn't. Playing with my mom for the first time and hearing her play the pipe organ for the first time at this really famous outdoor pipe organ in San Diego, that was amazing. Hearing my high school alma mater band play with me at the place where I graduated from was amazing.
There were so many highlights, but if there were one that stood out it would probably be on top of the mountain in the very first hours of the morning when the sun was just beginning to come up. We were out there on Mt. Soledad, and we finished the song and it was beautiful. No one cheered, no one clapped. It was this moment where we were all completely in awe of God's creation. If there were one moment that stood out that day above the rest, it was that silence.
MC: That's what's really cool about what you did. Even though you have this movie, we can't share that experience. That is for you and the people who are there. So many times we experience music hundreds of feet from the artist or on an iPod. But you've made this a communal experience, and I find that very moving. You've talked with a lot of people in Christian circles. And I think we try to over-spiritualize or over-doctrinalize everything. And what I took away from this was that you don't have to over-spiritualize this. There is worship just in the act of sitting around with friends, listening to music, and I found that really beautiful.
JF: I think we over-spiritualize or under-spiritualize, really. I feel like all music is an act of worship. It's taking music and ascribing worth to the subject. It's taking my energy and saying 'this is worth something.' Absolutely. I think maybe we're a little too close-minded. We draw delineation between what is sacred and what is secular, but I'm not sure that I believe in a God that is boxed out of anywhere. I feel like He invites Himself in, everywhere. And if you're looking for Him, He's going to show up. In music, I know that's been true for me.
MC:  You're beginning your tour March 1. How do you prepare for that? Because obviously you're showing the movie and you can't re-create that experience. But what goes into preparing the show to make it complement the film?

JF: I've played a lot of different arrangements over the years. I've played with switchfoot, I've been in a three-piece, I've done a lot of solo shows. Played in a band called Fiction Family. With this particular lineup, it's me, my friend who plays the cello, and my friend who's a percussionist. One of the things that makes this solo tour unique is that we try to make sure that there is no delineation between the stage and the crowd. That's something that I do intentionally because I believe it. I don't think there's any difference between who's on the stage and who's off, who's amplified and who's not. So I'm always trying to figure out ways to do that. With this solo tour, a lot of times what I'll do is allow the audience to pick the set list. In truth, it's our night — it's all our night. And there are songs I'm excited about playing, but there are songs that people are excited about hearing. So that allows some of the spontaneity of '25 in 24' to enter in, even though it's halfway across the country. I still want to have that and embrace chaos in this way.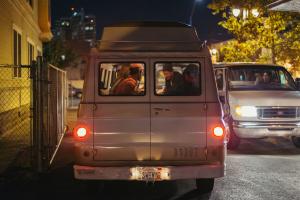 MC: One thing I thought was funny in the film was that you might be running late to certain stops or the car acts up, but you remain calm the whole way. Are you just completely unflappable? Because you look so calm all the time.
JF: [Laughs] I'm a pretty mellow guy. I think after years of touring in a band and seeing horrible things turn into wonderful things and all that, you begin to see that there are wonderful moments that come out of places you didn't expect. I think freaking out and getting stressed over things that go wrong doesn't help the moment. It doesn't help anyone in the moment. And often, you can be pleasantly surprised over the beauty that comes from awkward situations. In general, I try to embrace awkward, I try to embrace the strange and the unexpected. Because that's often where my favorite moments come from, in art, in relationships, anywhere.
MC: This isn't the first time you've toured with a movie. Switchfoot toured with 'Fading West' and a documentary on that a few years ago. You tend to go pretty big with your efforts. You don't just put out an EP; you put out four. You do 25 shows in 24 hours. You do a movie to go with your tour? What drives that?
JF: Life is full of color and wonder and beauty and I'm continually trying to catch up. I feel like these crazy, strange, weird ideas are but a fragment of what I want to be doing. Right now, I feel like we live in an amazing world with the digital era, where these things can be done much easier in term of the financial risks involved. Instead of film, you can bring a digital camera out and you're set. I'm filled with wonder at the world and that wonder keeps me hungry and keeps me wondering "what if, what if." That's what pushes me.
MC: I know it was just announced at the end of last year that switchfoot is going on a hiatus for a bit. What are your plans during that time? More solo recordings? Rest? What does rest even look like for you, when you have this much creative energy?
JF: Obviously I'm going to be doing this tour and telling people about the movie, which I'm really excited about. And I just want to say I'm really thankful to be in a band that supports these kind of things. There's no jealousy or frustration. It's just really respected and supported and that's incredible to feel that instead of feeling or disinterest or anything that would come from this. Over the course of the next year where we're going to be off, who knows what's going to happen? I'm going to try to keep an open mind. I'm going to try to write a little bit. I write for the Huffington Post every now and then but I have it in my head to maybe write something a little longer than a little blog for the Huffington Post.
MC: John, thank you so much for talking with me. I'm really excited for people to see this film. I think it's really unique, and I think your joy comes through in this. I think it's very easy for these to feel like marketing pieces and this feels joyful. That makes it very enjoyable.
JF: Well, thank you. I did enjoy it so much. And my hope for this project is that it would awaken those dreams that we have in us that are dormant and forgotten and thwarted and frustrated and lost along the wayside of efficiency, monetary need and progress. I hope that this could awaken somebody's dreams. Whether it's learn Spanish, climb that mountain, or write that book, I feel that that's how the world changes. It's how we change, learn and grow. Hopefully it can awaken those ridiculous dreams in other people as well.
"25 in 24" comes on on iTunes and other digital platforms today. The film can also be seen on Jon Foreman's "25 in 24" tour. For tour dates, click here.