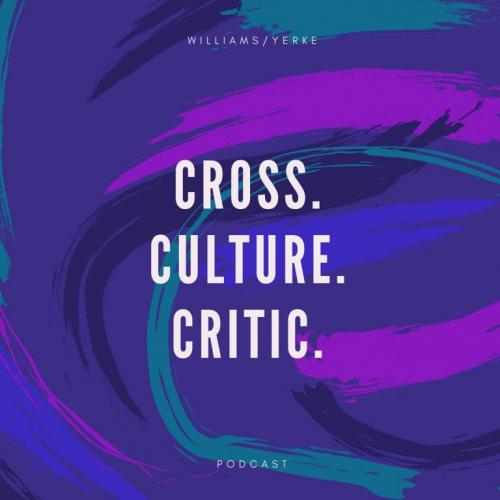 Welcome to the nerdiest episode of CROSS.CULTURE.CRITIC. yet!
A little peek behind the curtain: When we record, Joe and I usually try to turn out at least two episodes a session so that we can record every other week and still release weekly episodes. We often set out with one heavy episode and one fun one, but last week we sat down to do two kind of serious ones.
If you listened to last week's episode, you know it kind of threw me for a loop and went in a much more serious direction than I'd anticipated. As a palate cleanser, I suggested that we record a quick bonus episode before the next one, so that we wouldn't be weighed down by having two difficult discussions.
And then, that bonus episode went into some deep, fun, nerdy waters, and halfway through (and you can hear my decision in the podcast), I decided it would be this week's episode.
Anyone looking for much depth should probably look elsewhere. This is a pop-culture extravaganza, with Joe and I indulging some nerdier aspects. There's talk about wrestling, "Roseanne," and a heck of a lot of Avengers talk. I hope you enjoy it! We'll have another new episode next week!
Five for Friday
As always, here are my recommendations for pop culture to enjoy this weekend.
A Quiet Place: John Krasinski's horror film is every bit as good as you've heard, even if you're not a big horror fan. Channeling his inner M. Night Shyamalan (the good movies), the onetime Jim Halpert creates an almost unbearably tense sci-fi thriller that contains some of the most exquisitely suspenseful moments I've seen on screen. The film's "gimmick" — that its monsters are attracted to sound — provides numerous opportunities for tension and forces audiences to be on guard at every moment. It also requires Krasinski to be efficient, economical and creative with his worldbuilding, as drawn-out exposition could mean death. The result is a smart and relentless monster mash, but what's also surprising is how affecting it is. Krasinski and wife Emily Blunt (rarely better) capture the sheer terror of parenting, but also the attempts to give their kids some semblance of normalcy in a world where everything can kill them. It's a terrifying film that also packs an unexpected emotional wallop.
Barry: I've long been a fan of SNL's Bill Hader, and I'm glad to see him leading this quirky, weird little HBO comedy. Hader plays the titular Barry, a despondent hitman who finds himself drawn to the world of acting while in L.A. for a hit. The dour Barry's collision with the energetic world of stage and screen provides numerous opportunities for comedy, but Hader also does some great dramatic work here. The series is often deeply funny (Henry Winkler and Stephen Root get some big laughs), but it's not afraid to go serious or dark when need be. Four episodes in, I have no clue where it's going, but I'm enjoying every minute of this weird, violent little gem.
Headspace app: I mentioned recently that I'm implementing some health and wellness changes in my life. One of those is that, for the first time in my life, I'm incorporating meditation into my daily routine. For someone who is often "on" and has trouble shutting down his thoughts, it's been a refreshing addition, requiring me to sit quietly and focus on nothing but the moment. A big help toward orienting my thoughts to this has been Headspace, an app that offers guided meditations. I'm still making my way through the 10 introductory episodes and not sure whether I'll subscribe or try to meditate on my own, but it's a great tool for those just taking their first steps. I've been using Headspace very morning before I do my Bible reading and before my shower to focus and orient myself on the day ahead, and I highly recommend it.
Silicon Valley: I kind of fell out of watching Mike Judge's HBO comedy halfway through last season. The constant failures, while necessary to the plot, seemed repetitive and the once-hilarious T.J. Miller's Erlich Bachman became grating. And while I haven't caught up with the remainder of the fourth season, I've had no problem jumping back onboard for season five. Miller is gone, and the show gets a lot of mileage at Erlich's expense. Thomas Middleditch, Kumail Nanjiani, Martin Starr and Zach Woods continue to shine (I could listen to Woods' tales of woe all day), and Judge's satire has lost none of its bite (this past week's episode about "outing" a Christian colleague had me howling), and given Pied Piper a bit of success has pulled the show out of its rut. This is funny TV, and I'm happy I tuned back in.
It's My Favorite: I told you last week that our next It's My Favorite would be back really shortly. And here we are. Matt, Beth and I talk our latest pop culture obsessions, leading to some good discussions about Crossfit to "A Quiet Place" and Netflix's "Wild Wild Country." As always, it's a treat, and I'm glad to say we have another fun episode in the can coming out before the month's end.