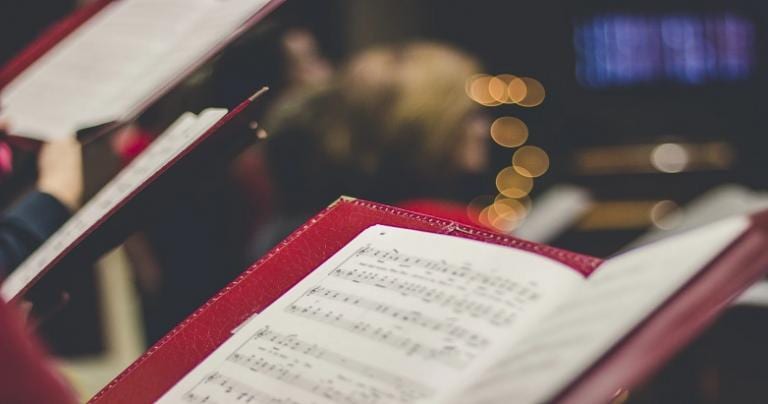 Away in a Manger, the old American Christmas carol, gets reimagined as "Away with the Manger."
"Jacob!" [Scrooge] said imploringly. "Old Jacob Marley, tell me more! Speak comfort to me, Jacob!"
"I have none to give," the Ghost replied.
From "A CHRISTMAS CAROL," by Charles Dickens
We 21st century Western Christians need to get away from ideas and imagery that merely comfort us rather than challenge! How we need to grow out from a congenial imagined Jesus of sentimentality into the real Jesus who shakes us up, makes things uncomfortable, and who subversively turns the world upside down! We need a Jesus worth praising and singing about. And we need the terrifying Christmas Eve of Ebeneezer Scrooge. Thankfully, the authentic Jesus is up to the task. 
Often Christian observances and devotions become overladen with fluff and sentiment, sometime enough to distort Jesus into something comfortable, easy, and non-threatening to our idols. This can be observed readily in scores of popular hymns and Christmas carols which can lull Western Christians into a theological boiler plate incapable of transforming the complacent.
The manger scene of Francis of Assisi was meant to challenge. In the early 13th century, it was scandalous and provocative. Although it did not correspond with the actual events surrounding the historical Jesus' birth, or even the theologically-remembered descriptions provided in either Gospel Infancy Narrative, this Christmas scene of Francis was a slap across the face to Christian elites and wealthy merchants who refused to see Christ in the poor and marginalized.
Fast forward to our smugly pleasant, posh "Country Club" American dioceses and parishes of vertical, socially-eviscerated Christianity. Here amidst a sea of three-piece suited "lay ministers," safe and distant from homelessness, starvation, poverty, and the sobbing of migrant children, we see assembled statues of Francis' Christmas scene. Gone is the paschally-risky, subversive challenge of Francis. Each statue worth hundreds, sometimes thousands of dollars, void of intelligibility wedding our lives to the nothing-people that Galilean peasants like Jesus, Mary, and Joseph were. 
Away with Complacency 
So in a bit of theological mischief, I thought, why not take a beloved carol and tweak it a bit? Let's see if we can better understand the situation being described by "Luke." Indeed, most first century Israelite peasant village homes were equipped with a manger, not a stable. It was a place indoors to keep the sheep and goats safe at night. And this was a common location of peasant births—Lukan Jesus, born in a manger (Luke 2:7), was not extraordinary as far as births went in among his people. Also the manger area regularly was the place for extended kin to stay, especially if the guest room was occupied by other visiting kin who socially outranked them.
Also,
as we explained before
, the Greek word, καταλύματι, rendered wrongly as "inn," probably means "guest room." "Luke" employs this same Greek word to refer to the place of the Last Supper (
22:11
). But he used a completely different word—πανδοχεῖον—in reference to a real inn (
10:34
). So despite all the Christmas plays, movies, and manger scenes you've ever seen, there is no Inn or Innkeeper or Innkeeper's wife in the Gospels.
Almost every artistic depiction of the events surrounding Jesus' birth depict Joseph and Mary hurriedly and desperately seeking shelter as she is hours from giving birth. "Luke" does not suggest in the slightest that they arrived in Bethlehem immediately prior to Jesus being born. So what reason is there, besides spurious familiarity, to assume any urgency on their part? Context Group scholars Richard Rohrbaugh and Bruce Malina explain that it is likely "Luke" is assuming that Mary and Joseph stayed with kin in Bethlehem for a period of some weeks before the birth. Any idea that they desperately sought lodging is nowhere in the Gospels!
AWAY WITH THE MANGER
Away in a manger, did you know my peeps,
Was normal for birthplace or room for guests' sleep?
Should your honor be lower than kin who must stay
Elsewhere much nicer than you on the hay?
Judean peasants had "mangers" right in between
The main room and guest room and beasts could be seen
Eating, and mating, and pooping away
There goats, and the sheep, and the Holy Family lay.
When Lukan Mary and Joseph reached Bethlehem
It was weeks before the birth still—time was with them!
Peasants know not to journey when contracting begins
Don't make this story magical, Americans!
No cattle were lowing, they don't own any cows.
There were no house pets either, no barks or meows.
But Jesus, baby peasant, yes wailing exclaims
Bound rigid in cloth with agonizing pains.
Away with the stable that's in your ideas
Bearing devotional freight of 2,000 years
Jesus comes nearer when we're honest to him
But is often distorted by sentimental hymn.