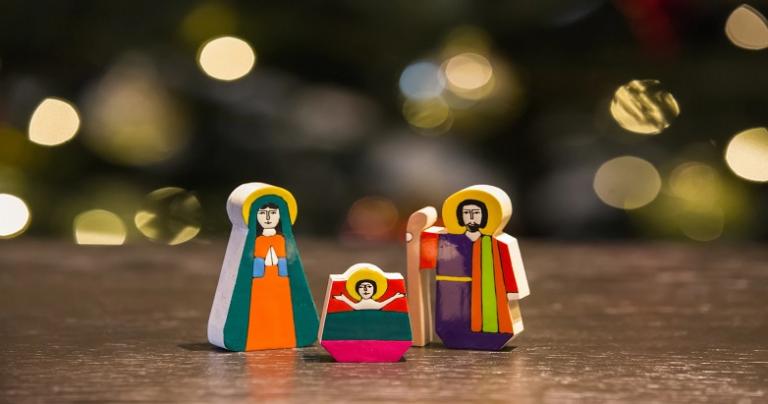 Christmas in the Gospel called "Matthew" is the earliest expression on record of Jesus' birth, and it sharply contrasts with our contemporary holiday observances of comfort and joy.
All December this blog, guided by the fine scholarship of John Pilch and the Context Group, has gone very deep into the two Infancy Narratives. These stories are the Gospel accounts of Jesus' conception, birth, and childhood. Looking at these spuriously familiar Christmas stories with eyes keyed to Mediterranean cultural context is eye-opening, shocking, and sobering. This is especially true with Matthew 1—2. As we have seen, this Infancy Account, the oldest of all Christmas stories on record, is a tale of terror.
This year, cycle A of the Common Lectionary focuses on "Matthew" for Sunday Gospel Readings. The Fourth Sunday of Advent, yesterday, and the vigil Mass for Christmas, tomorrow, feature Matthew chapter 1. So let's go back over what we have learned so far…
Matthew 1:18-25
This is the origin of Jesus, Messiah: when his mother Mary was betrothed to Joseph, but before they lived together, she was found with child [through a holy spirit].
 Joseph her husband, since he was a righteous man, yet unwilling to expose her to shame, decided to divorce her leniently.
Such was his intention when—look!—the angel of the Lord appeared to him in a dream and said, "Joseph, son of David, do not be afraid to take Mary your wife into your home. For it is through a holy spirit that this child has been conceived in her. She will bear a son and you are to name him Jesus, because he will save his people from their sins."
 All this took place to fulfill what the Lord had said through the prophet: "Look!—the virgin shall be with child and bear a son, and they shall name him Emmanuel," which means "God is with us."
When Joseph awoke, he did as the angel of the Lord had commanded him and took his wife into his home.
The First Christmas Couple wasn't a Hallmark Movie
Betrothal isn't engagement—not even close. As we learned, Mary and Joseph were betrothed. Marriage in the Bible is a process, and betrothal is the first phase in that process. As far as (Mediterranean) Biblical marriage goes, the ideal marriage partners are patrilateral first cousins (your father's brother's child, see Genesis 24:4, 27), and that's likely what Mary and Joseph were to each other.
Even though the endogamous betrothed pair did not cohabitate, their bond was real, and so, to have sexual relations with a betrothed woman was adultery (Deuteronomy 22:23-24). Betrothal could only be broken by a formal divorce.
At Christmas time these days American Christians seek to find in Mary and Joseph human warmth and spousal comfort. But Pilch and friends inform us that the weakest emotional bond in the Biblical world is that between spouses. This is because marriages throughout the ancient Mediterranean world were arranged. The bride joins an extended family, not an individual man.
Do you think that Mary expected love, companionship, a best friend and comforting presence from Joseph? Think again!—that's ethnocentrism in your reading! The biblical world is rigidly gender divided. When Mary gave birth to Jesus, only women would have been present, and Joseph would have been elsewhere. Throughout their life "together," only scant contact would have occurred between them. To think otherwise is to demand them to be post-Industrial Western romantics. Both Mary and Joseph would know very well that their union had been arranged for their families' benefits along political and economic lines.
The Christmas Wedding Implied
How do you picture the wedding ceremony of Joseph and Mary? Do you see a Jewish rabbi standing  before the pair? Does anyone stand under the Chuppah and say vows? Did Mary circle Joseph seven times? Does anyone give the Sheva B'rachot, the Seven Blessings? Did Joseph break a wine glass under his heel at the end? All of these beautiful customs evolved long after the time of Jesus, some centuries later. Neither Joseph nor Mary—nor Jesus after them!—knew of any of these practices.
Pilch and the Cotext Group again inform us that Biblical marriages were neither Jewish nor Catholic affairs. It was all a process about removing a woman from her father's house. At a time when the future bride and groom are infants, the father of the groom (ideally) goes to his brother, offering him gifts and services to win his niece for his son. His brother, father to the would-be bride, renders the final decision. Although the patriarch of each family formally ratifies the marriage contract, it is the women, the intelligentsia of the Middle Eastern village, who negotiate it. They make certain that neither family gets cheated.
The process that is biblical marriage is completed once the groom, together with his men, take the bride into his father's home. This helps explain who the ten "bridesmaids" are in Jesus' parable (see Matthew 25:1-12). These "bridesmaids" (a terrible translation) are really ten teenaged girls, very likely the groom's sisters and cousins. The primary role these teenagers perform at these festivities is to greet their brother the groom and his men when they bring the bride home. Then they participate in the wedding and together with everyone wait for the all-important display of the blood-stained bed sheet (Deuteronomy 22:13-21).
Christmas & Mary's Terrifying Pregnancy
According to Pilch and the Context Group,
three factors spell out the horrific situation of Mary in the opening chapters of "Matthew."
First, there is no privacy in Mediterranean village life—everyone in this collectivistic society is nosy. Second, the world of the Bible is intensely gender-divided, and men and women, even in the same home, do not eat or sleep together (except for sexual intercourse between spouses, very brief). Third, Joseph was either the last person or one of the last people in his village to learn that Mary was pregnant. The women would grasp right away why Mary didn't take part in the monthly ritual purification at the village bath—or why she did and tried unsuccessfully to fake her pregnancy.
Matthew 1—2 is the first century Mediterranean equivalent to a blood-curdling Stephen King novel. So to help his audience, "Matthew" must quickly insert a suitable explanation for the otherwise disgraced Mary—a holy spirit caused her pregnancy. While this gives the Matthean audience a sigh of relief, what about Joseph within the narrative?
Joseph's Christmas Dilemma
Pilch and friends say "Matthew" describes Joseph as righteous, shamanic figure. He could never take the son of another man as honor, the most important reality of the Mediterranean, forbids stealing. This is the reason he hesitates. Since a "wedding" is all about bringing the bride to the patriarch's house and displaying publicly the tokens of her physical virginity, something they will not be able to produce, shame looms before him.
The Torah informs this righteous Israelite male what to do. He must defend his honor. He could save it by following the severe path prescribed, expose Mary to her father, likely his uncle, who would then be forced to kill Mary. Or he could go a more "lenient" route, subjecting Mary to the degrading ordeal of Numbers 5:11-31. The Matthean Joseph behaves honorably—perhaps the actual father will step forward and claim the child? But nothing like that happens.
Finding God in Christmas Shame
But none of the options Joseph grapples over satisfy him. What will he do? A righteous man, he obviously wishes to go by the will of God. But how would he discern that? Joseph is a lowly peasant artisan. Were he an elite, he could rely on the extremely expensive course of consulting an expert of Scripture (Matthew 2:4-6).
Pilch and the Context Group explain that peasants like Joseph have recourse only to peasant means. The basic Mediterranean understanding and ordinary experience of how such people deal with crises is expressed in (NABRE) Joel 3:1—"Old men dream dreams, young men see visions." Without stating it explicitly, "Matthew" implies that both Joseph (Matthew 1:20-21; 2:13, 19) and the magi (2:12) were therefore old men. Why? It is because they learn the will of God in a dream. But keep in mind that thirty years was old; less than five percent of the total population reached that age!
Pilch reminds us that In Joseph's altered state of consciousness experience, he learns from God both the gender and the name of the child. He also learns of the child's purpose, The Matthean audience knows well that God would never honor a shameful person. Jesus must possess an honor rating beyond any human figuring. Joseph himself is honored by God, something far more valuable than any human praise. With that, a new possibility opens and he and Mary will go through with the village wedding and present a faked blood-stained sheet.
Western Spin on the Matthean Christmas
Christian preachers and teachers will always try to find relevance for their contemporary audiences in these ancient Gospel stories. We should not fault them for this good work. But a danger follows it, in that we may make the story so relevant to us that we lose the Gospel in favor of an ethnocentric reading congenial to our society.
As we contemporize and read our Western notions into the Gospel Infancy Narratives, sometimes Mary becomes an unwed, pregnant (read American) teenager. Or perhaps Jesus' family gets seen as a homeless (read American) couple. Or perhaps they become displaced persons or refugees from modern times. And certainly we ought to find Christ is our sisters and brothers today like these going through these situations. Indeed, we should be act in solidarity with them!
Scholars like John Pilch and rest of the Context Group remind us that, no matter how clever, useful, and popular such distortions are, they are still distortions. They do not fairly represent the family of Jesus or any biblical group. We need to find better ways of ministering to migrants and other marginalized people—this is monumentally important. But we need to do this without resorting to anachronism and ethnocentric readings.
What are your thoughts on these insights? One day to go! Merry Christmas to all our readers! As promised, we will come to terms with the Isaiah prophecy about a "virgin."