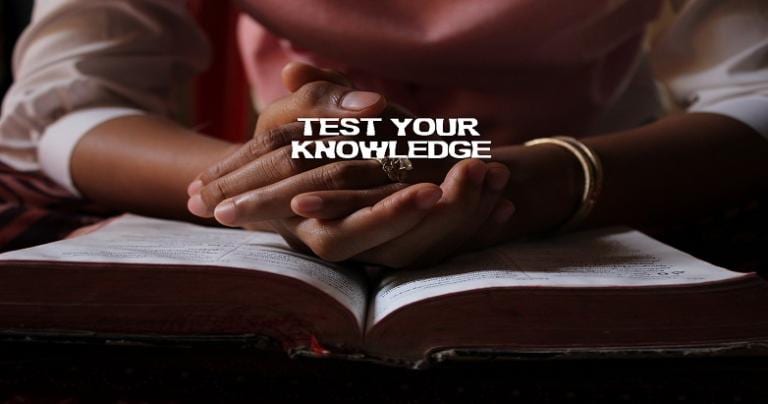 Quiz yourself on just how well you understand Jesus, Paul, and the Gospels.
Spurious familiarity with Jesus and the Scriptures can keep us helplessly ignorant and unable to grow in better understanding our faith. To shake things up, I thought that maybe we could try out a little survey of questions in multiple choice format. This quiz should be both fun and challenging! On Monday I will post the answers with explanations.
Have a go! Be sure to keep your answers handy for Monday's post. By the way, you might want to check this video out first, as well as the other videos linked below, before taking the quiz…
Quiz Question One: Resurrection and Religious Truth
When modern Christians and other people hear about the Gospel ("Good News") concerning God, or Jesus Christ being raised from the dead, or the Kingdom of God, we think this sounds religious. But when first century Israelites heard this they thought it was…
A) RELIGIOUS ALSO.
B) POLITICAL.
C) PERSONAL, CONCERNING ONE'S SALVATION.
D) JEWISH.
Question Two: Ancient Israelite Understanding of the Risen Jesus
When first century Israelites heard that God raised Jesus from the dead, this indicated to them that…
A) JESUS HAD CONQUERED THE GRAVE TO SAVE ALL HUMANKIND
B) THAT THE SCRIPTURES HAD PREDICTED THIS LONG AGO
C) THAT THE GOD OF ISRAEL WAS ABOUT TO INITIATE A RADICAL POLITICAL REGIME CHANGE IN A THEOCRACY FOR ISRAELITES.
D) THAT THE DISCIPLES WERE HALLUCINATING
Question Three: Paul's Gospel
The "gospel of God" or "good news" spread by Paul was originally meant for…
A) ALL HUMANKIND.
B) THE POOR.
C) PEOPLE WHO RECOGNIZE JESUS AS THEIR PERSONAL SAVIOR AND LORD.
D) ISRAELITES ONLY.
Question Four: Jesus and Paul as MENA Personalities
First-century Middle Eastern North African individuals like Paul and Jesus were collectivistic personalities. A collectivistic personality is one who needs…
A) NOBODY TO TELL THEM ANYTHING.
B) OTHER PERSONS TO TELL THEM WHO HE OR SHE IS.
C) LIFE TO BE SIMPLIFIED.
D) MORE TIME TO THINK.
Question Five: Jesus & Individualism
Nowadays American individualism seems totally strange and esoteric, incomprehensible and even vicious, to observers from collectivistic societies. If Jesus, Paul, or anyone from the New Testament were to observe 21st century U.S. society, they would find Americans…
A) STRANGE, INCOMPREHENSIBLE, AND UNCIVILIZED IN MANY RESPECTS.
B) SAME AS PEOPLE EVERYWHERE, SINNERS IN NEED OF A SAVIOR!
C) PEOPLE WHO ENJOY FREEDOM.
D) MEMBERS OF A NATION BUILT ON CHRISTIAN VALUES.
Question Six: Jesus & the Dyadic Self
Jesus, Paul, and other New Testament figures all had what anthropologists call "a dyadic self." That means that each of them…
A) CONSTANTLY REQUIRED ANOTHER TO KNOW WHO HE WAS.
B) WAS A GROUP-SELF THAT INTERNALIZED GROUP PERSPECTIVES TO THE EXTENT THAT HE COULD RESPOND AUTOMATICALLY ACCORDING TO THE SPECIFICATIONS OF INGROUP NORMS WITHOUT DOING ANY SORT OF UTILITARIAN CALCULATION.
C) HAD UNQUESTIONED ATTACHMENT TO THE INGROUP WITH DISTRUST OF OUTSIDERS.
D) ALL OF THE ABOVE.
Question Seven: New Testament Time
Christians enjoy using the terms "BC" and "AD" to date things. The way we Western people relate "what really happened" partly involves the attempt to chronicle by exact dating. This is our first step in history writing. It derives from post-Enlightenment norms for drawing up historical narratives. We use calendric determinations in order to properly sequence events: in what year or month or on what day did something happen in the past. In contrast, for New Testament people, the main way of dating was…
A) TO PROCEED FROM JESUS' BIRTHDAY, DECEMBER 25, THE YEAR ZERO.
B) COUNT FROM EASTER SUNDAY
C) IN TERMS OF AND IN RELATION TO SIGNIFICANT PERSONS
D) GET THE DATES FROM MARY
Question Eight: The Principle of Third Generational Interest
Historian Marcus Hansen introduced an explanatory device essential for all Gospel scholarship. Of his principle, Hansen wrote that it "is applicable in all fields of historical study. It explains the recurrence of movements that seemingly are dead; it is a factor that should be kept in mind particularly in literary or cultural history; it makes it possible for the present to know something about the future. The theory is derived from the almost universal phenomenon that what the son wishes to forget the grandson wishes to remember." When applied to the documents called "Mark" and "Matthew," this "Principle of Third Generational Interest" tells us that…
A) THE AUTHORS OF MARK AND MATTHEW WERE EYE-WITNESSES OF JESUS.
B) THAT THESE GOSPELS ARE HISTORICALLY ACCURATE.
C) MARK AND MATTHEW WERE LIKE SONS TO JESUS.
D) THAT THESE GOSPELS WERE THIRD-WAVE (THIRD GENERATIONAL) PRODUCTIONS.
Question Nine: Where Paul's Writings Fit
Paul's "gospel of God" is about what the God of Israel accomplished by raising Jesus from the dead. He barely mentions anything about Jesus' teachings. Paul and his coworkers reveal little interest in the story of Jesus. From the Pauline writings, one might conclude that they were not interested in the story of Jesus at all, and this is in strong contrast to "Mark" and "Matthew." Therefore, going by Hansen's near-universal "Principle of Third Generational Interest," this suggests that…
A) PAUL'S WRITINGS ARE TYPICAL OF SECOND-WAVE (SECOND GENERATIONAL) INTERESTS.
B) HE MISSED OUT, BIG TIME.
C) PAUL WAS SUPER-FOCUSED ON THE RESURRECTION OF JESUS.
D) PAUL LEFT TO OTHERS THE RESPONSIBILITY OF WRITING DOWN JESUS' STORY.
Final Quiz Question: Luke's Interests
When assessing the New Testament documents, the author known as "Luke" who wrote "Luke-Acts" and the author who wrote 1-2 Timothy and Titus, were very interested in Paul and his friends. According to Hansen's Principle, that suggests that…
A) THEY WERE EXCITED TO TALK ABOUT HOW THE HOLY SPIRIT SPREAD THE CHURCH ALL OVER
B) THESE DOCUMENTS WERE FOURTH-WAVE (OR THIRD-WAVE / THIRD GENERATIONAL DOCUMENTS AFTER PAUL)
C) CONFUSED PEOPLE ABOUT WHO WAS MORE IMPORTANT, JESUS OR PAUL?
D) THE AUTHORS OF ACTS, 1-2 TIMOTHY, AND TITUS WERE EYE-WITNESS TO THE MINISTRY OF PAUL.
Thoughts? Try it out! Answers coming Monday.