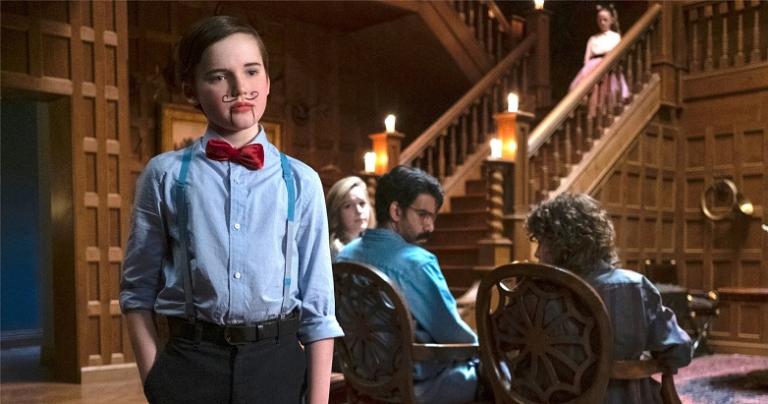 Give me more Mike Flanagan anything. The horror filmmaker doesn't offer cheap chills and thrills—he challenges.
I relish good films and artistic productions on all media, folks. And even homeless, I always welcome scary Halloween shows. So when a friend hooks you up with a little Netflix, spooky fun begins. Keep your pumpkin spice—give me the season of witches and ghosts. Especially when presented within another haunting entry from director Mike Flanagan and friends.
The First Haunting
In 2018, I became enamored with Flanagan's "THE HAUNTING OF HILL HOUSE," the first season of a beautiful horror anthology series. What a triumph! Haven't you seen it? If not, remedy that, friends. Not only will you experience repeated chills cascading down your spine (a necessary emotional experience), but you are also in for a profound meditation on grief and healing. And it's not preachy!
That first season of "THE HAUNTING" deserves its own post. I'll get to "HILL HOUSE" eventually. But this piece is for season two, which just premiered about one week ago.
The Haunting of Bly Manor
The title is "THE HAUNTING OF BLY MANOR." It's based on several ghost stories of Henry James. It uses his most famous and endlessly reinterpreted novella, "THE TURN OF THE SCREW," as its backbone. But this version won't give you a regurgitated of "THE INNOCENTS," "THE NIGHTCOMERS," or the recently dreadful "THE TURNING."
Think of this as both a review and an invitation to watch "THE HAUNTING OF BLY MANOR." I encourage Catholic readers to look deeper and exercise their sacramental vision. But don't worry—in what follows, I won't be giving away ANY SPOILERS. You need to watch these nine episodes uncontaminated. Immerse yourself!
Favorites return in new ways for "BLY." Last season's brilliant Victoria Pedretti and Oliver Jackson-Cohen return for more spell-binding performances in entirely new roles. So too does Flanagan-essential Carla Gugino, his wife and fellow screenwriter Kate Siegel, and Henry Thomas for more first-rate performances. But again, you won't be getting any rehash with this "HAUNTING." 
Gravity & Addiction
A great Jesuit once said that there are just two realities, love, and fear. Well, "THE HAUNTING" most definitely dishes out both. Early on, two characters discuss fear and love, the latter produced by control or the desire to possess someone or something. It is explained that in our broken world, these have been mixed up somehow. One character protests that this shouldn't be, and this unique scene could be the very heart of this season.
True to the ghostly trope, in both seasons, "THE HAUNTING" presents ghosts as addicts. They're addicted to something or someone, and they've lost their freedom. They are stuck cycling, going round and round, helplessly orbiting. They can't let go. This is all about fear of losing control of their "drug." It's the counterfeit to real love.
Haunting Love
Christians celebrate that God is love. If that is true, we should expect love, genuine love rather than counterfeit possessiveness (from fear), to do what God does. As we discussed in a recent post, in the Hebrew Scriptures, God engages in two great works—creating the world (giving life) and redeeming Israel (restoring meaning to life). The New Testament features Jesus also working these marvels (John 5:36; 14:12). 
We see this God-as-love business in the Synoptic story of Jesus working on the Demoniac/s (Mark 5:1-20; Matthew 8:28-34; Luke 8:26-39). It seems Flanagan knows the Gospels better than the vast majority of Catholics, sadly. Watch "BLY" and see what I mean. 
So because it is God the Creator, one could say that authentic love creates the Beloved. A faceless nobody, when loved, is remembered as a son or daughter. He is given a face and place in the human family. Such a person is no longer a lost, anonymous background ghost, but a grateful brother who seeks others' wellbeing. He even warns them to avoid the tragedies he faced. In love, the meaning is restored, and love proliferates, creating and healing.
Children seem to see this better than jaded grownups. And divine love can work the marvels of creation and redemption even in the most desperate of haunts.
Love Let's Go
Love also denies the gravity well of selfishness. It rejects self in favor of the other's good. Love is nothing less than seeing what is, beyond prejudiced ideas and wishful thinking, and responds accurately. And God is not co-dependence, just another toxic addiction masquerading as love. This wonderful season of "THE HAUNTING" most definitely understand this. I wish that more bishops today would. But so many can't seem to let go, all the while talking a big game about love and life while remaining comfortably numb and dead inside.
As we Christians celebrate Jesus, who is the putting-together of God and humanity, we see that true love and life must involve a dying. There cannot be Easter without Good Friday. But the icy plunge of Good Friday must be chosen in freedom. And the fruit? Love doesn't fall into an abyss. What resurrects is not an endless repeat of horrific selfishness, but newness, freedom, and hope for all.
The Haunting & Catholics
Catholics and other Christians need to get with the program and start appreciating excellent horror flick. They have much to offer. Like "THE HAUNTING," great horror can be a parable, like so many Stephen King stories are. Director Mike Flanagan knows King and his parables well, having helmed the brilliant "DOCTOR SLEEP" that undeservedly bombed before the pandemic hit. Watch it also. It redeems the hopelessness of Kubrick's take on King's "THE SHINING."  
Mike Flanagan collaborator, author Stephen King, delivers great metaphors for hell. His parable "THE MIST" presents one of his best—a grocery store. You have to watch the Frank Darabont film version to see what I mean. In "BLY" we get another—the black hole of a treasure chest and a night stroll.  
Flanagan knows his physics. Jump into a black hole, and phenomenological time and space go funny. That's how gravity works, says Albert Einstein. And that's also what sin does. The same thing with the hell featured in "BLY." Catechists! Watch this show!
Haunting & TWIN PEAKS
Mike Flanagan and his team also know great cinema. They've studied the masters, like David Lynch. But "TWIN PEAKS" plunges down into the singularity at the core of the gravity well! The great enabler of abuse and mother of all evil, Jowday, swirls time and space into her loneliness, locking souls in an endless repeat of horrors. I know Flanagan digs Lynch and "PEAKS," folks. It's apparent in his productions. 
There are many similarities between one dark ghost in "BLY" and Jowday. So too "BLY" has a hero, much like the One named Laura Palmer. Careful viewers and fans of Lynch should catch this watching this season of "THE HAUNTING."
If you've scrutinized the heart of "TWIN PEAKS," the ingenious "FIRE WALK WITH ME," observe the final episode of "BLY." The great hero sits in a restaurant with friends. The makeup team seemed to be homaging Sheryl Lee's tour de force performance as Laura Palmer.  
Long story short is this: watch "THE HAUNTING OF BLY MANOR." You'll be scared silly and better for it.