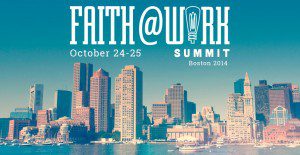 A few weeks ago, we mentioned that we're going to be in Boston in October and we hope you'll join us. Why? Three hundred active faith and work leaders and practitioners from business, church, and education will convene for two extraordinary days of reflection, learning, fellowship, brainstorming, networking and prayer at the Faith@Work Summit in Boston on October 24-25.
You can read more at www.FWSummit.org and on our event calendar.  (There are a whole bunch of other events on the event calendar you might want to check out, too.)  One thing we here at the Faith and Work Channel would like to know is what you'd like to see talked about at the summit.  Where do you struggle with your daily work? How would you like your church to help? (If you're a pastor, what resources would you like to be able to share with folks in your church?)  Do you wonder about evangelizing at work? Whether there are Christian views of economics? What to do with tough ethical cases?
You can
comment here
if you like, or on the
Faith and Work Channel Facebook page
. You can also ask to join a F
acebook group of faith and work movement leaders
that we've recently set up.   We're hoping shortly to do something similar on LinkedIn….stay tuned. Either way, we'd love to hear from you!