With this post we inaugurate a partnership with Ethix, a publication of the Center for Integrity in Business in the School of Business and Economics at Seattle Pacific University.  Ethix has conducted many inspiring interviews with business leaders, and we're excited to start featuring them here from time to time!
---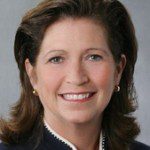 Gloria Nelund is co-founder, chairman and CEO of TriLinc Global, a social impact investment company that she started in 2008.
Prior to this she had a career in the international asset management industry. Most recently, Gloria served as CEO of the U.S. Private Wealth Management Division at Deutsche Bank, the world's fifth largest financial institution. In this capacity, Gloria held fiduciary responsibility for more than $50 billion in investment assets, including more than $20 billion in emerging markets and credit instruments.
In 1999, Nelund joined Scudder Kemper Investments, a firm that was soon after acquired by Deutsche Bank.
Prior to joining Scudder, Nelund spent 16 years as an executive at Bank of America/Security Pacific Bank, most notably as president and CEO of BofA Capital Management Inc., an investment management subsidiary managing $35 billion in assets for both retail and institutional investors. In addition to managing fixed-income and equity mutual funds in both the U.S. and internationally, her division was responsible for managing assets on behalf of public funds, common trust funds and corporate funds. She also spent five years as manager of Worldwide Sales and Marketing of BofA Global Asset Management and three years as CEO of InterCash Capital Advisors Inc., a $15 billion investment management subsidiary of Security Pacific Bank.
Nelund has been a pioneer in the development of social impact products for institutional and high-net-worth investors. While at Scudder, she supported the development and growth of one of the industry's first socially responsible investment (SRI) fund products, which was subsequently sold to Legg Mason. In addition, she was instrumental in making Deutsche Bank a leading institutional supporter of microcredit, creating multiple programs for private wealth management clients to be educated about, and invest in the asset class.
In addition to her activities with TriLinc, Nelund acts as independent trustee for RS Investments, a mutual fund complex with more than $20 billion in assets under management. She is also a life-long supporter of development-oriented philanthropic causes. While at Deutsche Bank, she served on the Board of the Deutsche Bank Americas Community Reinvestment Board, with responsibility for providing loans, investments, and grants to targeted organizations throughout the U.S. and Latin America. She has also volunteered as a teacher of at-risk youth in the Los Angeles Unified School District and the YMCA of Los Angeles. Nelund currently sits on the board of multiple not-for-profit organizations and actively supports entrepreneurship research and education through the Massachusetts Institute of Technology, including as an MIT guest lecturer.

Ethix: What was your vision for starting TriLinc Global?
Gloria Nelund: We're an investment management firm. We plan to attract private investor capital to create jobs for the middle class to help change the world. Our particular focus is on investing in small to medium-sized (5–250 employees) businesses in developing economies. Many of these businesses have no access to the capital needed to grow their businesses, and we fill that gap.
Seventy percent of new jobs worldwide come from small businesses. Small business is the key driver of growth in developed economies. In the U.S., about 67 percent of GDP has come from small businesses. Seventy percent of new jobs worldwide come from small businesses. And though we do a minority of our investing in underserved communities in the U.S., we focus on economies that can grow to the next level of development with a successful middle class. We believe this is the way to solve poverty in the long run and to create a sustainable world. Two thirds of the world's population lives on less than $2 a day, and we need to engage these people in the development of their economies.
Dealing With Poverty Through Job Creation
Our particular target is a subset of those economies. The World Bank has divided the world into three economic categories: high income, middle income, and low income. Most of our preferred economies lie within the middle-income category where there is sufficient infrastructure and rule of law, but where small businesses struggle to obtain sufficient capital for growth. Surprisingly, these businesses have very little access to capital through their existing banking industries.
What are some examples of countries in your target range?
[Read more after the jump!]