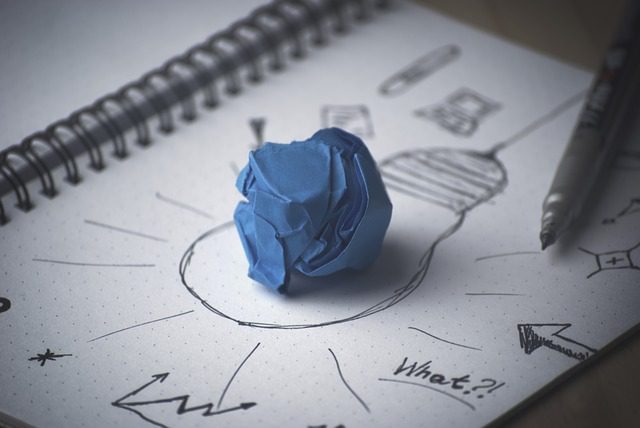 So it's even more true what I wrote about the Asbury Project last year: conferences of Christian entrepreneurs are full of energy. Especially, it's even more true because there are about twice as many people here as there were last year. I drank my hot cocoa this morning in a room full of eager-looking young people, many Asbury University students who had been required to come by their economics and business professors. Although even the seminary students looked young (I graduated from seminary 20 years ago. Time's a-wasting.)
The Asbury Project is a two-day conference around issues of social entrepreneurship, economics, business as mission, and discipleship. The cornerstone of the conference is a competition for serious prize money (last year's grand prize was $3000) by college and seminary students who have prepared business plans for businesses they hope to start, or have already started, that will do good and also make a profit….the overall message of the day being that, contrary to what many in the church assume, these two things don't have to be antithetical.
Last year's business plan competition was pretty awesome (though I was disappointed to learn that one of last year's prizewinners, a software company that makes remembering to tithe as easy and automatic as Amazon 1-Click, had not succeeded. I guess the statistic is that 8 out of 10 startups don't make it.)
Post-hot-cocoa, the morning started off with a premiere of a DVD about last year's conference (yes, I did turn out to be in some of the crowd shots) and interviews with some of last year's prizewinners, including the unsuccessful tithing project.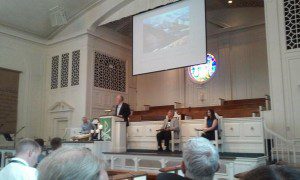 We were then treated to a high-octane chapel service with a band that seemed to be channeling U2 and a thoughtful sermon from Steve Garber of the Washington Institute for Faith, Culture, and Vocation who one of my friends calls "the Yoda of vocational discernment" for his patient, oracular statements and his serene Jedi-like expression. (Steve is also a blogger for this channel, and you owe it to yourself to check out his reflections on how we live out our callings in daily life at Visions of Vocation.)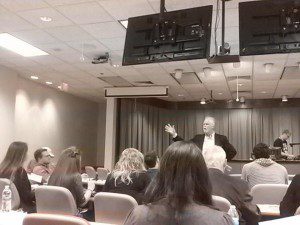 His main point? Knowledge is holistic; if you have knowledge of something you have a responsibility to it and a need to care for it. Our vocations are not sidelights or window dressing on the mission of God in the world; they are integral to it and the way that God is working his purpose out.
Steve answered questions over a yummy lunch (I've decided all conferences need to be catered by Chik-fil-A), repeatedly saying to each question, "I wish we could talk more about that one-on-one." (My two favorite quotes: "When the kingdom of God comes even the cooking pots will be called holy [Zechariah 14:21]–that's one of the best verses in the whole Bible" and "Bono, how is it that you have us raising plastic cups of Coors over our heads and singing the songs of Zion with you?")
In the afternoon, Asbury offered a screening of the film Poverty, Inc. I'm still processing this. Suffice it to say that it argues that pretty much everything we know or think we know about fighting poverty is wrong, that aid has become a multimillion-dollar business, and that it's pretty hard to get anybody to think outside the box (Durkheim got quoted. I haven't thought about Durkheim since I was a sociology major.) Best quote: "Having a heart for the poor isn't the problem. Having a mind for the poor that sees them as equals; that's the problem." (Best quote by a college student afterwards: "The problem of poverty is like a 10-page paper our government keeps procrastinating on.")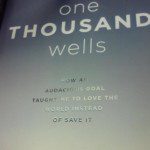 Already overflowing brains (at least this was true of mine) then made their way into breakout sessions. I was inspired by the story of Jena Lee Nardella and Blood:Water Mission, which works to fight AIDS and develop clean water supplies in Africa. Jena co-founded the group (at the age of 22!) with the band Jars of Clay and her continued passion for the work, which sets out to avoid some of the traps outlined in Poverty, Inc, was impressive.
And then it was time for dinner. I sat with college students. While they complained that they were required to come, they did allow that the talk-back sessions had b
een interesting. They also made me realize that apparently really enjoying salad is reserved for old folks like me.
After dinner came a talk by Bob Alexander of Blue Jean Selma, a unique casual service intentionally welcoming to everyone from homeless people to prostitutes, that had also helped transform its community, decreasing crime and prison terms (Alexander is a judge, and he had the statistics, which you can see–sort of–in the picture to the right).
Bob's story was impressive, but I had another appointment to keep. Leaving very regretfully before the apple pie, I slipped out of the banquet room and drove down the road to a visitation to celebrate the life of one of my dear seminary professors, a man who had mentored me as a journalist and helped teach me that not all ministry occurs inside the walls of churches; that serving God in the world in our particular professions is integral to the mission of God in the world. He would have enjoyed the conference immensely. In the midst of life, I thought, we are in death; and in the midst of the world we are in God.