By David Spickard: published at the Jobs for Life blog on 11/4/15.
On an unseasonably cool day this past summer, I found myself driving a rental car through the backroads of Mendenhall, Mississippi. It had been a long time since I had been in Mississippi. Growing up, I frequently visited Jackson to see my grandparents, but after they died, I had not had found an opportunity to visit again.
But on this day, the gentleman in the passenger seat gave me a good reason to come. Dr. John Perkins was taking me along with my teammates at Jobs for Life, Byron McMillan and Alex Ford, on a tour of the history of his ministry – an experience we've captured on video on our Jobs for Life podcast.
The Lord has given me several days in my life I will not forget. Thankfully, this is one of them.
"Take a right here," he said to me as he guided us into an area just beside the town of Mendenhall. "You see over there, the whites lived on the top of the hill….Blacks lived on this side of the tracks in the quarters. It was in the lowlands. This would flood over here. That's how it got the name D'lo, Mississippi. The man said, 'This was a damn low place.' So, when it got time to register it, it became D'lo."
Dr. Perkins ("JP" as his friends call him) is a noted civil rights leader and co-founder of the Christian Community Development Association (CCDA). He along with his wife, Vera Mae, started Voice of Calvary Ministries in Mendenhall as a response to the racial violence he experienced in the late 60's and early 70's.
Having been brutally beaten at the hands of white authorities who resented his efforts to seek justice for African Americans, JP made it his life goal to face injustice square in the eye through a ministry of forgiveness and reconciliation.
Starting with Voice of Calvary, he has given his life to equipping and raising up indigenous leaders, revitalizing neighborhoods though job creation and affordable housing, giving a voice to those who are voiceless, planting churches, and helping people become reconciled to Christ and one another.
Next week, I along with thousands of others will attend the CCDA National Conference in Memphis, TN. It's an annual conference of pe
ople all over the world committed to seeing under resourced communities restored and people experience life and hope through Christ.
Each morning, we will get up early so that we don't miss one of the highlights of the conference…Dr. Perkins' bible study.
He's 85 now and has hardly slowed down since the beginning of Voice of Calvary Ministries. The day we spent with him in Mendenhall, he talked for seven hours straight.
Watching JP makes me wonder what I will be doing at 85. Lord willing, if I live that long and have good health, would I get up each day fueled by a deep passion to see God restore deep places of brokenness? Would I spend extended time with people half my age encouraging and casting vision to them? Would I still live with purpose knowing time is short and God is still using me?
I sure hope so.
Click here to watch our drive through Mendenhall and tour of Voice of Calvary Ministries.
---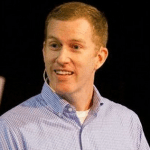 David Spickard is the President and Chief Executive Officer of Jobs for Life (JfL), a global non-profit organization that engages and equips the local church to address the impact of joblessness through the dignity of work. He lives in Raleigh, NC with his wife, Alice, and their four children.